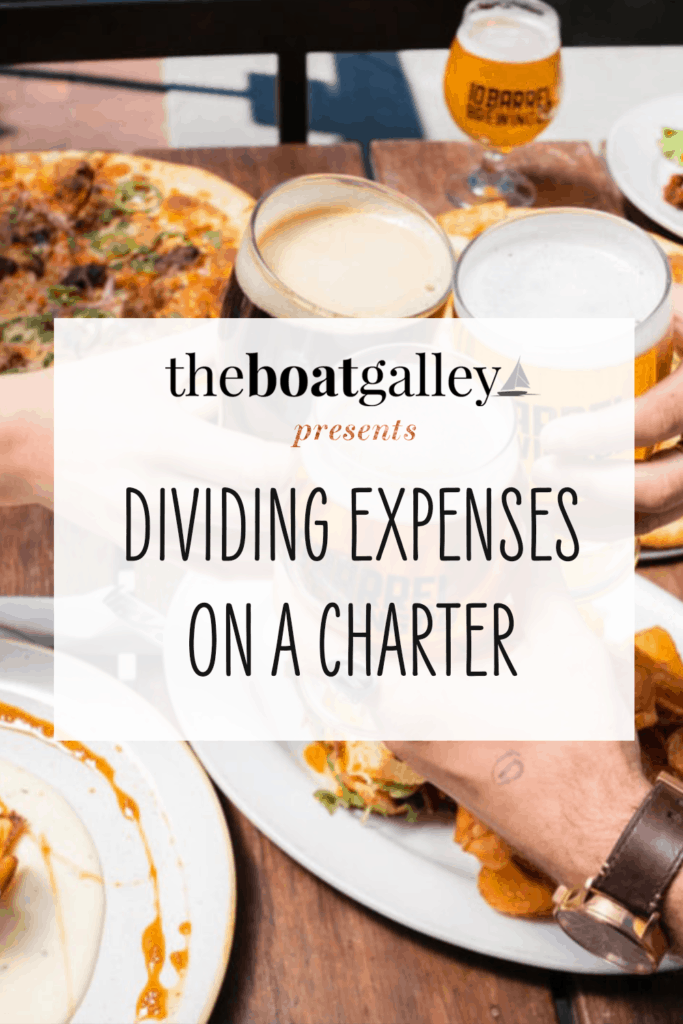 More and more often, groups of friends or family are going in together on a bareboat charter.  It's a great way to bring down the cost per person and to share both the work and the fun. And while I don't want to get into all the logistics of chartering with a group, I do want to pass on one tip that a friend gave us before our first charter with another couple about dividing expenses.
No matter how well you know the people you're chartering with, money is always a touchy subject. Usually, the charter company will accept separate payments and each person/couple/family can make their own travel arrangements. It's even pretty easy to divide expenses such as the provisioning bill, or get separate checks for a dinner at a beach restaurant.
Where dividing expenses gets tough is all the little day-to-day expenses that are incurred by the boat as a whole:
Mooring or anchoring fees
Cruising guide (if not included in the charter)
Cruising permit (if not included in the charter)
Taxi to/from the airport or parking (if shared)
Ice
Fuel or water costs
Group activities where priced as a group (taxi to a restaurant or beach, guide for shore excursion, group price for snorkel or dive trip, etc.)
Extra provisions purchased along the way
You don't want to have to get money from each person (or couple) every time one of these expenses comes up. It's also a recipe for disaster to say "we'll get it this time, you get the next one" as inevitably someone feels that they've paid more than their share. Yeah, you could all write down what you paid for and then square up at the end of the trip . . . but some things will be forgotten.
A much simpler solution for dividing expenses is to have a kitty for those group expenses.
What we did was to come up with an estimate of what the total for these would be, added some extra for good measure and then rounded up to a number that was nicely divisible by the number of people (if memory serves correctly, I think it was about $100 per person — but that was over 15 years ago).
We put the money into a Ziploc that we put in a somewhat hidden place and whenever it was time to pay one of the "group expenses" we simply went and took the money from the bag and returned any change there. We didn't bother to keep receipts with only two couples on board; we trusted everyone. If you think there could be controversy about what's paid from the kitty, it's a good idea to keep track of the expenses on a sheet of paper stuck in the bag.
Towards the end of our week, we discovered that the kitty needed more money — we'd underestimated taxi rides and shore excursions — and everybody pitched in another $20. At the end of the trip, there were just a few dollars left in the kitty; instead of dividing it up, we gave it to the person whose car we'd all ridden in to the airport.
More on Chartering
Some links in this article (including all Amazon links) are affiliate links, meaning that we earn from qualifying purchases.