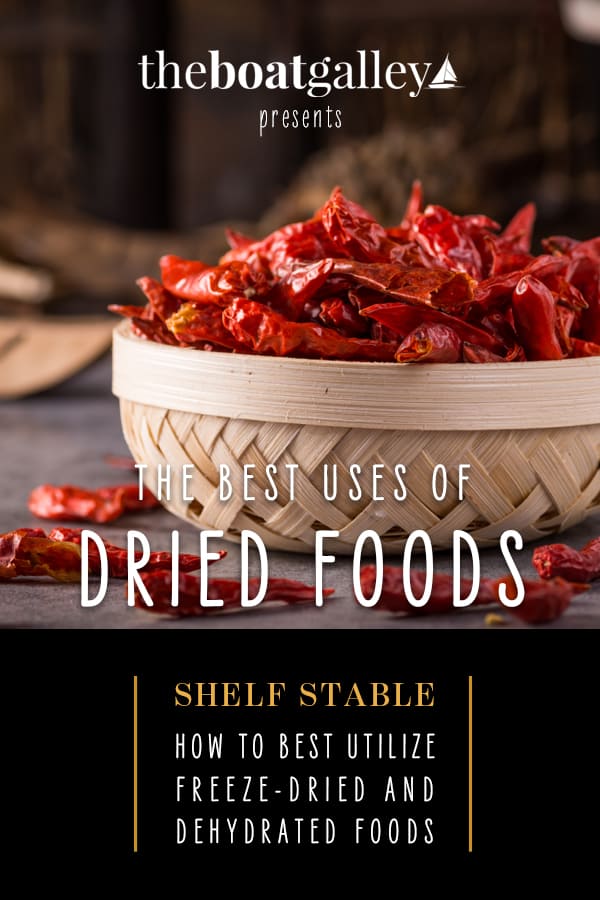 I've never been that excited about dehydrated food. Years ago, Dave and I ate a fair amount of dehydrated "backpacking meals" (a prepackaged meal — just add boiling water) on some canoe trips and backpacking. And in our cruising in the Sea of Cortez and Central America, I carried a couple of packages of backpacking meals as emergency food. But we'd eaten fresh and canned food for almost all of our camping and cruising adventures.
Until we went to the Bahamas.
Are you struggling to live with a small refrigerator? Eating Well with a Tiny Fridge is a step-by-step course full of galley-tested strategies that teaches you what foods can safely be stored without refrigeration, how to do it, and how to maximize the refrigerator space you do have. Just $29.
We used a lot of dehydrated foods . . . but instead of buying the "meal in a pouch" type, I got jars of individual ingredients. So . . . my thoughts after using them for four months:
WHY DEHYDRATED
The Bahamas, particularly in summer when there are few cruisers and many locals are on vacation, can be a tough place to get groceries. Oh, you'll never starve, but you may not get much in the way of fresh produce and anything you do buy will be expensive (roughly twice the cost of similar things in the Keys, which are expensive compared to most of the US).
Barefoot Gal has a small refrigerator and tiny freezer and, being a catamaran, is weight sensitive. At 34 feet, there's also the issue of stowage space. As dehydrated food is considerably lighter and more compact than canned it seemed a good choice. Using more water in our food to rehydrate it wouldn't be a hardship as we have a watermaker.
WHAT I BOUGHT
I decided to go with Harmony House foods, primarily because they pack their foods in plastic jars instead of the cans that several other companies use. Their jars are square-ish, make good use of space and have screw lids that are easy to use and stayed closed underway (if we were doing longer, rougher passages, I'd tape the lids shut so they wouldn't accidentally unscrew underway).
Harmony House generally gets good reviews, but I quickly learned to discount reviews as a great deal of dehydrated food is bought by preppers and put immediately into long-term storage. They tend to grade on things such as cost per serving or per 1,000 calories, how quickly the order arrives and how well it is packaged, but few actually try the food and comment on taste or texture. I remembered Harmony House as having good-tasting meals when we were backpacking 20 years ago. Several friends gave very high marks to Thrive Foods, but Thrive had many of their products on backorder when I needed them for the Bahamas.
I bought one of Harmony House's "Pantry Stuffer" sample packs of vegetables, plus a few extra items that weren't in the sample pack and a few soup packs. I did not buy their meat substitutes, fruits or beans although a friend did give me a jar of their dehydrated garbanzo beans.
For meats, I went with Legacy Essentials (meats are freeze dried instead of dehydrated), mainly because they were packed in space saving pouches instead of large cans. I got a Chicken/Beef package with 3 pouches of each – a total of 114 servings.
I also bought a wide variety of dried fruits – raisins, dates, cranberries, blueberries, apples – at the local grocery store as they had plenty and prices were better. I also took a lot of dried beans.
MY REACTION
The dried veggies and meat are all diced in 1/4" cubes (you can get larger mushrooms and peas are left whole). This works well for things like onions, leeks, mushrooms, red/green peppers and tomatoes. It's not so great for potatoes, carrots, squash, broccoli and so on that you might expect to be in larger chunks in most dishes. Ditto for the meat.
The veggies can either be rehydrated as they are cooked (it takes about 20 minutes to fully rehydrate them) or soaked in water for several hours. Meat can also be added to a cooked dish or soaked for just a couple minutes. Of course, if you're adding a substantial amount of dehydrated food to a cooked dish, you need to add extra water to the recipe (the exact amount needed varies by the food).
Taste
All the dishes made primarily from dehydrated food tasted just fine . . . but tended to resemble one another as a "stew-y" mash, just with different flavors. I soon learned that it was best to prepare dehydrated foods as soups, stews and casserole type dishes. The meat was good in tacos . . . but best when I had some fresh tomatoes to put on top instead of rehydrated. Spanish rice and goulash were also good, as were gumbo and jambalaya. You cannot saute or brown any of the foods.
There are no spices in any of the foods, and I soon learned to add a bit more than I did when using canned food. The meat is very lean, and I eventually learned that if I added a tiny bit of cooking oil (about a teaspoon) to most dishes, it improved the taste considerably.
What Dehydrated Food Worked Well
The tomato powder is a good substitute for tomato sauce and paste. I made good spaghetti sauce and more with it. However, it picks up moisture very easily and becomes hard in its jar – it's not horrible to break up, but keeping some dried beans in the jar will help.
The celery is good for flavor, but not for adding crunch. Jalapenos are great for adding a bit of zip (NOTE: 6 ounces of dried jalapenos goes a long ways, even if you like Cajun and Mexican food).
The green beans were absolutely excellent, although they're also cut short. They were the one veggie that we ate by itself, and we also used it extensively in salads (see my recipe for Veggie Salad a la Que Tal).
The zucchini, sweet potatoes and butternut squash all worked well in my recipe for zucchini bread and I often made this the day before we were getting underway at dawn – we'd have a piece of the bread for breakfast or a snack.
The soup mixes were great and nice when we needed a quick meal . . . especially if I had some homemade bread to go along with it. I'd boil the soup mix with water, bouillon and other spices, and add some meat just before serving.
Using Dehydrated Meats
I preferred the beef to the chicken as the chicken was quite fragile and about a third of each bag was just powder. I'd try to use some powder and some dices every time I cooked so that I wouldn't get the end of the bag and only have powder for a meal.
As with canned meat, freeze-dried meats should be added right at the end of cooking and stirred very gently so they don't break up any more than they have in the package.
Finally, we found that the stated portion sizes of the meat (1/2 cup of dehydrated) were too large for both of us; I typically used 1/4 to 1/3 cup per person.
Other Items
The fruits were nothing different than what I often use and I used them in muffins, oatmeal, desserts, salads and more. We had very few fresh fruits in the Bahamas and these made our meals much nicer as well as healthier.
The dried beans (kidney, navy, black, etc.) worked well . . . as long as I remembered to soak them and start them cooking in time. Without a backup supply of canned beans, I was sometimes stuck. The jar of garbanzo beans that I was given, however, were wonderful – it only took 20 minutes until they were ready to eat (I usually made hummus with them).
We ate well the whole time we were in the Bahamas, mixing in a little fresh food that we found with the dehydrated. But after four months, we were more than ready for "fresh food" meals when we got back to Florida.
FOR THE FUTURE
Most of what I got we liked and I'll use again. In particular, I'll take more of the soup and chili mixes (I only had three single meal packages).
The carrots, potatoes and meats were a disappointment. I still have some of each and will use them up, but I don't plan to buy more. As both carrots and potatoes are long-lived as fresh veggies (I'd gotten them simply because they were part of the dehydrated package), I'll simply stock up on fresh when I can and do without otherwise.
For meats, I plan to take more canned meat and may also try the Thrive ground beef, chicken slices and sausage crumbles (see them here). They also have pulled pork that looks interesting.
In addition to conventional dried beans (which are cheaper), I'll get at least a small supply of the dehydrated Harmony House beans that are ready in 20 minutes.
BOTTOM LINE
Using dehydrated food was a huge weight and space saver over canned food and enabled us to have balanced meals no matter where we were. For the number of meals and servings, the cost was not bad compared to the cost of food in the Bahamas.
The square jars for the veggies did well and were easy to stow without wasted space. I don't know if the chicken would have broken up less in cans; I tend to think that chicken just will break up with the motion of the boat, no matter how it's packed.
Overall, however, I wouldn't use dehydrated foods in places where I could easily get fresh food at a reasonable price. Fresh simply has better taste and texture. But where fresh food can be hard to get or is particularly expensive, and sufficient quantities of canned food too bulky or heavy, dehydrated is a viable option.
SOURCES
In addition to buying directly from the companies (links above), you can also buy Harmony House and Legacy Essentials on Amazon:
This article was written in 2016 and substantially updated and republished in March 2020 in response to questions regarding dehydrated foods during the coronavirus crisis.
---
Our FREE Provisioning Spreadsheet
Wondering how much of what foods to take on your next trip? Know just how much to buy of what — all arranged by grocery store aisle — with our handy Provisioning Spreadsheet. Includes detailed instructions to edit it for your favorite foods, how much your family eats, and how long you'll be gone. No spreadsheet skills needed!
It's FREE — get it here.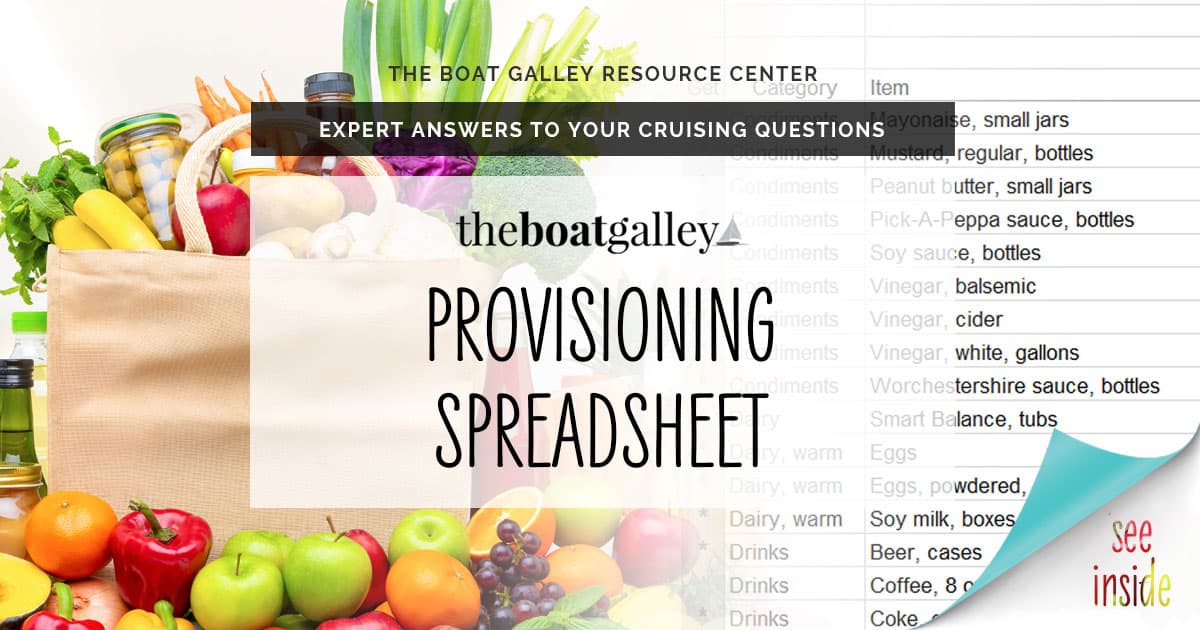 Want more help with your small refrigerator? Take a look at my online course, Eating Well With A Tiny Fridge.

Some links above (including all Amazon links) are affiliate links, meaning that I earn from qualifying purchases. Learn more.