Every week, I get asked once or twice how hard it is to SUP (stand up paddleboard) and could someone [not too agile, older, a little overweight, with back problems . . . fill in the blank] do it? Over and over I hear how all the ads and social media postings show young and super-fit people doing things like yoga and headstands on their boards.
The short answer is that almost anyone can have fun on a paddleboard. You don't have to be capable of wild acrobatics or even be particularly agile or athletic. And a bikini body is not a prerequisite.
I'm not trying to say that everyone should paddleboard — only you know if it looks like something fun to you — but I want to change the image of who are SUP-er people.
Last weekend, I asked TBG readers to post pictures on TBG's Facebook page to show that all sorts of people paddleboard. I've collected them here, along with photos I've taken of teaching friends and neighbors.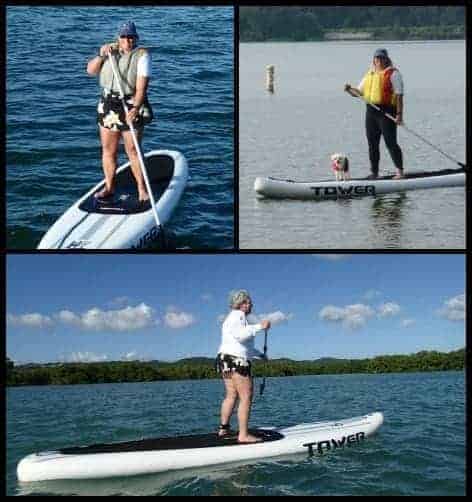 That's me in the photos above. I'm 54 and not exactly skinny. I've had back problems over the years and a badly sprained ankle, broken wrist and severely injured knee in the past few years. I paddleboard 3 or 4 days a week, typically for a half hour to an hour at a time. It's definitely helping my recovery.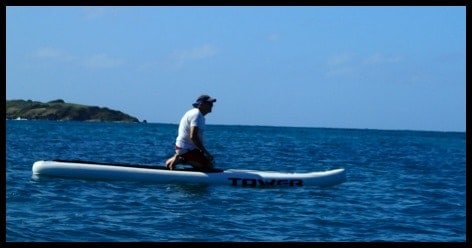 Dave, my husband, is 76 and he's the first to admit that his balance isn't what it once was (not horrible, just not what it used to be). When he first began SUP-ing, he mostly paddled kneeling as the board is much more stable that way. It's a good technique if you're a little uncertain about standing and for anyone when waves or jet ski wakes threaten! Even kneeling, you'll improve your balance – an important skill for everyone as we get older and boaters in particular. Better balance = fewer falls = fewer broken bones, especially hips!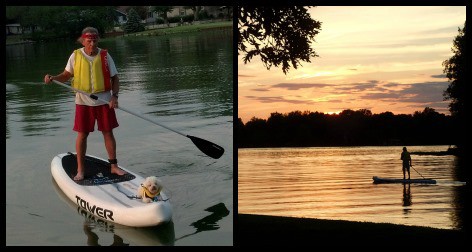 That's him in the photos above, feeling much more confident about standing on the board after a few weeks. He's more sure-footed getting in and out of the dinghy, too.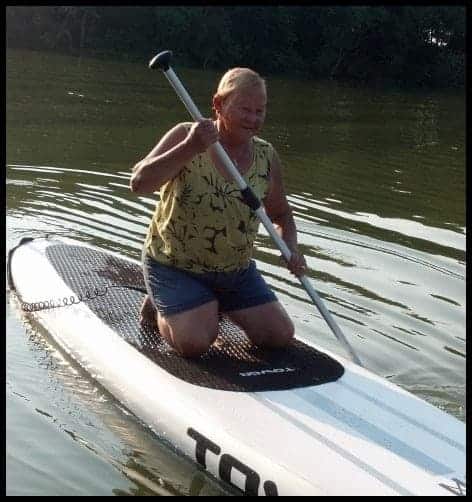 Marleen (above) also learned by kneeling at first then graduating to standing.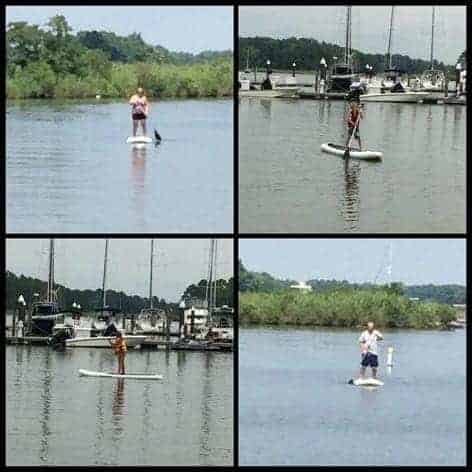 Above, the Burleson family with their brand-new board – literally, the day they got it. Kids are 8 and 11; parents Cari and Darren are both 44. Quote: "It's awesome!"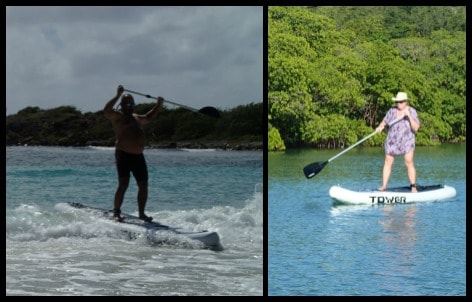 When Dave and I went to the Virgin Islands to spend time with Denis and LaDonna aboard Beagle Knot, we took our board and they both tried it out. Denis actually managed to stand up and surf in one day at the beach; the rest of us stuck to kneeling when we hit the surf line. A few weeks later, they'd bought their own boards.
Cocktail hour with Estelle Cockcroft, the CatamaranGuru: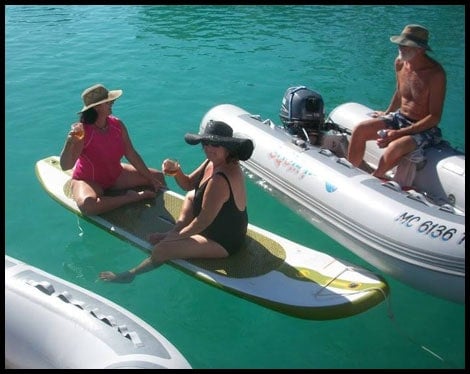 A few more photos that readers posted on Facebook: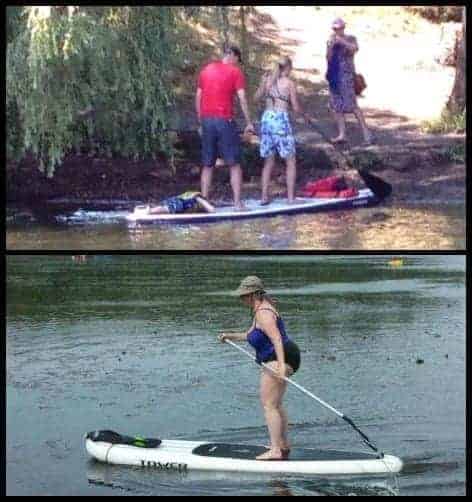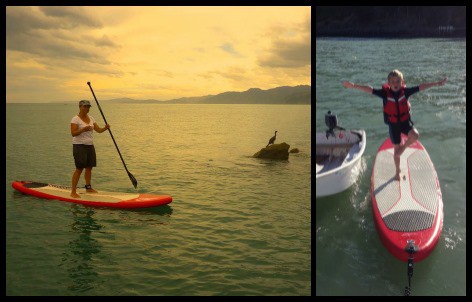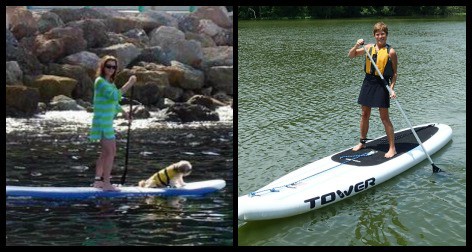 One reader also asked why people liked SUPing so much – was it the great workout or what? Here's my reply (I'm not trying to convert anyone into an SUP-er who doesn't want to be, but I've had so many questions from people who have seen them in anchorages and wanted to know more):
Several things for me — first, I love the idea of kayaking and exploring all sorts of nooks and crannies, but I find the reality of kayaking to be just about the most uncomfortable thing I've ever tried. My back just kills within minutes. SUP-ing is very comfortable for me, in contrast. Second, yes, it's a good workout for lower body, core and upper body. If you go fast, cardio too. Third, it really improves balance . . . and that's something almost everyone needs, particularly as we get older. If you don't fall, you don't break bones . . . especially hips. Obviously, for us boaters, balance is important there too. Fourth — I love the view standing on the water! And if the water is clear, you can see all the fish and other critters.
I've written a number of articles about SUP-ing because I had a hard time finding some of the info I was looking for. If you want to know more, here's the "main" article I wrote about it.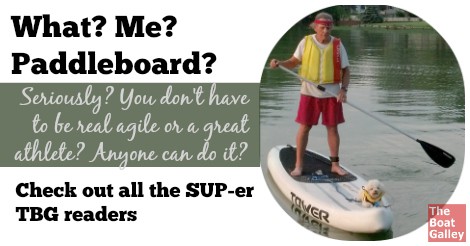 Some links above (including all Amazon links) are affiliate links, meaning that I earn from qualifying purchases. Learn more.