I love all water activities and bought a Tower iSUP while we were recently in the Florida Keys. When I posted a picture on The Boat Galley's Facebook page, I got a number of questions about it — why an SUP, why an inflatable, can "old folks" do it, why Tower and more.
SUP-ing in General
I first tried SUP-ing in Hawaii last winter and was immediately hooked. I love both quietly exploring shoreline areas and the occasional chance to surf down a wave (for the record, my "big wave" was about a foot high!).
Even better, it's great exercise that doesn't feel like exercise. While I've done some kayaking in the past, I always get extremely uncomfortable in a kayak — my back and legs just don't like sitting like that (I'm extremely inflexible which is probably part of the problem). SUP-ing is comfortable. And while you probably think of it as working your shoulders and arms, it also works the core, legs, feet and ankles.
It's also phenomenal balance training — and this is something that is easy to lose with each passing year. Even living on a boat, Dave and I found that we had to actively look for low walls and logs to walk on. One of my favorite "exercises" was to stand in the floating dinghy on a slightly windy day and see how long I could go without grabbing something. But that felt like "exercise," not play.
One question I've been asked a lot is "aren't those for the youngsters?" I don't think so, any more than snorkeling and diving are for the younger crowd. If you are comfortable in the water (in case you fall off), you'll do fine. I find it much easier to get back on the board from the water than to get into a dinghy when snorkeling (and when snorkeling, I have dive fins on to help). But if you have serious questions about the physical side, either rent or borrow a board before buying one (even if it's not the same model, you'll quickly discover if you have any major problems).

I wanted to get a SUP . . . but we questioned where we could store one and how we could take it with us on trips. Boards are larger than typical surf boards — generally 10 to 14 feet long. And so it became one of those "maybe someday" things.
Inflatable SUPs
As we walked into the Annapolis Sailboat Show, the answer literally stared me in the face: an inflatable board. It could be deflated and rolled for storage and transport.
I don't remember the brand that I first saw, but I do remember Dave and I both questioning how well it would work in real life. And even with the boat show discount, it cost over $1,000.
As we walked around the show over the next several days, we discovered that there were several brands displayed there. So we made a point of searching them out and comparing features and price.
Hands down, our favorites were the Tower Boards. The big difference that we saw was that they were just a lot firmer (more like a solid board) than the others, had about double the weight limit, and they cost less. Several hundred dollars less.
But I couldn't try one and didn't know anyone with one. I'll admit, I was leery of buying one — even though I know that inflatable boats (dinghies) are great, I also knew that we had much better performance with a RIB than an air floor. And the iSUPs reminded me of air floor dinghies.
Once home, I kept thinking about the Tower Boards and did more research online. Everything I read moved me towards getting one — maybe we'd call it a joint Christmas present? Then Melody on Vacilando posted several photos of herself and her dog on their Tower board and we "chatted" on Facebook about it. I was ready to buy but we were leaving for Florida shortly — much as I'd like to take it along, I didn't think it'd get here before we left.
Tower only sells directly — online and at some shows. But they do have a network of board owners who are willing to let others try out their boards. I noticed that one of these guys was located in the Florida Keys — about a half mile from our hotel. AHA! Maybe I couldn't have my own board before the trip, but I could try one.
In making arrangements to meet up with him, I discovered that he was moving in just a few days — far inland — and was going to sell his board. While I was ready to buy a brand new one, it was too good an opportunity to pass up and I'm happy to report that I'm the new owner of his board.
One final point that doesn't seem to fit anywhere else in my description is that an advantage of an inflatable board is that there is a tiny bit of give in them and hence they are less tiring on the feet. No worries if you bump a boat, either!
Info Specific to the Tower Boards
Tower makes two inflatable boards: one that is just under 10′ and one that is 14′ long. Mine is the larger, with a 700 pound weight limit! The previous owner — a 200-pound guy — reports once having two friends and a dog on the board with him!
The longer board is "faster" — while I'm not entering any races, that also means that it takes less energy to paddle and I can go further. The down side is that it weighs about 10 pounds more, takes longer to pump up and isn't as small when rolled. Even though I got the larger one (because it's what I had to opportunity to buy used at a substantial discount), I think the smaller one would do just fine.
The 14′ board weighs just under 40 pounds and will fit in a duffle or other "standard size" bag, so that it can fly as normal checked luggage with no surcharges beyond any standard luggage fees.
Tower says it's 33″ wide and a foot in diameter when rolled; our first rolling job resulted in it being 37″ wide and since we were putting it in the car, we "rolled" it to be 16″ deep and 8″ high. In the photo at the top of this article, I put a ball cap on top of the rolled board to give some scale to it.
The paddle breaks down into three pieces, each of which is just shorter than the width of the rolled board. Perfect for rolling the pieces in the center if you're going to take it all on a plane!
I find the board "managable" but not easy to carry both rolled and inflated; Dave (who is 75 but both taller and stronger) finds it pretty simple either way.
Pumping it up is a mild cardio workout. It took us about 10 minutes, tag-teaming for a couple minutes at a time. The pumping is pretty easy for the first 90% — you may wonder if the gauge on the pump is working as the needle doesn't move for quite a while — and the last few strokes up to 11 PSI are tough! But it's that last little bit of pressure that makes the board so rigid, so do it.
Consequently, you're going to want to leave the board inflated if you're using it every day. The boards are made from PVC, very similar to a Zodiac dinghy. Unlike hypalon, you have to protect PVC from sun when not in use. I'm going to make a cover for it so that we can keep it inflated when in one location.
Before rolling and storing, it's important to dry the board thoroughly so that the deck pad won't mildew. And the 3-piece paddle should at least be taken apart and preferably given a bit of fresh water rinse to keep it from freezing together. My board has two paddles, but the previous owner apparently never took the pieces apart . . . I've now got the joints soaking in vinegar to try to get them apart.
You can buy Tower boards on Amazon (Update November 2020: Tower appears to be no longer selling boards in Amazon. I'll keep the links live in case they come back) or the Tower website:
---
Our FREE Provisioning Spreadsheet
Wondering how much of what foods to take on your next trip? Know just how much to buy of what — all arranged by grocery store aisle — with our handy Provisioning Spreadsheet. Includes detailed instructions to edit it for your favorite foods, how much your family eats, and how long you'll be gone. No spreadsheet skills needed!
It's FREE — get it here.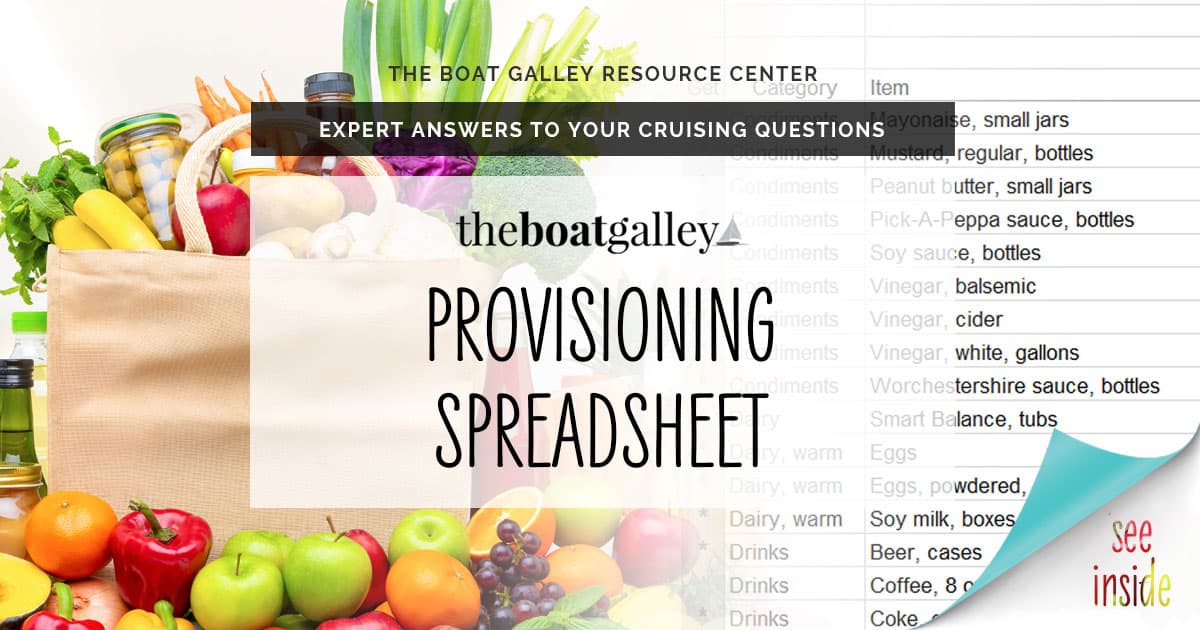 Some links above (including all Amazon links) are affiliate links, meaning that I earn from qualifying purchases. Learn more.