Buying and storing commercially-packed dried fruit is pretty easy — you grab a package, pay for it and can store it almost anywhere on the boat and not have a problem. It won't break, it can't really crush and it's got enough preservatives that it won't get moldy. Simple.
And those bags of dried cranberries, bananas, apricots, dates and raisins are great on the boat, lasting virtually forever and adding a lot of variety to meals.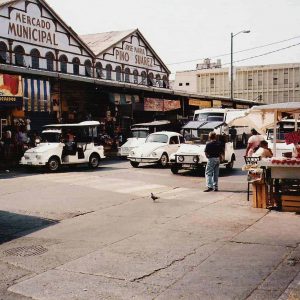 But what if you buy dried fruit at a market, such as this one in Mazatlan? Ahhh, not so simple.
At a market, the dried fruits are likely to be sold by someone who dried the fruit themselves — probably at home. And like anything else prepared at home, it has important differences from commercial dried fruit:
No standards of how it's prepared
No standards of how dry it is
Now all that doesn't mean that you shouldn't buy it. Not by any means. We've had wonderful dried fruit in the US and many other countries in Central America, South America and even Africa.
But it takes a bit more effort on your part, both in buying and in storing it. And don't expect it to last nearly as long (maybe it will, but don't expect it). A few tips:
Don't buy from the first vendor you spot. Check out several before deciding which one to buy from.
Buy the driest fruit — it is less likely to mold.
There should not be any obvious blemishes or — heaven forbid — mold already growing.
Ask to taste a piece if possible.
Don't buy more than you can eat in a month — it's very doubtful that it will last longer than that.
Inspect it carefully for bugs and/or dirt. Often fruit is dried outside on screens. Don't buy anything that appears to have bugs in it, as they will quickly spread throughout the boat.
Anything that is stored in bulk — such as in a barrel or large bucket — is more likely to have bugs in it than small, sealed packages.
When storing it, keep the following in mind:
Should it have bugs or develop mold, you don't want to contaminate anything else. It depends on how it was packaged when sold, but I usually put each package in a small Ziploc, seal it tightly, then put all of the same fruit into a large Ziploc or a sealed plastic container (don't put it in something that doesn't seal very tightly).
Keep the packages in a cool, dry place. If you don't really have a "cool, dry place" try to find somewhere that is a fairly constant temperature. Temperature swings cause condensation to build up in plastic bags, and once there is condensation, mold will quickly follow.
It's tempting to put the stuff you just bought on top of the older stuff, and then you eat the new stuff first and the older food just gets older . . . until it's no good and wasted. Always put the new stuff under — or behind — the older.
Always keep an eye out for bugs and mold and get rid of anything with even a tiny bit of either if you don't want the problem to spread!
Do you have any other tips? Add them in the comments!
Some links above (including all Amazon links) are affiliate links, meaning that I earn from qualifying purchases. Learn more.