If you're a new boater, one of your big frustrations is probably "the mess." Any time you go to work on one thing, you have to remove the contents of at least one locker, move rugs, cushions or floorboards, and so on. And then, wherever you put it all, it has to be moved to get to some other part of the project . . . and so on. There is rarely a way to get it off the boat and out of the way. Boat mess galore!
Need help figuring out how to store everything on your boat? Storage Solutions for Life Afloat (online course) can help you make a seamless transition to living aboard.
I hate to say it but I don't have an answer. I don't think you ever really get a handle on "boat mess," other than to come to terms with the fact that it happens. No one is immune.
I'll just show pictures of a recent project here on Barefoot Gal . . . scroll down if you just want the pics.
First, a bit of backstory. After Hurricane Irma, we had some water in the bilges, below where the bilge pumps sucked. So we dried it out and went on our merry way of putting everything back to its pre-hurricane place.
I noticed there was a damp place on the floor overlay, so we removed it and laid it outside to dry. I cleaned up the mess from the wet wood. And then, a little while later, I noticed water very slowly oozing (less than a trickle) from a low cupboard onto the fiberglass floor. So I started tracing it . . . and discovered a huge locker next to and under the galley sink with water in it that was slowly making its way down, through another locker and onto the floor.
A quick taste revealed it was fresh water, so we weren't about to sink. But I did have to take everything out of those two lockers to find the leak and also clean up the mess.
About that time, we got word about our friend John's near-drowning and medevac flight to Miami (read more about this here). We said we'd take care of their two dogs and brought them to our boat, along with a large bag of their stuff.
So now, the boat hasn't been completely arranged back to "normal" from how we left it for the hurricane, we have the contents of the largest locker on board stacked on the table, settees and floor, wet floorboards drying in the cockpit, plus two extra dogs and their gear. And we're still trying to figure out exactly where the leak is. Yes, the boat is a mess!d
We finally figure out that a hose clamp on the faucet has chewed its way through the hose. Dave cuts the hose and re-clamps it but wants to leave the locker open overnight to make sure the leak is fixed, and also to thoroughly dry the locker.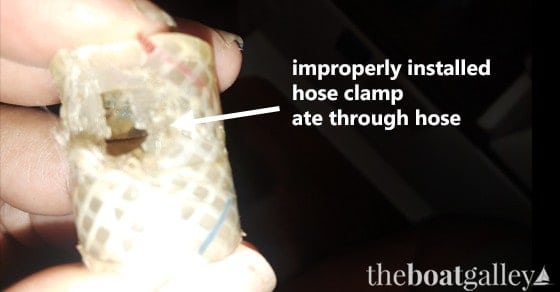 So the point of all this? Don't feel alone in having boat mess. It happens to us all. It drove me nuts when we started cruising; I now accept it as part of the life.
And how the boat looked during all this?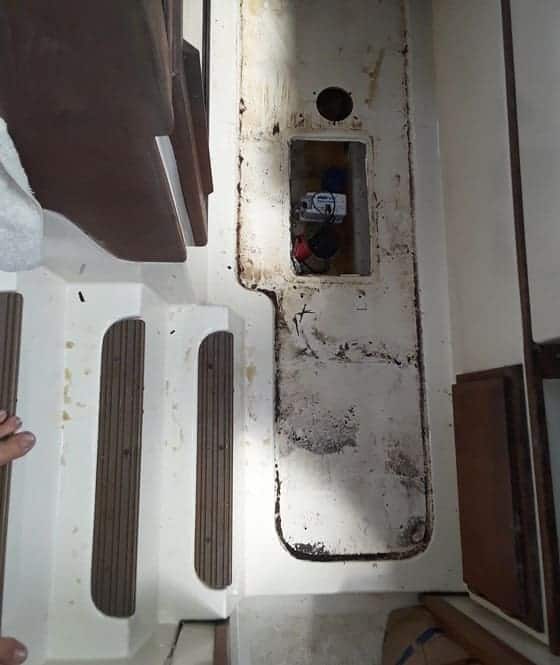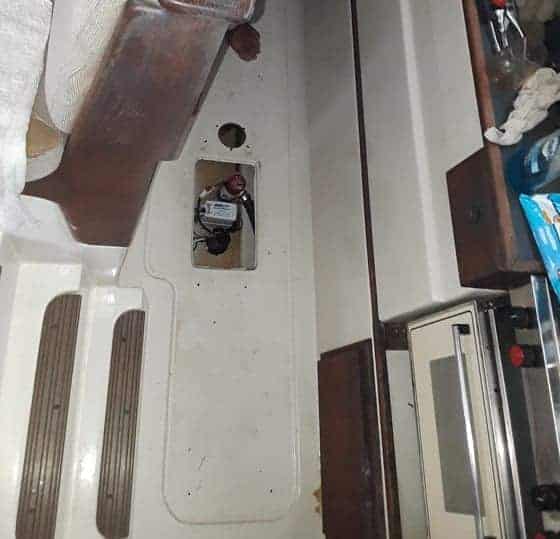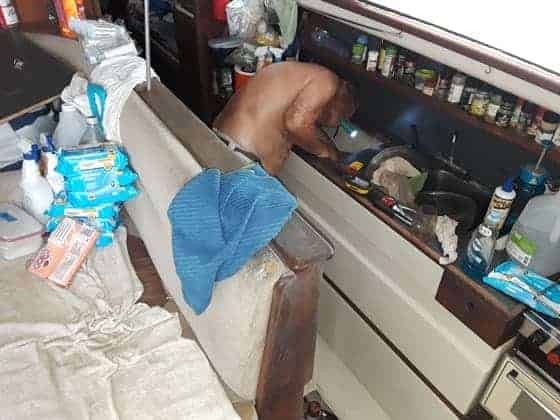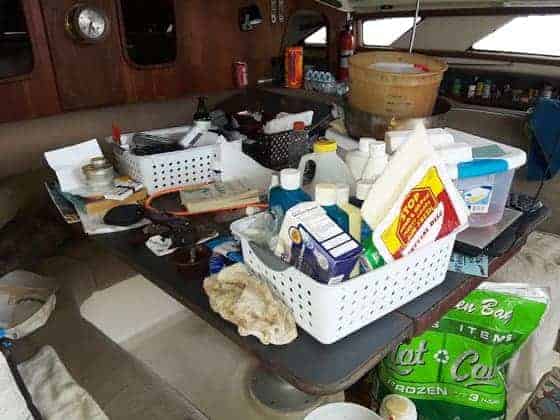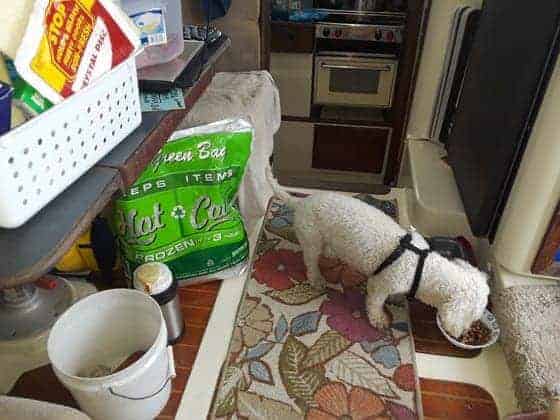 The good part? It took less than an hour to put it all away the next morning.
Read Next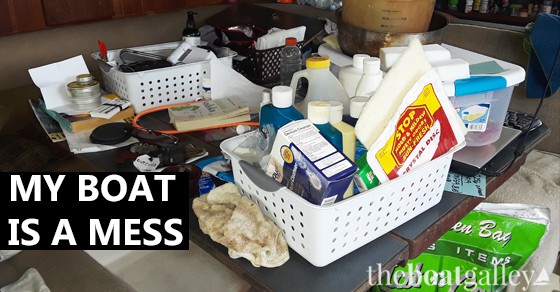 Get answers to all your storage questions in Storage Solutions for Life Aboard! Online course with all materials available immediately to help you end the piles of "stuff" that have no permanent places. Many of the ideas you can implement today. Real help, real fast.

Some links above (including all Amazon links) are affiliate links, meaning that I earn from qualifying purchases. Learn more.