Good habits are crucial for successful cruisers. Living on a boat, you pay a higher price for getting careless or lazy.
Pamela Douglas Webster is a member of The Boat Galley team, working as my virtual assistant. She shares the story of how getting a little careless with her boatkeeping hindered her from helping another sailor.
This piece was originally published on a website for cruisers and RV travelers. She also writes about cruising with dogs at Something Wagging This Way Comes.
---
Two strangers were counting on our help. But I was still tidying up the boat. If I had done a better job of boat keeping, we'd all have had less stress.
Fun Day With A Messy Boat
We anchored near Dividing Creek off the Chesapeake Bay in Virginia, close to the Hughlett Point Nature Preserve.
After traveling every day, we were glad for a rest day. We planned to sleep in before taking lunch and our dog, Honey, for a day on the beach.
I was making lunch when I saw a sailboat motoring into our anchorage. Their forward sail was dangling over the side of the boat and dragging in the water. I hailed them on the radio to ask if they needed help.
No answer.
The boat continued up the creek so I assumed they lived nearby and could take care of their sail when they docked. But 20 minutes later, I saw them motoring toward us again.
I mentioned the boat's strange behavior to Mike. He offered to take the dinghy over to see if the sailors needed help.
I continued puttering around the cabin, gathering what we'd need for a day at the beach.
Sure, the boat was a mess. But we'd have plenty of time for boat keeping chores before we left the next day.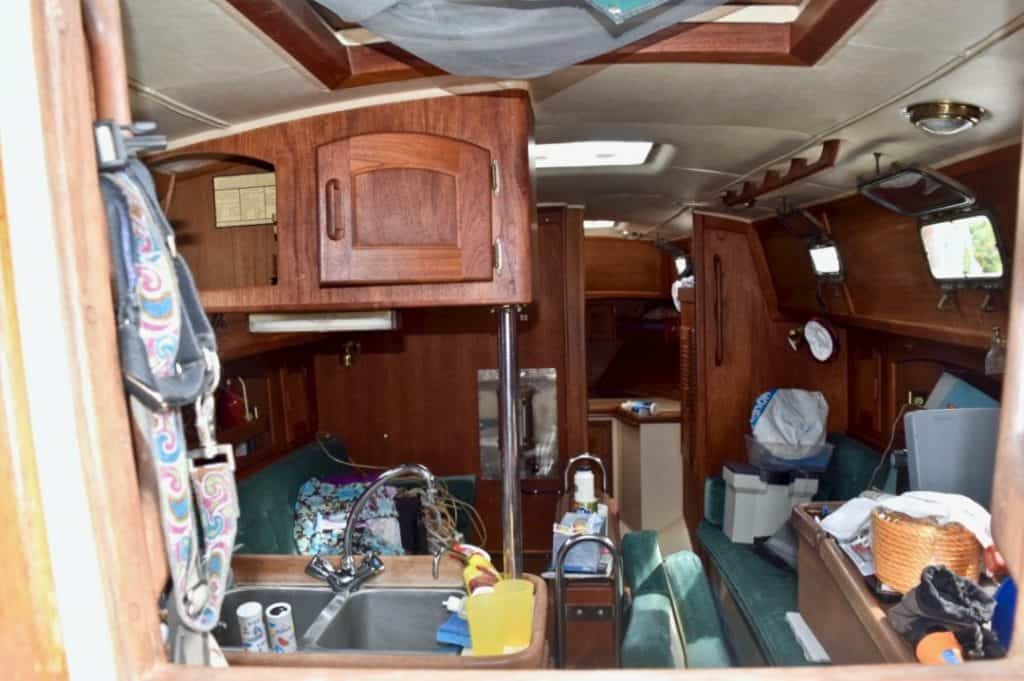 Emergency On The Water
Mike returned to Meander and gave me an update.
The couple on the distressed sailboat was bringing their new-to-them vessel up the Chesapeake Bay to their home port in Maryland.
When the roller furler jammed in the rough conditions just off the Rappahannock River, the captain went forward to work on the sail.
Concentrating on a fine task with your head down in a rough seaway makes seasickness nearly inevitable. And the captain had it bad.
The couple tried to anchor. But their windlass failed to work when they switched it on (They later discovered they had failed to turn it on at the electrical panel. Seasickness hurts your brain as much as it hurts your stomach.)
The couple and Mike had hatched a scheme. Mike would pilot their boat to the closest marina. I would follow at the helm of Meander.
As I considered this surprising news (I had never helmed Meander alone), the seasick sailor motored in circles waiting for us to get underway.
Importance Of Boat Keeping
Yep, preparing to move your floating home is nothing like driving a car. You need to store everything fragile to keep it from flying around.
Even more important, a tidy boat is easier to sail. If you don't believe me, just try to dock a boat when the anchor chain and rode are out on the deck (don't ask me how I know). Or rush below to answer a radio call when your shoes are sprawled all over the floor.
If conditions on the Bay were rough, we needed to put everything away before the trip.
I rushed around storing our computers, pulling out life jackets, and putting away the beach chairs and picnic provisions we would not be using now.
My guilt increased as I thought about the poor man motoring his boat in circles while feeling like death on toast.
If I had only realized the importance of keeping my boat clean, that poor man would have gotten relief sooner.
Why To Keep A Clean Boat (or RV)
By now, you're probably thinking I'm describing an extreme example.
What's the likelihood you'll ever need to move your RV, camper van, or boat with little notice?
You might be surprised at all the ways cleaning up is crucial when you're a nomad with a moving home.
Leave quickly
As we discovered, the best reason to clean up is so you can get underway quickly. Here's a few reasons you may have to:
fleeing a wildfire
family emergency
incoming storm
illness
and of course, to help someone else.
Can you think of other reasons to leave a campsite or anchorage quickly?
Deal with repairs
I love many things about living on board my tiny, floating home. Fixing stuff is not one of them.
Access to important systems in moving homes is tight. And just getting access to tools means moving tons of things around.
In a permanent home on land, you can often put repairs off without serious consequences. But if the item you need to repair causes you to lose power while boondocking or could sink your boat at anchor, you'll want a tidy boat to aid in quick repairs.
Keeping your moving home neat makes stressful repairs a little less so.
Host unexpected guests
Hospitality is an important part of the nomad life.
When traveling, you can't promise to call a new friend "someday" to get together. In a few days, you could find yourself traveling in opposite directions.
I've worked to feel less self-conscious about showing off my house to strangers when it's not sparklingly clean. But that doesn't mean I want guests stepping over dog toys or moving my computer so they can put their drinks down on a table.
Keep life pleasant
Is your kitchen messy in your land-based home? Order some carryout and plop yourself in front of the television in another room.
But on board Meander, my kitchen, dining room, office, living room, bathroom, and bedroom all fit into an area smaller than the average guest bedroom.
If one part of the boat is messy, I can see it from everywhere else. Life is far more pleasant when my boat is clean.
Don't think you could ever hate your partner? I'll ask you again once you've struggled to put down a hot cup of coffee on a table loaded with outboard engine parts or computer gear.
Underway On A (Somewhat) Tidy Boat
After tidying the boat and calling the Coast Guard to tell them about our plan, we got underway.
I pulled up alongside the ailing sailboat while Mike cast off in our dinghy, Mini Mea. He rowed over to the other boat and climbed on board.
I wish I had video. He looked like a rodeo rider going from a bucking bronco to the back of a calm, waiting horse.
I helmed the boat without incident (well, I had my heart in my throat when my husband tried to cut a corner across the shallows, but he worked it out).
While Mike and his party docked their boat, I dropped the anchor nearby and waited for Mike to row the dinghy back.
While I was waiting, I straightened up the boat.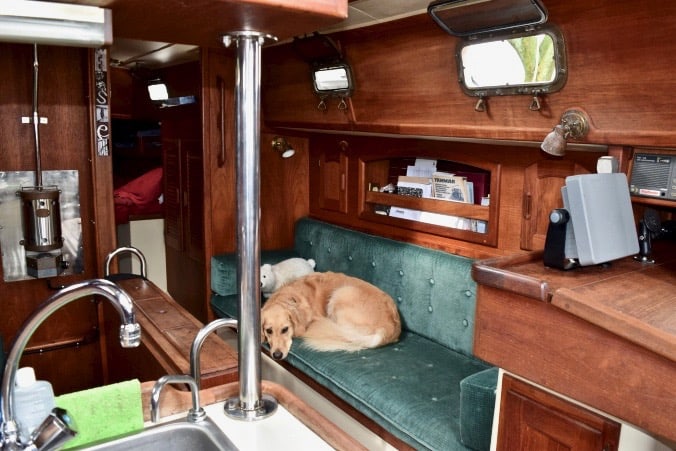 Becoming A Good Boat Keeper
Yep, if you want to live a low-stress nomad life, you've got to be tidy.
I never was a neat person before moving on board. But since living on Meander, I've developed cleaning muscles I never thought I had.
And my new life's ambition is a place for everything and everything in its place.
If you want to live a low-stress nomad life, start now by cleaning up.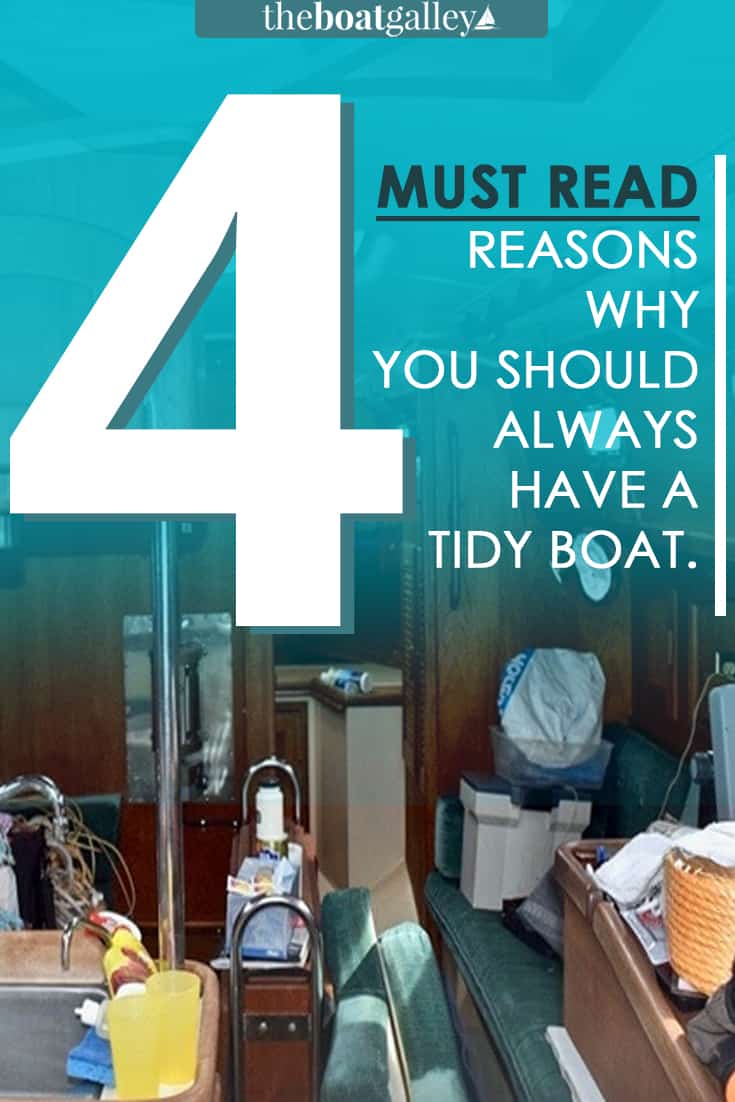 Some links above (including all Amazon links) are affiliate links, meaning that I earn from qualifying purchases. Learn more.