Or maybe I should say, beware of blindly following what the "experts" say. Or maybe, don't let the experts do your thinking for you. Or trust your own judgment.
They all apply. There's a story behind this . . . and it involves those oven mitts.
When we first decided to head out cruising, I researched everything I could about what I needed for the galley. And I took the experts' comments to heart. I dutifully wrote down everything I "had to have" and made up a shopping list.
I got some great and useful stuff.
I also got oven mitts. They were good oven mitts, the type recommended by the experts.
I'm sure they could have protected me from a couple of minor burns as I took stuff out of the oven. But they didn't.
So, you're asking, what can possibly go wrong with oven mitts?
Simple. I've never used oven mitts in my life. I pretty much hate wearing gloves. I don't use rubber gloves, sailing gloves, or gardening gloves. I only reluctantly wear gloves in the winter when it's just so cold that I HAVE to. I dislike wearing gloves almost as much as I dislike wearing shoes.
And thus I never used those nice oven mitts. I much prefer a regular potholder and that's what I always reached for.
And that's the point of this whole article — you have to temper any recommendations you get with what you know about what you like and how you operate. People — yeah, such as me — can tell you what's worked well for them, but that's all. There aren't any universal answers.
If I had stopped to think for a minute, I would have realized that I was highly unlikely to use those oven mitts. I would have saved my money (okay, they weren't expensive, but it all adds up) and the space.
The oven mitts aren't the only thing that I ended up with because I failed to think for myself. There's also the double sink that experts said was far superior to a single bowl . . . that I couldn't put a plate in on either side (read more about replacing it). And probably a few other things that I'm forgetting.
Seeing what others have to say is good — I've learned tons this way over the years and many experts made me think about things I wouldn't have otherwise. But I've learned not to just blindly follow suggestions without thinking if their reasons apply to me.
Bottom line: Don't just blindly accept what I — or anyone else — says. Your galley (and everything else in your life) has to be right for you. I'm not an expert on what you need or how you should do things in your galley. Really. You are.
You might even consider oven mitts to be one of the best things you have in your galley!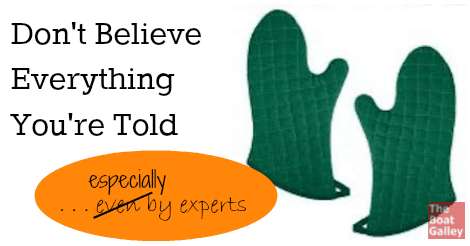 Some links above (including all Amazon links) are affiliate links, meaning that I earn from qualifying purchases. Learn more.