Spices seem to take up an inordinate amount of room in the galley, yet no one wants to have bland food. And so everyone is looking for a better way to store their spices. I've posted several ideas in the past, as every boat is different and what works well for one won't do at all on another boat.
Here's another option, from Terri Leiser-Gross. She has over 100 spices on her boat!
Terri got a bunch of small, heavier than Ziploc, plastic bags, labels and five plastic boxes with hinged lids at The Container Store. Of course, I can't find them online at The Container Store, but I'm guessing that if you go to an actual walk-in store you could find them — or see below for some very similar ones I found on Amazon.
Terri put her spices in the plastic bags and labelled them, then arranged them alphabetically in the boxes and labelled the boxes to make it easy to find the spices.
The nice thing about this system is that you can use whatever size boxes fit the space you have available; just make sure to get bags that will fit in the box with a bit of room to spare to make it easy to find the spices and also put them back in after using. If the fit is too snug, it'll just be a pain to use!
Terri used boxes with a latching hinged lid. If you think you might encounter some rough seas, a good choice would be Lock & Lock (or similar) containers — they're a little heavier plastic and have latches on all four sides, so even if a box does get thrown to the floor, it's not likely to pop open. Boxes are best if they're no longer than 6 inches — more than that and the bags inside will just get jumbled.
The Lock & Lock boxes (or similar gasketed ones with tight latches from Sterilite or Rubbermaid) are also good if you're in a climate with high humidity. You can even add a few desiccant packs to each box to further help with moisture. (Moisture will quickly degrade the flavor of most spices and will also cause them to clump.)
On Amazon, I found bags that have a white "write-on" square on them — not quite as neat as making labels but a lot faster. A 3″ x 4″ bag is about the smallest you want to use, both from the standpoint of being able to fit an entire bottle's worth of a spice into a bag and to be able to open it wide enough to easily pour the spice in.
If you get write-on bags, be sure to use a permanent felt marker to label them — Sharpies work well. Otherwise, any dampness on your hands will make a mess of the labels. Don't ask how I know this!
A real advantage of using bags like this: you won't be tempted to hold the bag over a steaming pot and just sprinkle a bit in. The steam is just horrible for spices — taking away the flavor as well as making them clump — and it's much better to just spoon out what you need.
Here are the supplies I found on Amazon. However, be sure to get what will fit in your galley. Start with boxes that will fit (figure that you can fit about 5 spices per lengthwise inch of the box when figuring how many boxes you'll need), then get bags that will fit the boxes, plus any labels needed.
It's not a bad idea to get more bags than you need right now, as some will have to be replaced over time and you might buy a new spice or two. Unfortunately, it costs about as much to get 100 bags as 500 but they're still not horribly expensive compared to other systems for storing spices.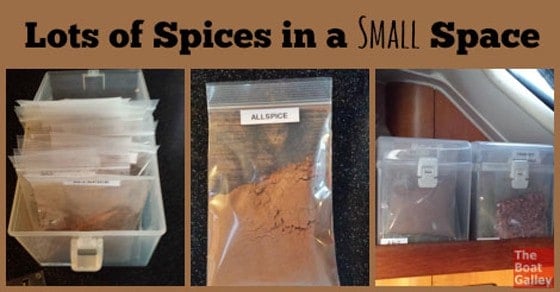 Some links above (including all Amazon links) are affiliate links, meaning that I earn from qualifying purchases. Learn more.