I've made my own salad dressings since I was a little girl. I think the first thing I learned to make was a vinaigrette dressing — before I even went to kindergarten!
Making your own dressings has a practical aspect on a boat, too: you don't have to worry about what the local store might or might not have, and generally the ingredients don't have to be refrigerated, a major bonus for those with tiny refrigerators or none at all.
I've always loved the Olive Garden dressing, and have made a copycat version of it for at least 20 years. When I was diagnosed with diabetes, it seemed like this might be a thing of the past. It used mayonnaise and almost all mayonnaise has sugar in it. It used a fair amount of garlic and anything more than a small amount of garlic will raise my blood sugar for 24 hours. It used shredded cheese, which is usually covered in starch so it doesn't clump (and I don't eat starches, period). And the original recipe used corn syrup — a major no-no for diabetics!
The key is several substitutions and not expecting an exact copy, but just a darn good salad dressing.
Duke's Mayonnaise (Amazon) has no sugar or sugar substitutes in it — and it never has. I now use it everywhere that I use mayonnaise, and Dave has it on his sandwiches, too — and thinks it tastes even better than the Kraft or Hellman's we used to use. If you don't have a refrigerator — or only a tiny one — Duke's comes in a squeeze bottle (Amazon), which can be stored without refrigeration. Read more about storing mayonnaise without refrigeration. Duke's can be found in many grocery stores.
I decreased the amount of garlic — if you're not sensitive, you can increase it some.
I don't use cheese, as Dave is allergic to all milk products. If you want to use cheese, simply buy blocks of cheese and shred your own with a grater. Not only will there not be any starch, but the flavor is better, too.
And I use Allulose in place of the corn syrup. Allulose melts like sugar does, so it's not grainy the way some sugar substitutes are. It's also about 70% as sweet as sugar so it doesn't have a weird "too-sweet" taste, aftertaste or any other strange sensations. Large quantities of Allulose can cause diarrhea, but small amounts such as that used here are fine. I have not found Allulose in grocery stores and buy it on Amazon.
I've served this to guests and taken it to potlucks. Numerous people — without any dietary restrictions — asked for the recipe! Don't feel like you're deprived with eating keto/LCHF or dairy free. You can make great dressings that totally fit with your dietary restrictions.
If you don't have dietary restrictions, you can use the same basic recipe with regular mayo, up to a teaspoon of garlic, sugar instead of Allulose and go ahead with the shredded cheese. If you don't use shredded cheese, it's still a great no-refrigeration recipe.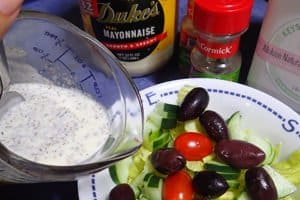 Almost Olive Garden Salad Dressing
A keto/LCHF salad dressing that's similar to the Olive Garden dressing and takes just minutes to whip up. Gluten-free and dairy free, too. Ingredients do not need refrigeration.
Print Recipe
Pin Recipe
Ingredients
1/4

cup

Duke's mayonnaise

1/8

teaspoon

garlic powder

(OR 1/2 teaspoon minced garlic)

1

teaspoon

Italian seasoning

1

tablespoon

Allulose

(sugar substitute, see notes)

1/4

cup

white distilled vinegar
Instructions
Place Duke's mayonnaise in small cup or bowl.

Add garlic powder, Italian seasoning, and Allulose. Mix thoroughly.

Add vinegar slowly, starting with about 1 teaspoon, mixing thoroughly after each addition. Adding it slowly keeps the dressing very smooth.

Any unused portion must be refrigerated.
Notes
Duke's mayonnaise contains no sugar or sugar substitutes, unlike every other commercial mayonnaise I know of. I buy it in the squeeze bottle; as long as it's not contaminated (never touch the tip of the bottle to anything) you can store it without refrigeration. It also comes in more economical jars; these are great if you do have refrigeration space for the jar.
Some diabetics are sensitive to garlic, in which case you should omit it.
Allulose is a sugar substitute that has zero carbs and zero effect on blood sugar. Many popular sugar substitutes (such as Splenda) do have an effect on blood sugar; don't use them. I think Allulose has a much better flavor than Swerve or erythritol. I've written more about Allulose here.
Variation: You can add up to 2 tablespoons of shredded cheese such as Parmesan or Romano. Commercially shredded versions have starch added to keep the shreds from clumping; if you are diabetic, you're much better off to buy a small block and cheese and grate your own.
No Dietary Restrictions: If you don't have dietary restrictions, you can use the same basic recipe with regular mayo, up to a teaspoon of garlic, sugar instead of Allulose and go ahead with the shredded cheese. If you don't use shredded cheese, it's still a great no-refrigeration recipe.
Nutrition Facts
Almost Olive Garden Salad Dressing
Amount Per Serving
Calories 104
Calories from Fat 108
% Daily Value*
Fat 12g18%
Cholesterol 10mg3%
Sodium 750mg31%
Carbohydrates 0g0%
Protein 0g0%
Calcium 8mg1%
Iron 0.2mg1%
* Percent Daily Values are based on a 2000 calorie diet.
Want over 800 boat-friendly recipes, over 100 substitutions, and tons of tips for cooking on a boat?


Some links in this article (including all Amazon links) are affiliate links, meaning that we earn from qualifying purchases.