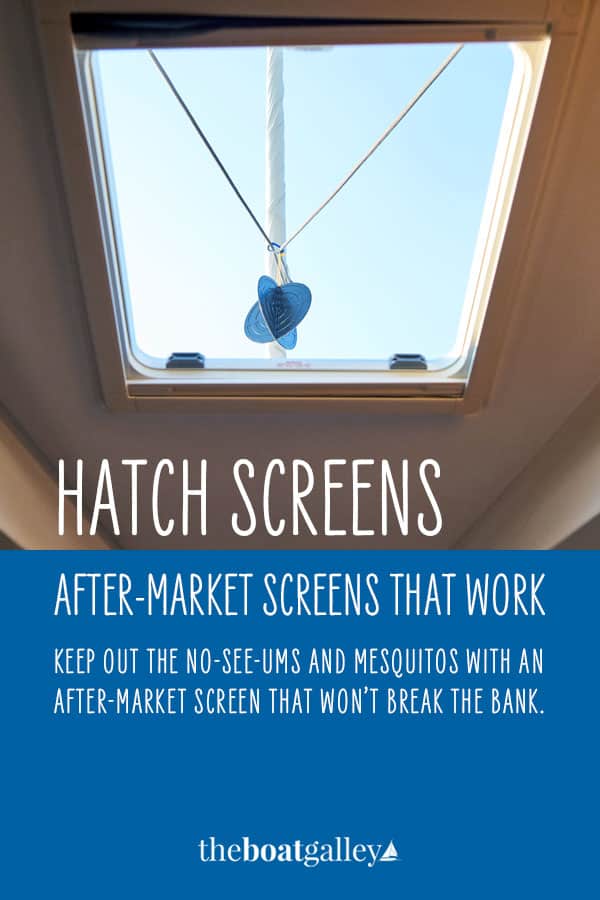 Need new or better window (port or hatch) screens for your boat? Aftermarket screens from Waterline Designs are a solid option that's less expensive than most hatch manufacturers' offerings and will even keep no-see-ums out.
Our boat came with screens for the four main hatches. They were part of the Bomar hatches that had been used when the boat was originally built. But that was 17 years ago, and we'd begun to notice a few problems:
One of the hatch frames was just slightly bent and would let mosquitoes in. We tried to straighten it out but couldn't get it perfect. I checked the price for a replacement (gulp!) . . . instead, we used 2" wide tape to seal the gap.
Being regular screen, no-see-ums could still get in . . . a real problem at Glades Boat Yard and in the Florida Keys on nights with no wind. More than once, we totally closed the boat to keep the bugs out. Talk about hot!
We have four smaller ports that help considerably with cross ventilation, but those had no screens. I looked at buying some from the port manufacturers, but the cost just seemed too high.
To be honest, most of the time we don't use screeens. If there are no bugs, we prefer the extra ventilation of not having a screen in. But if there are mosquitoes or – worse – no-see-ums, we want screens!
Just as we were leaving for the Bahamas, Waterline Designs contacted me. Would we be interested in trying their after-market screens? I looked at them online and, as they seemed to solve several of the problems we had, said yes, we'd be interested in trying them and providing feedback.
We used them anchored off mangroves in the Florida Keys – notorious for both mosquitoes and no-see-ums unless the wind is blowing – as well as in a few "no wind" anchorages in the Bahamas. Overall, we liked them.
Details of Waterline Designs Boat Window Screens
The best way to describe them is that they are like the "instant pop up" tents that you may have seen: they have a frame made of a very springy material that just pops into shape; a twist of the wrist folds them back up. Consequently, they are very compact to store – much smaller than our "original" ones with aluminum frames. You also don't have to sorry about a bent frame letting bugs in.
A blackout hatch screen popping open: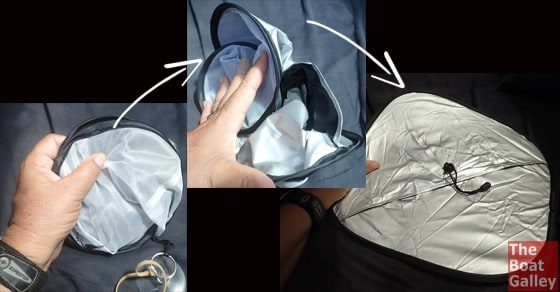 They are "universal fit" boat window screens in several size ranges, which makes them far less expensive than custom screens or replacement ones from the manufacturer.
The screen is fine enough to keep no-see-ums out, which is a big plus. The downside (which is true of any screen that keeps no-see-ums out) is that less breeze passes through. I'll take less breeze in order to block the no-see-ums!
They also have screens with a blackout shield. This is good for the off-watch sleeping during the day on passage (you might not want the hatches open underway but you can use these without opening hatches) or just to avoid early sunrises and late sunsets as when cruising high latitudes in summer (the company is based in Sweden).
Installing Waterline Designs Boat Screens
So, how do they mount? There's an ingenious suction cup/drawstring arrangement. The suction cup goes on the hatch and then the drawstring with cord lock is tensioned to keep the screen snug on the hatch or port opening. For vertical portholes that open in, the screen will be on the outside. The company's drawing shows it far better than any of the photos I took.


There's definitely a learning curve to setting up these boat window screens, but it's not insurmountable. Two tips: clean the hatch well where the suction cup will go – salty air collects on the hatch and then the suction cup won't stick well (if it still doesn't stick, wash the suction cup off too — something may have gotten on it); and don't pull the drawstring too tight or you'll pull the suction cup off the hatch/port.
We were a little frustrated trying to get them "just right" at first, but within a few days started to get the feel for making them tight enough to keep out bugs but not so tight as to pull them off. Strong winds would dislodge the suction cups and the screens would drop into the boat, but if there were strong winds there weren't bugs so it wasn't a problem.
Sizing: you want the screen to overlap the hatch area by at least an inch, two is better. We should have used the next larger size. If in doubt about the size you need, order larger. Their website FAQ has good information on how to measure and get the right size — I made the mistake of not actually measuring when I told them the size of our hatches (oops!).
BOTTOM LINE
The Waterline Designs screens cost much less and take up a lot less space than "original replacement" screens or custom screens. While there's a learning curve to putting them up, once you've mastered it they do a good job of keeping mosquitoes and no-see-ums out of the boat. Some air flow is blocked, but no more so than other no-see-um screening. And if you want to sleep while it's still daylight out, their light blocking shades are excellent.
WHERE TO BUY:
Read Next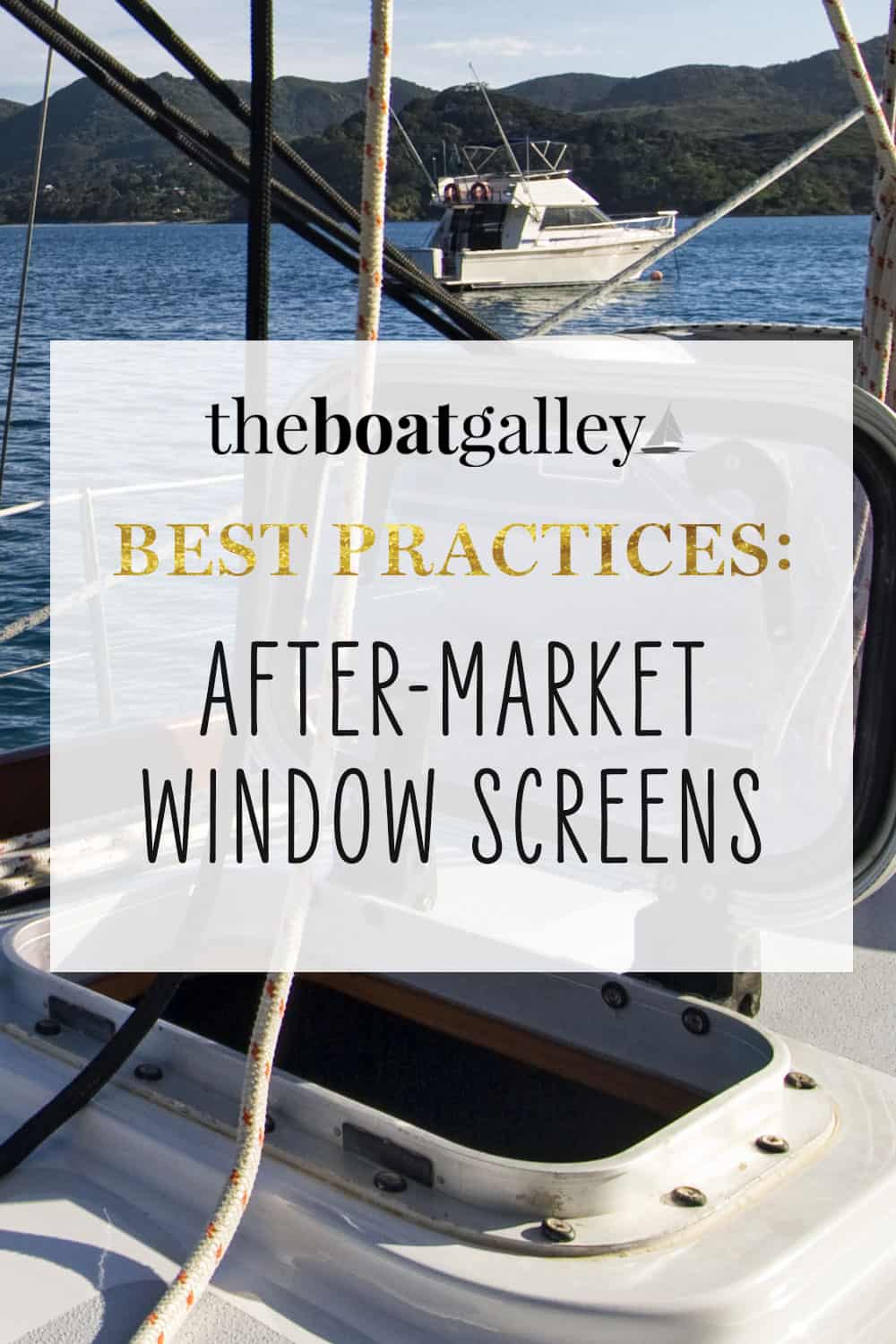 ---
Our FREE Provisioning Spreadsheet
Wondering how much of what foods to take on your next trip? Know just how much to buy of what — all arranged by grocery store aisle — with our handy Provisioning Spreadsheet. Includes detailed instructions to edit it for your favorite foods, how much your family eats, and how long you'll be gone. No spreadsheet skills needed!
It's FREE — get it here.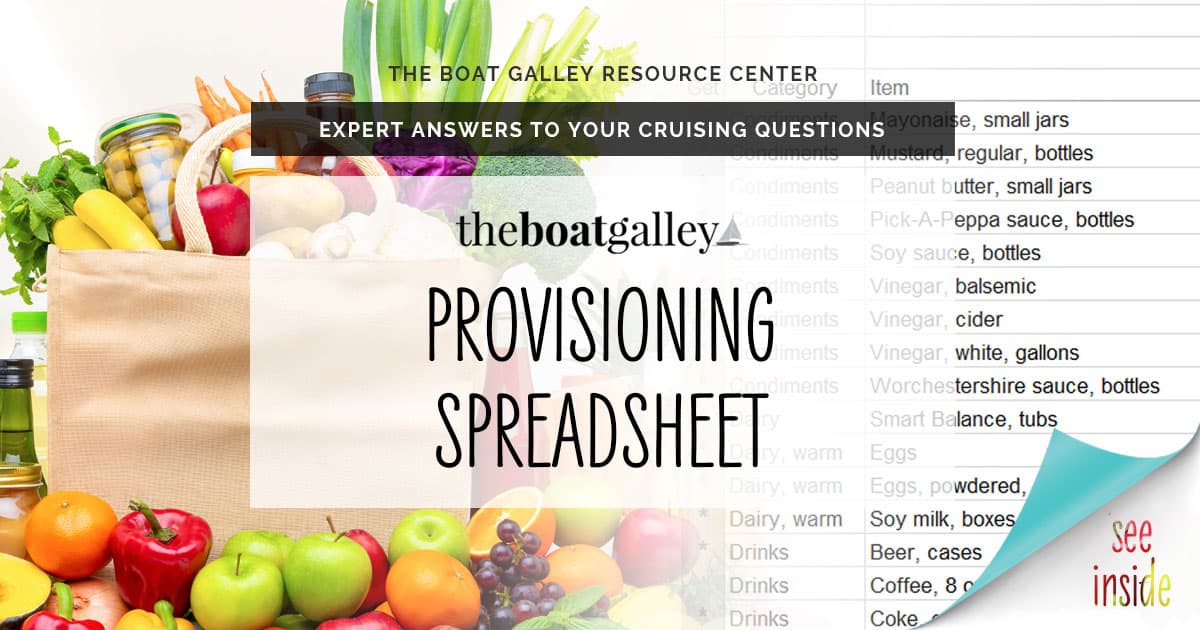 Some links above (including all Amazon links) are affiliate links, meaning that I earn from qualifying purchases. Learn more.