Dave and I both really like our new Outland Hatch Covers. They look great, were simple to install and even easier to use. [UPDATE: After over a year of use, they still look as good as when we installed them. No problems whatsoever!]
Our previous boat, Que Tal, had fabric covers and were much harder to use. Over time, the fabric shrunk and the covers became progressively harder to put on and get snapped — in fact, we often had to leave one or more snaps unfastened. And we couldn't leave them in place and open the hatches. That meant that there was no way to block the light but still get air in the boat.
Getting ready to cruise? Prepare to Cruise (a FREE mini-course) gives you lots of free resources along with affordable recommended courses and coaching for more in-depth needs.
Outland Hatch Covers take care of all those problems. Full disclosure: OHC is a sponsor of The Boat Galley and provided two of our covers free for review purposes. We purchased the other two and we are delighted with them. Yes, we'd buy them again.
The covers are a flat piece of a special type of PVC, custom cut to fit your hatches exactly. While all four of our Bomar hatches are the same model, OHC knew that these Bomar hatches tend to vary some in the handle placement — so they had me take a couple of measurements on each hatch, then cut each one slightly differently to match up. WOW!
They attach with a neat proprietary twist fastener that is permanently attached to your hatch.
So why do we like them so much?
We can leave the hatches open yet block the sun coming in through the glass (Lexan). Even though the hatches are tinted, it heats up the boat — and puts a nasty glare on computer screens. No more!
On cool days, if we want the sun to warm up the boat, it takes just a couple of minutes to remove all four covers. Much faster than the cloth covers.
The covers can stay in place for normal coastal cruising, although not for ocean passages. No taking them off every time we go out and putting them back on when we anchor up again. Not only is it one less chore, but the boat stays much cooler underway.
They are going to be great when we store our boat this summer. Last year we used Reflectix on the inside of all the windows and hatches. Later we learned from other Gemini owners that this can lead to warping of the Lexan in the hatches and then to leaking hatches — the sun passes through the Lexan, then is reflected off the Reflectix and back through the hatch. It's much better for the hatch to have sunproof covers on the outside — and they keep the boat cooler, too. Since the OHC covers are on the outside, we won't have to make anything different for the summer. Not only will they be better, it'll be a big time saver, too.
They're not going to come off accidentally. Outland says they'll stay on in a 50-knot blow. We haven't tested this (and I hope not to).
These are solid covers that don't let any light in when the hatches are closed. Well, actually, there is a tiny bit of light around the fasteners and the handles, but it is tiny.
A few photos of our covers — inside and out — a few photos with tips on installing them and then a video from OHC on installing the covers. It took me maybe 15 minutes to install all four of ours, including cleaning the hatches.
The outside appearance: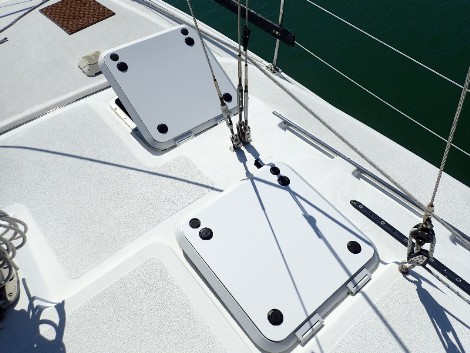 Inside, almost no light enters when the hatch is closed (there's a weird reflection in the photo, but the only light that comes in is around the circular cut outs for the handles).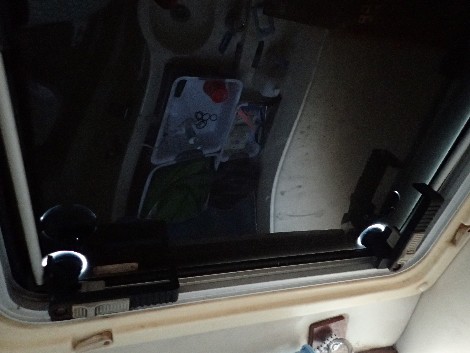 I marked the covers so we'd know which one went on which hatch when we took them off and on. Mark in the little tabs that'll go under the fasteners and no one will ever see the markings (I used P for port, S for starboard; F for forward and A for aft).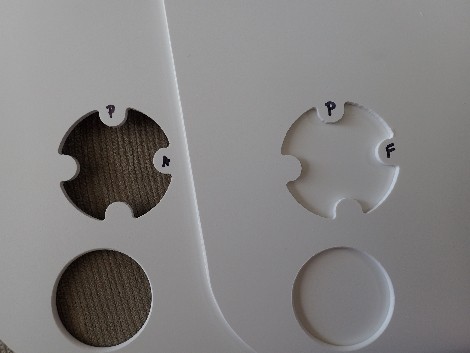 I used blue tape to hold the covers exactly in place while I installed the fasteners. I found they slid just a bit otherwise.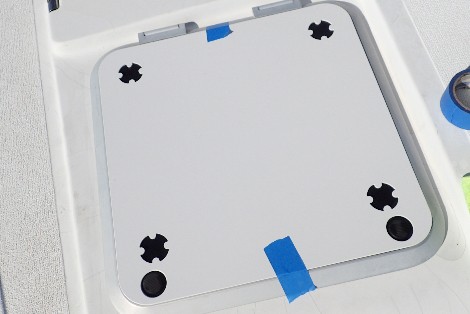 Here's the company video showing how to install them. I was surprised at how easy it was!
To see more about the hatch covers, visit
Outland Hatch Covers
.
Pricing and ordering information is here
.
Pin it now! Save it for later!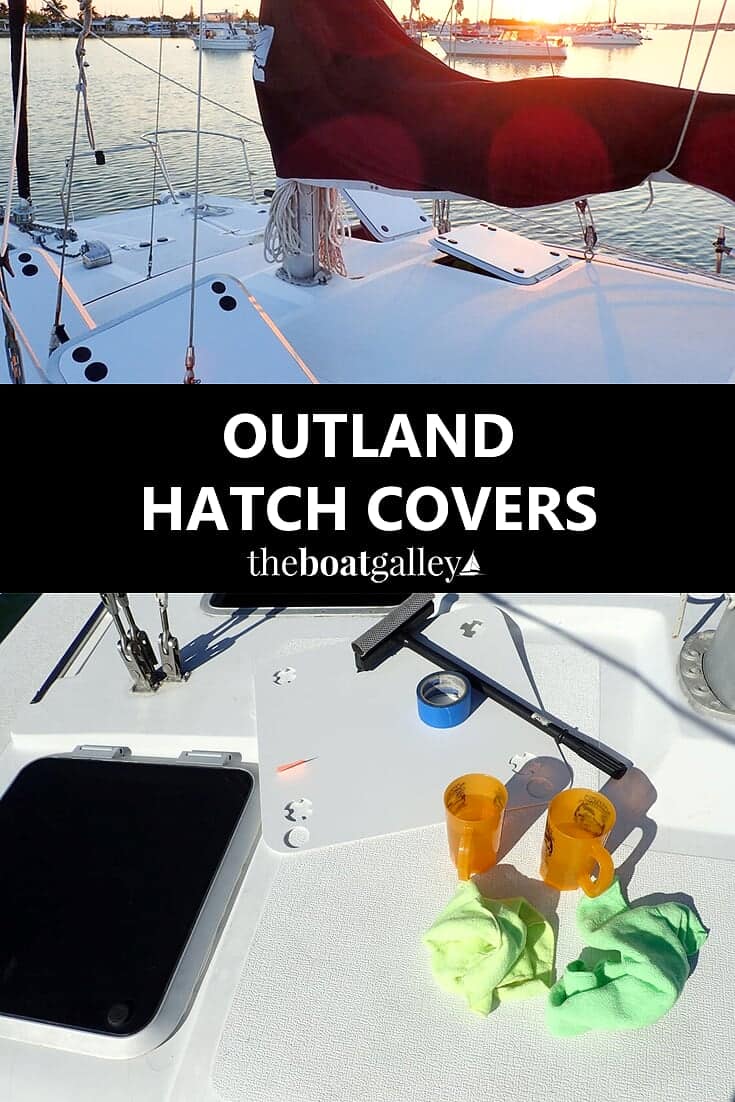 Some links above (including all Amazon links) are affiliate links, meaning that I earn from qualifying purchases. Learn more.