Okay, I'm not going to make any claims of being a refrigerator mechanic. I'm not!
But just a quick post today with a few things I — or more accurately, we — learned about adding refrigerant (aka Freon, although almost none actually use Freon any longer) to a boat's refrigerator. Yeah, another of those things you didn't know you cared about. Until suddenly you did.
This is not a step-by-step guide to recharging a refrigerator, just some things we learned that weren't in the books:
It also might be the thermostat that has the problem — a quick test for this is to turn the knob to make the temperature cooler and see if the compressor kicks on. Try this when the compressor is off — as you start turning the knob, the compressor should come on almost immediately.
Another possibility is a blown fuse — or a bad breaker. Trace your wiring to see if there is an inline fuse, then check it if there is one. You can test breakers with a voltmeter (if you don't know how, check any boat electrical book such as Calder's or Don Casey's — links are to the books on Amazon US).
If you do need to add refrigerant (and it's not because you deliberately let some out for some reason), you have a leak. The refrigerator is a closed system and the refrigerant doesn't just disappear. You need to find the leak (soapy water is the easiest way) and then fix it. Rescue Tape is a great "temporary fix" on any of the lines or connectors; JB Weld can fix many holes in other locations, but be careful not to restrict the tube with the JB Weld.
Most boat refrigeration systems are small and don't hold that much refrigerant. It is extremely easy to get too much refrigerant in the system, so that it is over-pressurized and not cooling. If you just charged it — and aren't really experienced at it — and it's not chilling like it should, try letting out just a tad of the refrigerant.
Whenever you make a change to the system, either adding or letting out refrigerant, give the system at least an day to settle in before you make another change.
If you're doing extended cruising in remote locations, it's worth getting a recharge kit if you have refrigeration. You need the hoses, gauges and correct refrigerant along with the owner's manual or other information on how to do it and what the correct pressure is. It's actually not that hard to do if you take it slowly (Dave and I had never done it before we recharged Que Tal's system). FYI, it's basically the same thing as recharging a car air conditioning system and there are tons of YouTube videos showing how to do it.
Good luck — and you'll LOVE that cold beer (or whatever) when it's fixed!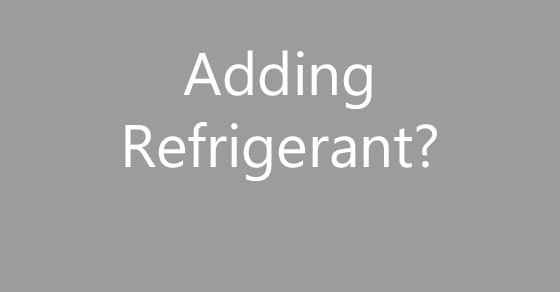 Some links above (including all Amazon links) are affiliate links, meaning that I earn from qualifying purchases. Learn more.