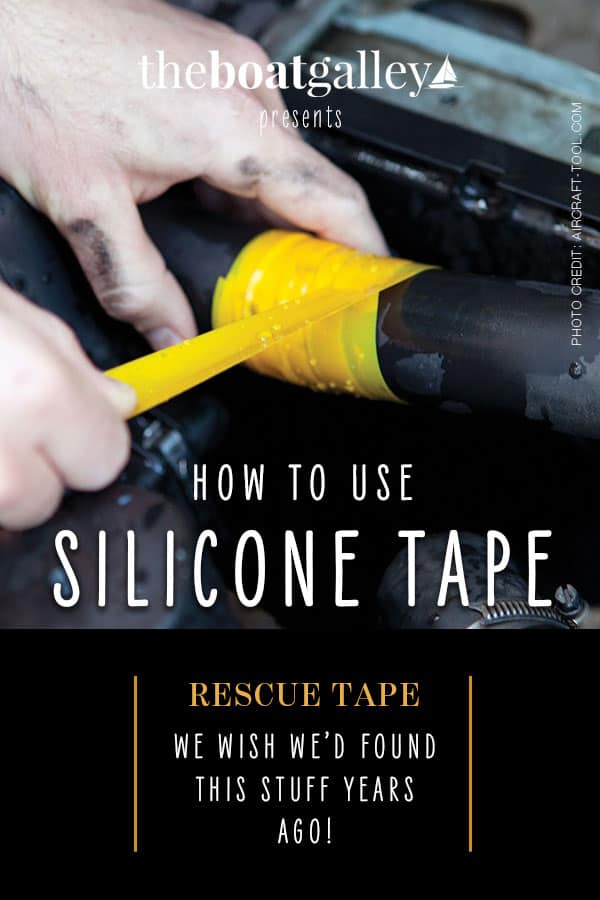 Rescue Tape is one of those products that, once you use it, you wonder how you got by without it.
A quick description:  Rescue Tape is silicone and sticks to itself — well, actually, it fuses to itself — when wrapped around an object.  The tighter you pull it, the better the seal.  No, you can't just put it on a flat surface to mend something, but it's great on hoses and plumbing — see more uses below. Unlike electrical tape, it won't get gummy, and it won't dry out like duct tape can — even in the sun. 
Dave and I had used similar "plumbing repair tapes" in the years we owned our first cruising boat, Que Tal. But then at the 2012 Annapolis Sailboat Show we found a highly improved version of "plumber's tape" sold under the brand name Rescue Tape.


Rescue Tape vs. Other Plumber's Tape
The plumber's tape that we had used previously was only good to about 100 PSI of pressure, and 212° F.  The brand we used most often was called "Magic Wrap tape" (I think) but there are lots of brands with similar performance characteristics.  These are good for household plumbing and a few other low-stress applications, but not a lot of other projects that might arise on a boat.
Rescue Tape costs slightly more BUT it's good to 950 PSI, will insulate up to 8000 volts of electricity, is heat resistant to 500° F. and will remain flexible to -85° F. It's resistant to fuel (gas and diesel), oils, acids, salt water and UV. That means you can use it even on the high pressure side of a watermaker and on diesel engine hoses and fuel lines that are in areas that need to be able to withstand the heat of an engine even if it overheats. You can also use it to seal a punctured refrigeration line.
And unlike most other tapes or repair materials, the surface doesn't have to be totally clean or dry. You can use it on wet, oily, gasoline- or diesel-covered, dirty surfaces.
As I began to write this article, I discovered that there are a few other brands of what is now referred to as "repair tape" with similar specs.  Most don't have the same specs, though — so be sure to check carefully if you buy a different brand. 
Rescue Tape Uses
When we first found Rescue Tape, Dave and I thought of all the times we would have used it to make an essentially permanent repair.  Times when we spent a lot of time making a repair . . . or waiting for a part because we couldn't repair it.  And it would be better for certain other projects than what we had used.  In just a few minutes as we stopped for a cold drink, we came up with this list of things we would or could have used Rescue Tape for: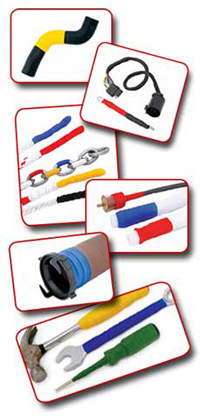 a couple of watermaker leaks that took forever — and a few new connectors — to cure;
a split in our oil cooler that took 2 days to repair using JB Weld, some patch material and hose clamps;
a split diesel copper fuel line that could have been repaired in 15 minutes instead of a full day;
a cracked dinghy gas line (we did use the plumber's tape that we had on this);
a crack in the diesel heat exchanger (the outside shell, not an interior tube);
virtually any other hose — water, sewage, drain, fuel, exhaust, etc.;
a split snorkel (don't leave one in the cockpit where someone else can step on it!);
a punctured refrigeration tube (would still need to evacuate the system and recharge it, but wouldn't have to buy and install a new tube);
rigging tape;
line whipping (be sure to pull it very tight);
anchor chain/rode marking (the sales rep from Rescue Tape swears that it will go through a windlass without being chewed off);
marking halyards for reef points;
bundling wires;
shrink-wrapping wire connections (it'd be wonderful not to have to use the butane torch and still make the connection watertight); and
make galley utensils and other tool handles heat resistant and electrically insulated . . . as well as non-slip!
In the 8 years since we first discovered Rescue Tape, we've used it for most of these, and a host of other applications.
How to Use Rescue Tape
Most people who don't think Rescue Tape (or any other brand of silicone tape) works well are not applying it correctly. Two things: you have to pull hard on it and really stretch it (make it very tight, particularly with high pressure applications) and you can't be chintzy.
You wrap it around an item, and overlap it by 50%, pulling tight — stretching it to at least double the length — and going 3 to 5 inches on both sides of the leak (not necessary for things like rigging, chain marking, line whipping and so on where there's no leak). That means for a 1″ split in a hose, the total repair is going to be 7 to 11 inches long! The tighter it's wrapped, the faster and stronger it will fuse. For high pressure leaks, you may need to put a second layer on. But the result will be water-, fuel- and air-tight. Consider it permanent, too — if you need to remove it, you'll have to cut it off.
Where to Buy Rescue Tape
You can buy Rescue Tape in all sorts of colors (and clear) directly from the company on Amazon:
Rescue Tape on Amazon (This product is black. Other colors should turn up in the related products area . . . but beware, there are a few "lesser quality" tapes that will turn up as well.)
It's also available at various brick-and-mortar stores, including most Pilot travel centers and some other truck stops. This is one of those things to get before you need it — while I hope you'll never be desperate for it, just remember Captain Ron's words of wisdom: "If it's going to happen, it's going to happen out there."
Here's your "Quick Start" to everything you need to know when living on a boat:


Making Boat Life Better
Some links in this article (including all Amazon links) are affiliate links, meaning that we earn from qualifying purchases.