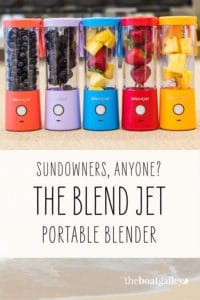 Readers have asked me to recommend a good boat blender. To be honest, I haven't found one I would make space for on Barefoot Gal. But a reader recently recommended one that has a lot of nice features—the BlendJet.

It's not available on Amazon. They have similar personal blenders but their reviews aren't as strong as the BlendJet.
Here's what world cruiser Alexandra Blakeman had to say about her new BlendJet:
---
My husband and I have had a running argument about gadgets in the galley. After switching to protein shakes for lunch, we've started debating about blenders.

I have always maintained that a blender is too big an item for the galley. And it's power hungry.

For years, I've resisted and just used a good old hand blender that fits in a drawer. But a few weeks ago I saw the Blendjet advertised on Facebook. It looked quite interesting.

Portable blenders seem to be a trend. So I did a bit of research before being sucked into a FB advertisement.
These key elements make it a good choose for us. It's:
quite powerful (it even crushes ice!)
chargeable by USB
a good capacity, and
small enough to fit in one of my smallest galley cupboards (24 cm high by 8 cm wide or 11 x 3 inches)
After a week, I'm really happy having the Blendjet on board. See the BlendJet.
Want some help with that tiny refrigerator? Check out our step-by-step how-to:


Making Boat Life Better
Some links in this article (including all Amazon links) are affiliate links, meaning that we earn from qualifying purchases.