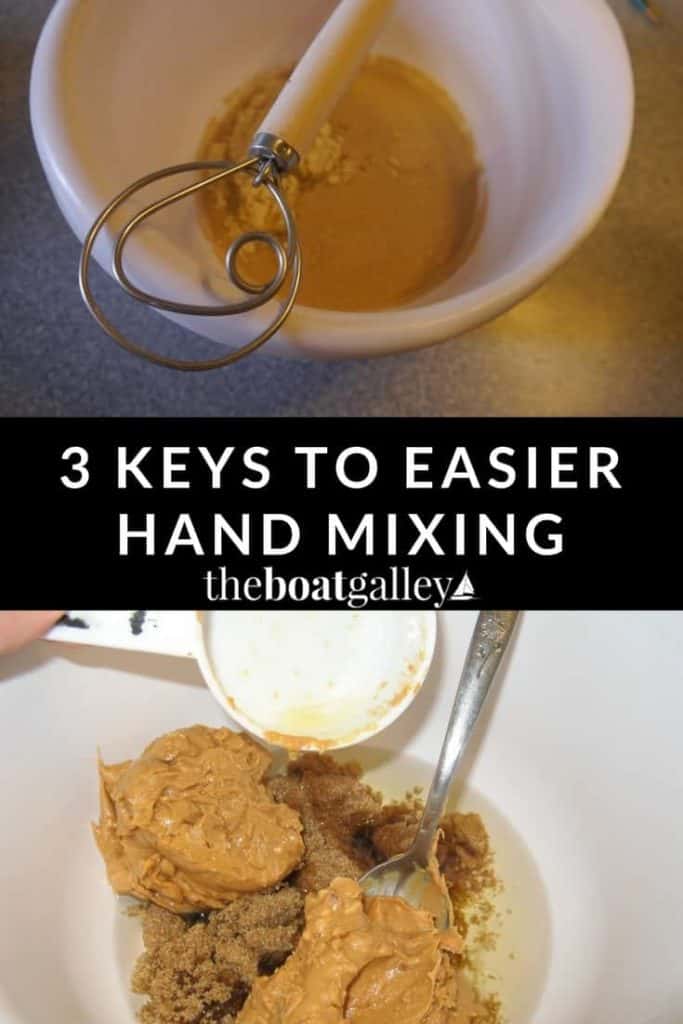 So many cruisers that I talk to lament not having the baked goods that they'd like. At first, I though they were all on diets. I found out the real story when I took cookies to a beach BBQ. My friends thought I'd figured out some way to have an electric mixer on board! But no, I'd just learned 3 keys to easier hand mixing.
The Right Equipment
The right equipment makes hand mixing much easier. You need different types of spoons, bowls and other equipment than when you're using an electric mixer. Bowls and spoons need to be easy to hold and designed for the stresses of hand mixing — mixing cookie dough takes a much tougher spoon than does tossing a salad! See my criteria for good hand mixing equipment as well as my recommendations in Equipment for Hand Mixing.
The Right Recipes
This is the real "secret" of hand mixing, and the nice thing is the ingredients called for in the right recipes are easier to store on a boat than for the recipes you've used for years — and the taste is great! In fact, many of my "most-often-requested" recipes are hand mix recipes, but the people making the requests don't know that!
Keys that I look for in recipes to make by hand include:
Using oil instead of butter or margarine
Smaller batch size so you're not dealing with as large a mass
Nothing that has to be beaten until fluffy such as egg whites or whipping cream
Cakes that don't require buttercream frosting, which really requires an electric mixer
If you search, there are a lot of recipes that can easily be made by hand. One of my favorite sources is pre-WWII cookbooks. Or you can search on the internet for cookies and cakes made with oil. Most no-bake cookies are designed to be made by hand. And look through your existing recipe collection and see which ones would be easy to do without a mixer.
Over the years, I've developed a large collection of recipes that are easy to mix by hand. One of them, for my great-grandmother's Chocolate Upside Down Cake, was the first cooking piece I had published — in Cruising World!
Most of my other hand-mix baked goods recipes have made their way into The Boat Galley Cookbook, which I've written with my friend Jan Irons.
The Right Technique
Having the right equipment and the right recipe will almost ensure that you use the right technique. Poor technique almost always comes from trying to mix something in a way that was never intended. But here's a quick overview of hand mixing techniques:
To cream something like butter and sugar or cream cheese, start with with softened ingredients. Use the back of your spoon and press against the wall of the bowl. This can be a lot of work and is why I prefer recipes based on oil instead of butter.
To beat batter, the easiest way is to pick the bowl up and hold it under your arm against your waist at a 15- or 20-degree angle (don't want to tilt it so much that food spills out as you beat it). Use your spoon and make quick circles in the batter, incorporating air into the mix.
To whip a mixture, use a whisk or fork, hold the bowl as for beating, and make really fast circles to get as much air into the mixture as possible.
To cut flour and shortening, for a pie crust or similar things, you don't want to mash them together as for creaming. The whole key to a good pie crust is that the shortening isn't allowed to soften in the mixing. Use either a pastry blender or two knives (one in each hand) to repeatedly cut through the mix until it's in tiny pieces. Do not try to mash them into a paste!
Another technique that works for many things is to put the items to be combined into a plastic food container with a VERY tight (preferably locking) lid and shake it. This works well for mixing flour and water for thickening, as well as for salad dressings and other "liquid" mixes. You can use it to turn cream into butter, but it does not work for making whipping cream or beating egg whites.
With the right equipment, recipes and technique, I'll bet you won't miss your electrical appliances . . . or your treats!
Making Boat Life Better
Some links in this article (including all Amazon links) are affiliate links, meaning that we earn from qualifying purchases.