It's so easy to get trapped in the mindset of doing "just a couple more things" before heading out on an extended cruise. I hate to say it, but the fact of the matter is that the boat will never be 100% perfect and ready. At least ours never has been.
A couple of days ago, Brittany of Windtraveler posted a fun piece on her blog — The Best Cruising Advice in Six Words. I love the quotes there from a wide range of cruisers — some with thousands of miles under the keel and some just starting. And that got me thinking about what my six words would be (we'd been out of internet range so I missed Brittany's call for quotes).
My six are something my mom told me numerous times: You'll never be ready. Go anyway!
In other words, saying you're going to do something is easy. You can prepare without fully commiting to the plan. The tough part is that transition from preparing to doing. It's a lot easier to keep "preparing" — doing what's familiar — on the grounds that things aren't perfect yet.
Taking that next step is scary. If you're not super-adventurous, how do you do it?
Taking baby steps helps. You don't have to cross an ocean the day you launch. There's time to figure things out. Start simply. Go for a single night. Travel just 5 miles. Go a little further next time. But above all, start.
Another big help for us was having a bail out plan. When we bought our first cruising boat, we kept our apartment and everything in it for nine months, until we were comfortable with the transition to our "new life." This time, we began as snowbirds and at the end of the winter, realized that we wanted to stay on the boat . . . so we sold the house. Both times, knowing that we weren't making an irreversible commitment made it a lot less intimidating to start.
But there were still things we wanted to do to the boat. Things we wanted to learn. What about those?
Probably everyone has heard that cruising is "fixing your boat in exotic locations." There is a certain amount of truth in that, whether it's a repair or an upgrade. But what it really means is that no, everything doesn't have to be perfect when you leave one place for another. Work can be done wherever you're going. You can (or maybe I should say will) learn as you go, as things arise.
We found that we still have to overcome the "not wanting to leave" syndrome every time we settle into a new cruising area. Once we get used to it and it feels comfortable, the tendency is to find reasons to stay in the area.
On one hand, we want to explore new places. Really, we do. But it's just so much easier to go where we've been before. Where we can follow our previous track. But we know we're most alive when doing something new. So, it comes down to do we want to take it easy or challenge ourselves? It's easy to say "challenge ourselves," but harder to do it. Are we really ready for that new experience?
There's only one way to find out. Go anyway!
NOTE: I'm not saying to head out in a boat that's not seaworthy or if you don't have the basic skills necessary for what you're planning to do. But you have to push the envelope a little, too. If you don't try new things, you won't realize exactly what skills you do have. We're still doing baby steps with our boat and in the new-to-us cruising grounds of the Florida Keys. And hopefully — probably before we feel totally ready — we'll go further afield, too.
Get info on gaining skills, buying and owning a boat, working on your boat, buying stuff for your boat and moving aboard in Prepare to Cruise (free mini-course).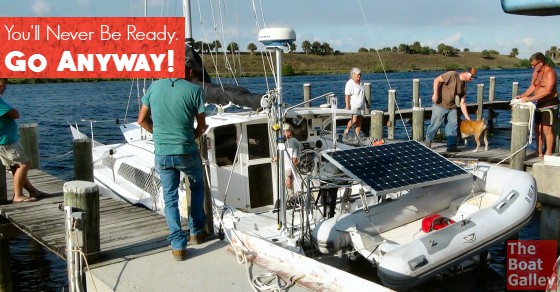 Some links above (including all Amazon links) are affiliate links, meaning that I earn from qualifying purchases. Learn more.