It happens to everyone. You get sick, or are injured.
If you're cruising, the question then arises: what next? I'm not talking about getting the first aid kit out, but the issue of "what about our plans?"
It's a question that I get asked every so often.
How we deal with the tug-of-war between medical issues and plans is influenced by some basic principles: first, cruising — as in moving from place to place — is somewhat physical and with just two of us aboard, we both need to be "able-bodied." Second, medical problems can quickly go from minor annoyances to life-threatening situations when there isn't prompt medical attention. Third, problems tend to multiply — if you're sick and trying to work on deck, you're more likely to be injured; if you are running a fever or in pain, your decision-making isn't likely to be good, etc.
Our "rules" are pretty simple:
If there is a medical issue going on with either of us and we're in a place with good medical facilities, we don't leave until it's resolved or beyond any danger point — in other words, when the doctor says its okay to go (and understands how available — or not — medical help will be).
If we are in a remote place with no medical facilities, we will generally move towards a place with facilities. Maybe it's only a clinic with a local health-care worker (not a doctor), but at least some "formal" medical care. If it turns out that we need more advanced care, these places virutally always know how to arrange it.
I'll be honest — it's a judgment call when we're in a remote spot and both sick. Is one of us well enough to take the other one to a better place? Or are we better off to use what meds we have aboard for a day or two, hopefully get at least a little better, and then make the trip . . . knowing that we risk possibly being sicker and having to get to help?
With chronic conditions that can flare up, we make sure that we know the immediate steps to take in case of a problem and have the meds or supplies necessary to treat it for as long as may be necessary to get to more advanced care. And if there is a flare-up, we don't leave a place with good medical care until it's fully resolved.
We're lucky, in that Dave's brother is a retired medical doctor and very willing to help us. We have a fairly good supply of basic prescription and OTC meds and other supplies on board. Between phone, email, text and now texting via the DeLorme inReach, we can reach Keith from virtually anywhere and get his input.
But that's not a substitute for doctors that can look at something in person, lab facilities and pharmacies with far larger stocks of meds than what we carry on our boat.
One of the axioms of cruising is that schedules will get you in trouble. We generally think of that in regards to weather . . . but it's equally true of health issues. Maybe even more true.
If something happens in the middle of a passage or series of day hops, that's one thing. But to leave a safe port despite a medical issue because "we planned to" or "we want to be there by such-and-such a date" or even "so-and-so is meeting us" is asking for problems.
Delaying a bit has always seemed the better path for us. And it's been beneficial in ways other than just better health for the trip.
In 2004, Dave had an eye problem that caused us to stay in LaPaz, Mexico an extra month — and change where Dave's son and daughter-in-law were meeting us for Thanksgiving. The real bonus came when we adopted our dog, Paz, during that extra month — she's one of the best things that has come out of our cruising! We didn't risk Dave's vision and we still got to El Salvador that year.
Last spring, we delayed heading to the Bahamas in reponse to what turned out to be a chronic prostate infection for Dave. The upside was that a wonderful used dinghy came on the market just days before we finally did take off — had we left sooner we wouldn't have had the opportunity to snag it. And we still spent four months in the Bahamas.
We had hoped to be ready to head to the Virgin Islands just about now. And there's very little left on our "to-do" list: basically a quick haul out and selling our car. But just days before we planned to haul out, Dave's well-controlled prostate infection became an acute full-fledged urinary tract infection. The first step is to get the infection under control, then the second step will be to run tests to figure out why things flared up and if further — or different — treatment is needed.
So we're delaying our departure to island-hop our way to the Virgin Islands. How long a delay? We don't know. But we're not abandoning it.  And who knows what might be the upside?

---
Our FREE Provisioning Spreadsheet
Wondering how much of what foods to take on your next trip? Know just how much to buy of what — all arranged by grocery store aisle — with our handy Provisioning Spreadsheet. Includes detailed instructions to edit it for your favorite foods, how much your family eats, and how long you'll be gone. No spreadsheet skills needed!
It's FREE — get it here.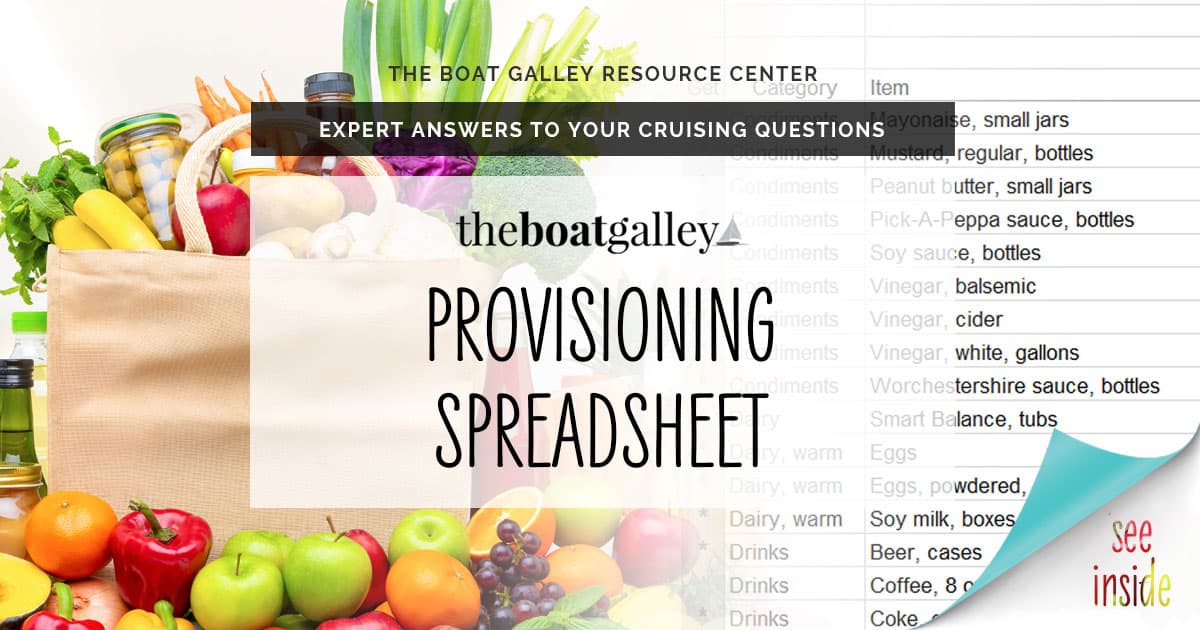 Some links above (including all Amazon links) are affiliate links, meaning that I earn from qualifying purchases. Learn more.