If you're planning to cruise more than a month or so at a time — say winters or full-time — a big question is how to handle mail.
Our strategy has several parts:
Go Paperless. Everywhere that offers a paperless option, sign up for it. Banks, stock brokerages, clubs, utilities, insurance. While this requires that you periodically have an internet connection, that's usually easier to arrange than a mail delivery.
Electronic Payments. We put all our routine bills on automatic billing, most to our checking account. A few companies only offer automatically charging our credit card, so we do that where we have to. We also have our credit card linked to our checking account and once a month it gets paid off in full, automatically. We just have to make sure there's enough money in the checking account to cover it!
Online Banking. Really strong online banking and investment services is critical. Being able to deposit checks with a smart phone app simplifies things. Several years ago, we switched from a local bank that had poor online banking tools to Capital One, which is fantastic (their 360 account is designed to be online-only). While it costs more, we use a full-service brokerage for our IRA/investment accounts — on several occasions when we've been cruising outside the US the ability to contact a real, live person who knows us (rather than calling a "customer service" line) has helped immensely.
Electronic Subscriptions. Both Dave and I prefer reading hard copies of magazines and newspapers, but we've switched to electronic versions in the interest of getting them promptly. If you want your home town newspaper, you can often get an online subscription or an app — sometimes for free and sometimes with a fee (we've always found the fee to be considerably less than the paper version). A side benefit is saving trees and not generating trash!
Encourage Email. We encourage friends and family to send us email or call for all the usual card-sending occasions such as birthdays, holidays and the like. Snail mail usually reaches us after the occasion!
Packages. When we order anything, we give the shipping address of where we are. We impress upon family and friends to ask us for a current address before sending us anything.
Okay, so all that has greatly decreased the mail we receive, but we still do get some. There are three basic ways to get it:
Friend or Family. You can have your mail forwarded to (or held and picked up by) a friend or family member who sorts out the junk and periodically sends a package of the good stuff to wherever you are. How well this works depends on how conscientious they are . . . and if you're outside your home country, the job gets much harder as they have to navigate the world of international shipments. For the seven months that we cruised last winter, this is how we handled our mail: it was held at the post office and a friend picked it up and periodically forwarded it. If you are going to be cruising full time, you can file a "permanent" change of address to send all your mail to them or you can get a PO box and forward your mail there to keep it separate.
Forward to a Marina. If you are basing yourself out of one marina, you can have your mail forwarded there. Of course, first check with the marina about any restrictions they have! Another option is to get a local PO box.
Mail Forwarding Service. Mail forwarding services are companies that are set up to deal with the needs of cruisers, full-time RVers, people working overseas, traveling performers and the like. You get a "street address" from them and file a change of address from your old address. They hold your mail and send it when requested or on a set schedule if you're in one place for a while. Most offer to pitch the obvious junk mail, some will scan mail (envelopes or contents) or watch for a particular piece (generally at an additonal cost). Good companies are familiar with helping you establish residency in a state, registering vehicles, getting a driver's license, and the like, as well as sending packages by the most cost effective method. They know how to send international shipments and deal with customs.
We've opted to go with a mail forwarding service — St. Brendan's Isle (we also used a mail forwarding service 2002 to 2009 when we previously cruised full time). With them (as with most), they charge a monthly fee plus the cost of shipments and any special services. You deposit money on account with them via credit card and then whenever it gets low, they add more via the credit card.
While this costs more than having a friend or family member handle our mail, we prefer it for the long term. SBI has been in business over 25 years and has a great reputation. We will be establishing residency in Florida and changing our car registration and driver's licenses to there — we're told that they know all the forms and information we'll need to do this with a "funny" address.
Last night was our last night sleeping in our house (we're spending a couple nights in a motel before the closing to make it easier to get everything moved out). The night before, we stayed up late talking around the fire pit, remembering the years we'd spent in the house. Our old address sign went on the fire . . . as of Monday, we have a new address!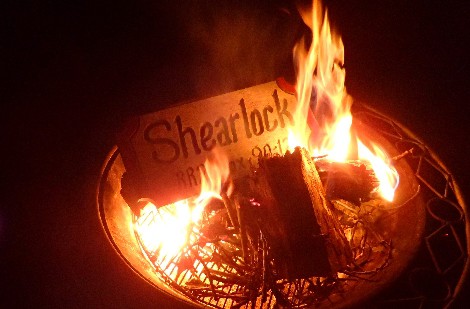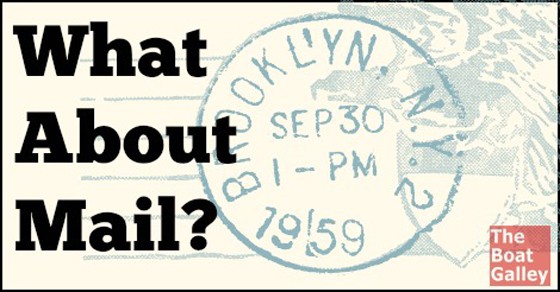 Some links above (including all Amazon links) are affiliate links, meaning that I earn from qualifying purchases. Learn more.