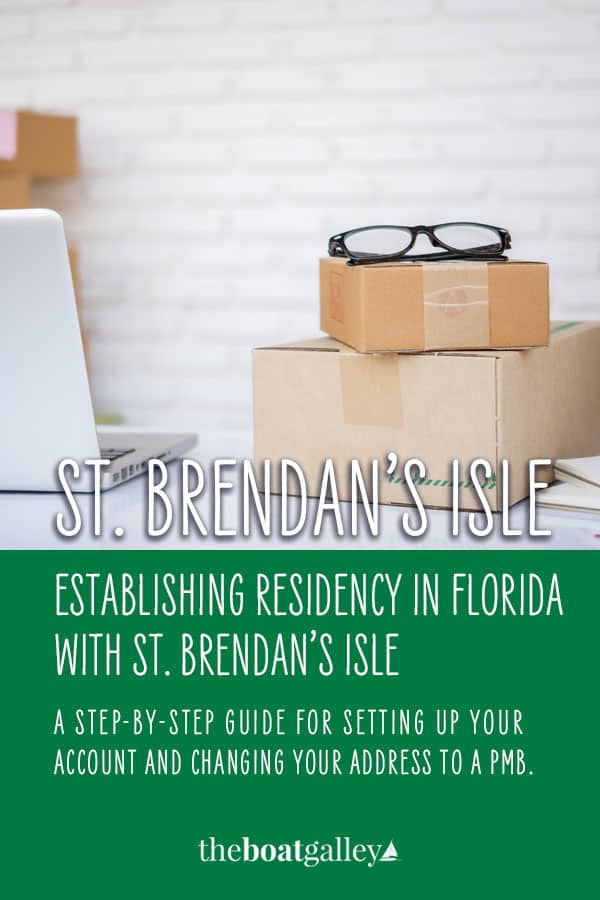 Are you thinking of "moving" to St. Brendan's Isle? I've written previously about why we chose to become Florida residents while cruising full-time, and how we chose St. Brendan's Isle (SBI) for our mail handling service.
Now, down to the nitty-gritty of exactly how we went about getting things switched over. This is our experience and I'm relating it to help others but realize that policies and requirements can change and your situation is likely not identical to ours. I have updated the information through what I've been told by St. Brendan's Isle staff and other cruisers through June 2020. However, I cannot guarantee that things might not change. Still, I know that I would have like a bit of guidance on how to do all this and what order to do things in, so I'm relating how we did it.
Getting ready to cruise? Prepare to Cruise (a FREE mini-course) gives you lots of free resources along with affordable recommended courses and coaching for more in-depth needs.
Step 1 – Get Your St. Brendan's Isle Address
Begin by signing up for St. Brendan's Isle's mail handling service. You can do this online, and note that there are several levels of service to choose between and you also get to choose whether you want them to "pitch the junk" (all or everything except marine-related for cruisers/RV-related for RVers). You'll put $100 on account via credit card, which will be tapped for the monthly fees and costs of mail shipped to you.
You'll get back an email with your new address and a link to download USPS Form 1583. This is the form that allows them to send your mail on to you — you can have mail forwarded to SBI before submitting it, but they can't forward it to you until they receive it.
SBI's instructions with the form are quite good — be sure to note Box 5, so they can sign for any mail for you. Important: this form has to be notarized and you have to send copies of two pieces of ID (generally passport and driver's license; the instructions tell other acceptable forms) when you mail it to St. Brendan's Isle.
Step 2 – Change Your Address
File a change of address form at the post office where you currently live and change your address with businesses, etc. You need to do this far enough in advance of when you'll be going to get your driver's license that some mail has actually gone to your SBI address.
Remember to change your address with:
Credit cards (and find out exactly when to start using the Green Cove Springs ZIP code at gas pumps!)
Banks and investment firms
Pension, if applicable
IRS and state tax authorities if you have refunds due or ongoing disputes, etc.
Social Security if receiving payments (can do it online; first create an online account)
Coast Guard if vessel is documented (see how to do it)
Magazine subscriptions
Memberships (Boat US, AARP, etc.)
Boat insurance (auto and health insurance will change as part of the move; don't change them now)
NOTE: Since we are in the US, we prefer that friends and family send any packages directly to us at a marina or other place that will accept them for us. Ditto when we were cruising Mexico. Consequently, we don't give our St. Brendan's Isle address to friends and family, instead telling them that if they have something to send us, call/text/email us to find out where to send it.
Going to Green Cove Springs
THE FOLLOWING STEPS CAN THEORETICALLY BE DONE BY MAIL AND IN OTHER COUNTIES FOR THOSE ITEMS WHERE YOU HAVE TO APPEAR IN PERSON, BUT WE'VE BEEN TOLD BY SEVERAL PEOPLE WHO TRIED IT THAT IT'S MUCH EASIER TO SIMPLY GO TO GREEN COVE SPRINGS AND DO EVERYTHING IN PERSON.
We did go to Green Cove Springs (it's just outside Jacksonville and a nice little town on the St. Johns River) and the following took us just under 3-1/2 hours, including driving from place to place. Of course, lines at the various offices will vary and getting vehicle insurance will also vary, so I'd suggest allowing more time.
We had Paz, our small dog, with us and it was hot enough that we could not leave her in the car. At several of the offices, one of us stayed in the lobby area (air conditioned!) with her in a carrier bag while the other took care of their business, then we reversed roles. It would have been slightly faster without the dog, but not a lot.
Before going to Green Cove Springs (GCS), do the following:
Download and complete the Declaration of Domicile from the SBI website (it's in the "My Account/Forms" section and can't be accessed until you sign up for their service). You need one for each person. Don't bother to have it notarized in advance. Date it the day you're going to CGS.
Complete and submit the online voter registration form for each person of voting age. St. Brendan's Isle will tell you the address to use for your physical address. Use 411 Walnut St. # xxxxx, Green Cove Springs as your mailing address.
If you have a vehicle, find an insurance agent in GCS and learn how to transfer your insurance. This will vary by company (or you may want to change companies; if so, allow extra time for setting up a new account). We had to show up in person at the State Farm office to transfer ours but it was a simple process.
If you don't have a GPS or GPS app, print out Google Maps of the places you need to go. It'll save a lot of time!
If you suspect that you need new glasses, do it before changing your driver's license. You have to pass a vision exam.
Research whether or not you'll have to pay sales tax on the boat and dinghy. Here's official information from the Florida Department of Revenue on when sales tax is due and various exemptions. Less common is having to pay sales tax on a vehicle (see below for link to info on that).
Gather up your paperwork:

Passport (assuming you have one — it's the easiest thing to use for ID purposes)
Current Driver's License — second form of ID
Social Security card
Car title(s)
If boat is not already titled/registered in Florida, you'll need the existing state title or certificate of documentation. If boat is Florida registered, you'll need the registrataion numbers to do the change of address on it.
Declaration of Domicile
If any of your documents are in a different name, be sure to take your marriage certificate (the official one not the church one) or a court order of name change. In such case, carefully check the appropriate web sites to make sure you have all the correct documents.
Since 9/11, identification requirements for various government transactions have become much stricter. The St. Brendan's Isle website and links provided there explain exactly what forms of ID are needed in which places — don't think that you can get by with anything less. Having your passport and driver's license with you is by far the easiest (and in some places, noted below, you'll need additional materials).
On the day that you do this, dress neatly (doesn't have to be fancy, shorts and t-shirt are fine, but be neat and tidy with nothing controversial on your t-shirt). Watch out for hat hair — the last step in all this will be to have your driver's license photo taken!
Step 3 – Pick Up Mail at St. Brendan's Isle
Despite the fact that the SBI address is 411 Walnut Street, their office moved years ago (the post office let them keep the 411 Walnut address rather than make the thousands of customers all go through an address change — another indication of how the community here "gets" the service that SBI offers). The actual location is:
1501 County Road 315, Green Cove Springs
SBI opens at 9 AM. You'll need a few pieces of mail addressed to you at your SBI address in order to use that address for boat and car registration and your driver's license. Don't throw the envelopes away until you've done all the steps!
Step 4 – File the Declaration of Domicile
Go to the Clay County Courthouse and file the Declaration of Domicile — they'll notarize it right there for you. If you have a passport, that's the only form of ID you'll need (I'm not sure what you'll need without a passport). You'll get back a copy with a sticker on it showing that it was filed. Keep this — you'll need it for the Voter Registration.
Clay County Courthouse, Room 101
825 N. Orange Ave., Green Cove Springs
You'll have to pass through a metal detector (bags are x-rayed) to get into the courthouse and there is a long list of things that you can't take in, including firearms and less obvious items such as spray bottles. Paz was not allowed past the metal detector but was allowed in the lobby, so we took turns filing and dog-sitting.
The courthouse opens at 8:30 AM, so you could go here and the Supervisor of Elections office before going to St. Brendan's Isle, which opens at 9.
Do not back-date the Declaration of Domicile — you have just 10 days from the date of establishing residency to do certain things, such as titling/registering vehicles.
Cost for us was $15 per person; surcharge if you use a credit card.
Step 5 – Vehicle Insurance
If you have a vehicle (car, truck, SUV) that you'll be titling, the next step is to get proof of Florida insurance. Be sure to get the binder document (temporary card, whatever your company calls it) as you'll have to have it at DMV.
One note from our State Farm agent: with SF, you have to provide a physical address in Florida where the vehicle will be based. You do not have to provide proof of residency at that address, but your rates will be based on that ZIP code. This can be a marina or even a storage facility/parking lot. She told us that if the vehicle would primarily be present in another state, SF would not insure it but some other insurance companies would (we didn't ask which ones since the situation didn't apply to us).
Step 6 – Department of Motor Vehicles
This is where you'll do the boat title/registration, vehicle title/registration (license plate) and get your driver's license. It took us almost exactly an hour, but the boat was already registered in Florida. The line was pretty short when we went, too — I'd allow at least two hours, possibly more, and be pleased if it's shorter.
The people we dealt with in the office were very pleasant and efficient. But you're doing a bunch of very detailed transactions and it just takes time.
Department of Motor Vehicles
477 Houston Street (next building south of courthouse on Orange Street; entrance is from side street where the visitor parking is located)
The office you need is straight ahead as you enter the building. We were allowed to bring Paz in her carrier into the lobby but not into the DMV office.
As you go through the doors, go straight ahead to the receptionist's desk and get a number, then sit and wait for it to be called. We were able to do all three transactions with one person; since much of the documentation was the same for Dave and I, when I had done my part they had me go out to the lobby with Paz and send Dave in to do his, then we swapped again and I finished things up.
IMPORTANT: If your boat(s) or vehicle(s) are jointly titled, you'll have to both be there.
Boat title/registration: Our boat is documented and was already registered in Florida, and the dinghy was both titled and registered in Florida. We only had to change the address. I had to show my passport and existing driver's license, the voter registration form, my Social Security card and two pieces of mail sent to the new address. (Dave had to show the same documents when he came in to do his half of the transaction.)
NOTE: Documented vessels won't get a Florida title, but do have to be registered. The dinghy will get a title and registration. Depending on whether/how long you're owned the boat(s) in another state, you may or may not have to pay sales tax, which can be a considerable expense . . . check this out ahead of time so it won't be a shock.
The boat registration (or change of address) has to be done first as you have to have a vessel registered in Florida at the SBI address in order to title a car or get a driver's license with that address.
Vehicle title and registration: I had to turn over the existing title and show proof of Florida insurance on our SUV. Since Dave and I jointly owned the vehicle, the transaction couldn't be completed until we'd both signed all the forms. We didn't need any ID or proof of residency other than what we'd provided above, but she did have to print out a copy of our boat registration (with the new address) and the Florida boat registration number is shown on both the title work and our driver's licenses as part of our SBI address.
You must have your car with you as they will verify the VIN number and the odometer reading.
If you've purchased your vehicle in the last six months, you'll have to pay Florida sales tax to the extent that it exceeds the sales tax you paid in your previous state. Read more about titling/registering a vehicle as a new Florida resident (official DMV website).
You'll get a new license plate and a paper registration form; the title will be mailed. NOTE: the first time you plate a vehicle in Florida, there is an extra $225 Initial Registration Fee. Learn more about this fee and when it applies here.
Driver's license: We only had to show our previous driver's license (she clipped the corner to show it was no longer valid, but we got it back) and take a vision test. Neither of us had to take a written or driving test. Neither of us has any points or citations on our record; apparently you may have to take a written and/or driving test in some cases if you have a poor driving record in your previous state (I find mention of taking these tests "in some cases" but didn't find a simple explanation to link to).
Assuming you pass the vision and other tests, you'll have your photo taken (they'll even retake it if it doesn't look good!) and you'll get your new license on the spot.
Pay the fees. You can pay by cash, check (out of state is okay) or credit card. Credit card payments have a surcharge (I think 3%). Depending on whether you have to pay sales tax on your boat(s) and vehicle(s), and the Initial Registration Fee on one or more vehicles, the total can be substantial.
You're done in Green Cove Springs! Hopefully, you'll have the same smooth experience we did — having all your documents in order ahead of time is key. And don't forget that you still need to do things like change your health insurance to Florida.
Read Next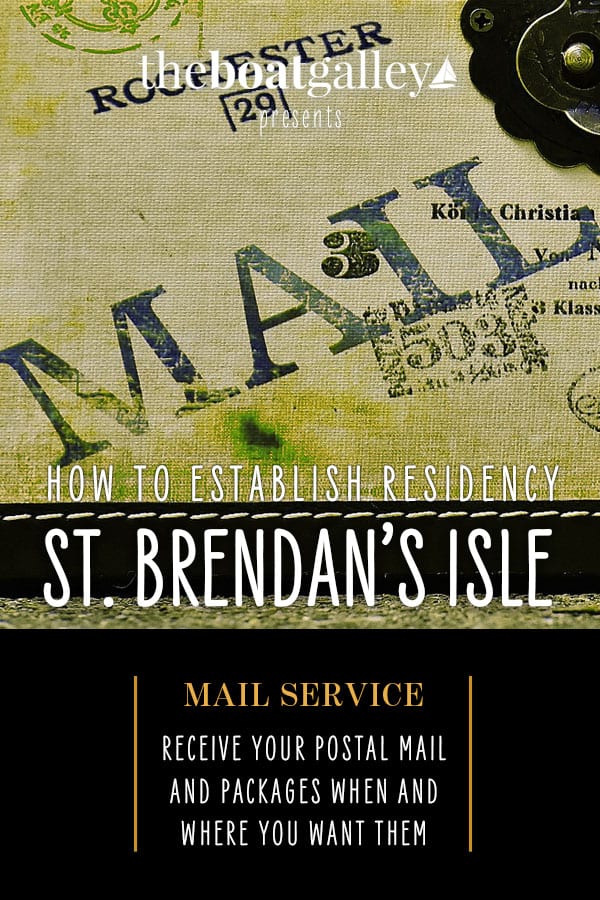 Some links above (including all Amazon links) are affiliate links, meaning that I earn from qualifying purchases. Learn more.