Need to carry pills or antacids with you?  If you're in the dinghy and it's splashing, or at the beach, or even kayaking, it can be tough to keep them dry.
Dave has tried all sorts of things over the years, from Ziploc bags to a tiny Tupperware container, and none have been 100% satisfactory.  More than once he's ended up with with water in the container, turning the pills into paste.  Other times, the container has opened and he's lost his pills.
I recently got an email from Lizzie aboard Ticonderoga who told me about a really great solution that I didn't even know existed — a waterproof pill container.
I've never seen a waterproof pill container at any pharmacy — and I looked locally after Lizzie told me about them.  Amazon, however, has a number of different size containers and everything from single packs to 4- and 5-packs, which are useful if you need to separate meds or more than one person needs one.  They all use an o-ring to make a watertight seal.
These are all small enough to be carried in a pocket, and most feature a ring so that you can also put one on a key chain or clip it onto a purse, daypack or other bag.
Check out reviews to make sure that the ones you choose don't have a reputation for easily unscrewing in your pocket (a few do) and also think about what you need to carry and get the appropriate size.
Less expensive ones are aluminum; the o-ring should keep water from reaching the threads and causing them to "freeze" so that you can't get the pills out.  As long as you unscrew/screw the bottle every few days, it should be fine. These typically run about $3 to $4 each.  The ringy-dings for putting them on a key chain are steel, which will corrode in salt water.  We replaced the supplied one with a heavy duty cable tie.
If you're carrying something "just in case" — say aspirin for a heart attack or nitroglycerin — where the threads may not be unscrewed very often or if you want more protection against aluminum corroding, I have also found stainless waterproof pill containers.  Yes, even the ringy-ding is stainless and thus shouldn't corrode.  I haven't seen or used one of these, but they get great reviews for working well and just plain looking nice.  They cost several times as much as the aluminum ones, but I have a feeling that you'll never have to buy another.
If you get a multi-pack and don't need all of them for pills, another great use is to stick a bit of money — say $20 — in one and keep it on your key ring as an emergency stash.  In a foreign country, you might want to keep a photocopy of your passport ID page, too.
Aluminum (links to Amazon):
Stainless:
Amazon carries lots of different options — various sizes, colors and single or multi-packs, particularly in aluminum (at the time of writing, these are the only stainless waterprooof pill containers I could find anywhere).  These that I linked to are ones that get good reviews (and one is what I chose for Dave).  Start here and search for other options on Amazon.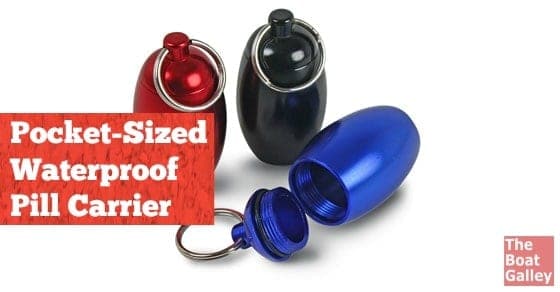 ---
Our FREE Provisioning Spreadsheet
Wondering how much of what foods to take on your next trip? Know just how much to buy of what — all arranged by grocery store aisle — with our handy Provisioning Spreadsheet. Includes detailed instructions to edit it for your favorite foods, how much your family eats, and how long you'll be gone. No spreadsheet skills needed!
It's FREE — get it here.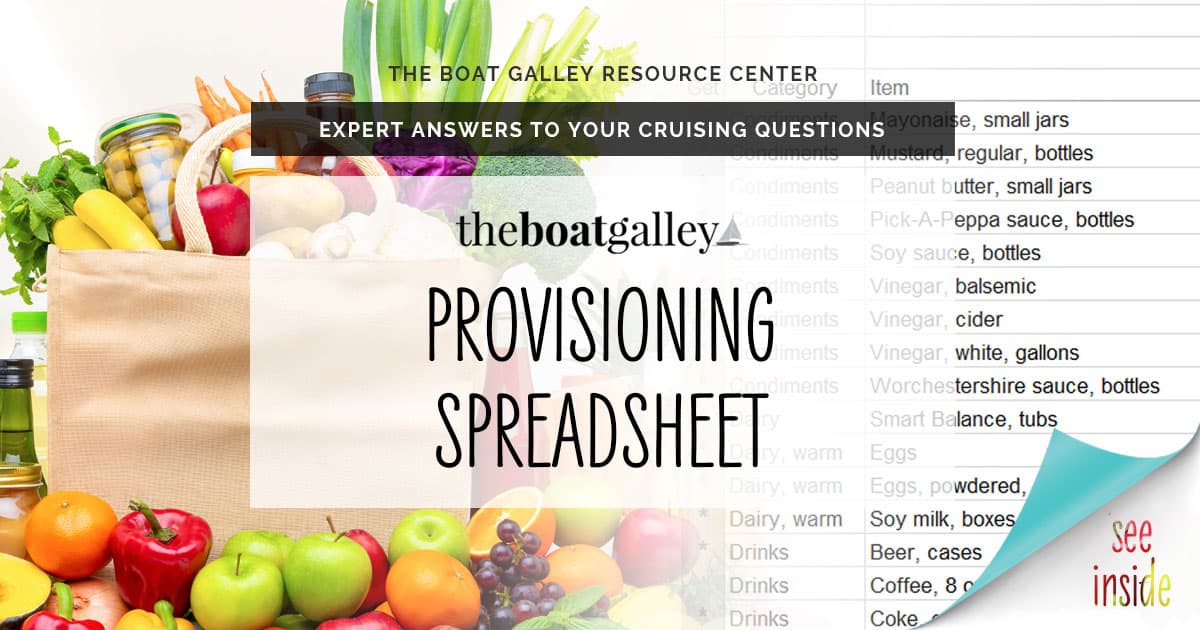 Some links above (including all Amazon links) are affiliate links, meaning that I earn from qualifying purchases. Learn more.