Even if you're not as big into hiking as Dave and I are, good refillable water bottles are invaluable on your boat.

When the weather gets warm, you really need to take water with you any time you leave the boat — whether you're exploring by dinghy, checking out a lighthouse or even just snorkeling.
And we all know it's much more environmentally friendly to refill bottles from the water tank than buy lots of little bottles (read about water filtering systems if you don't like to drink your tank water because of the way it tastes).  Three extra benefits are the lower cost, not having to schlepp those cases of water to the boat, and a lot less trash to dispose of.
So you could get a couple of bottles of water and then refill the bottles. They'll work for a few days, but they are almost impossible to wash out if you put anything other than water in them.  We like to add Gatorade or lemonade powder, which is really hard to do without making a mess due to the small opening — and it's impossible to get a bottle brush inside to scrub them out later.
The small neck is also a problem if you want to put some ice in the bottle.  And screwing off the top every time you want a drink is just sort of a hassle.  And the newer bottles are such thin plastic that there's always the risk of a split bottle soaking everything and leaving you without a bottle of water.
Instead, my choice is the Nalgene All-Terrain Bottle. We've got four of them and use them daily.
Why do I like them so much?
Flip-top lid stays shut when it should, opens easily and — best of all — keeps the drinking nipple clean no matter how dusty and dirty it is outside.  It's also designed so that when you close it, it automatically locks the drinking nipple shut.
No leaks — not where the top screws on to the bottle, nor in the drinking nipple.
One-liter (quart) size works well for me — weighs two pounds full and holds enough water for most activities.
Easy to operate one-handed.
Water flows well through the drinking nipple — I have a couple of other water bottles where water barely trickles through, no matter how hard I squeeze the bottle.
They've held up really well with tons of use . . . and abuse . . . as we've carried them everywhere (at least 14 countries and, literally, to Timbuktu) and banged them into rocks, dropped them ten feet or more, sat on them and who knows what else.
Wide mouth is easy to pour drink mix into and to get a bottle brush into for cleaning out.  (If you use a sugary drink mix, clean the top by soaking it in water for 2 to 3 minutes, then pour water over/through it.)
These fit perfectly in the little over-the-shoulder carriers we have (see picture at the top of this article).  However, if you like to use a carabiner to clip your bottle to your pack or belt loop, they won't work.  And, unfortunately, Nalgene doesn't make a covered-nipple bottle like this with a loop.
Maybe it's silly to get all worked up over water bottles.  Over the years, I've received a bunch that were free, printed with various companies' names.  They really seemed like nice giveaways . . . until I used them the first time.  Some didn't hold much, others were awkward to use or leaked, some were hard to keep clean and others just plain had a funny "chemical" smell.  They all ended up going to the resale shop.
The Nalgene bottles just plain work. Bonus: they cost less than a case of bottled water but last for years and years (two of ours are over 15 years old):
Tip: if you have a small dog, stick a silicone muffin cup in your pocket and then you can give them a drink by squirting a bit of water in it from  your bottle.


---
Our FREE Provisioning Spreadsheet
Wondering how much of what foods to take on your next trip? Know just how much to buy of what — all arranged by grocery store aisle — with our handy Provisioning Spreadsheet. Includes detailed instructions to edit it for your favorite foods, how much your family eats, and how long you'll be gone. No spreadsheet skills needed!
It's FREE — get it here.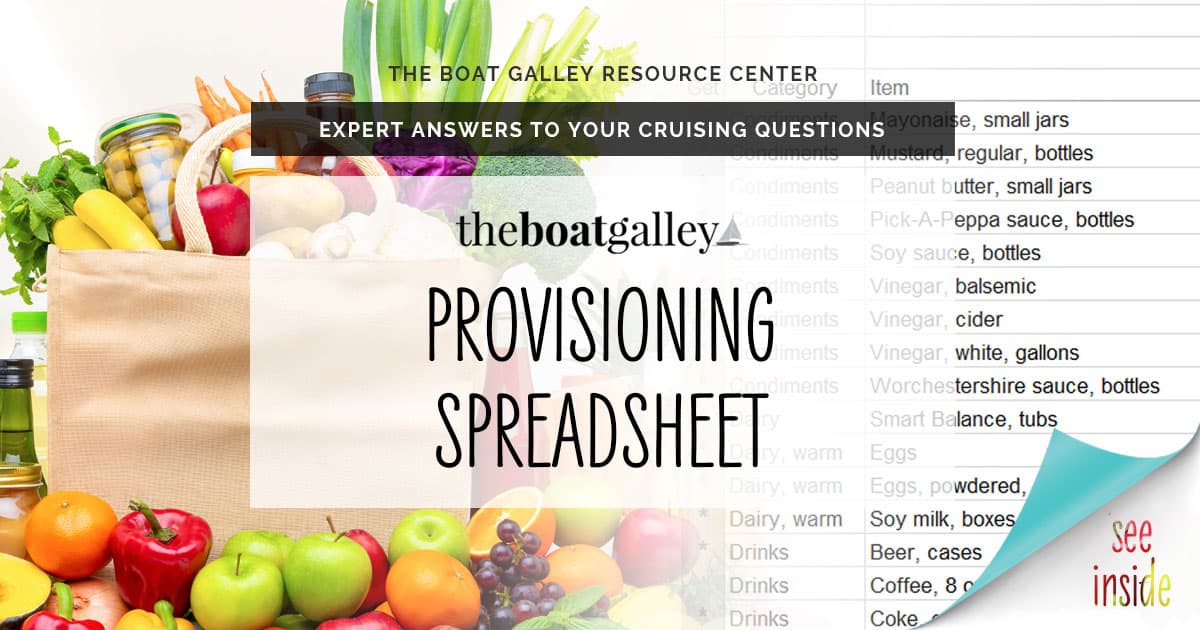 Some links above (including all Amazon links) are affiliate links, meaning that I earn from qualifying purchases. Learn more.