Shortly after we bought our boat, I got a number of emails asking for tips on preparing a boat for sale — specifically for taking photos and showing it.
Having just been through the joy of wading through hundreds of listings when we were looking for a boat, as well as having bought and sold one in the past, I'm happy to share a few thoughts. These apply whether you're selling the boat yourself or working with a broker.
Let's start with the fact that almost every search is initially conducted online. The photos and description are what's going to make someone call or come visit. And for people like Dave and I, who live 500 to 1,000 miles or more from a boat, we really want to have a feel for a particular boat before we commit to the time and money involved in a visit.
My belief is that 100% honesty and transparency is best in listing a boat. Yes, you want to present it in the best light but you don't want to "trick" someone into thinking it's something it's not. What's important isn't getting hundreds of people to look at the boat; it's getting the one right person to look at it. Great, accurate, inviting photos and a detailed description of the boat will do it.
If you are planning to use a broker, start by looking at the broker(s) listings. Are they well presented? Do the photos make the boat look inviting? Is the information complete? If you don't like how the broker is showing other boats, don't use him/her for your boat — there is no reason to believe he/she will do a better job for you. No matter how personable they are, if the online listings aren't appealing no one will visit in person.
On the other hand, if you're planning to sell the boat yourself, spend some serious time — maybe 4 or 5 hours — looking at listings online. Make note of what's included in listings that you like (doesn't matter if you actually like the boat, just whether you like how it's presented). Pay attention to how the photos are staged and how descriptions are worded. What makes some listings stand out? How can you apply those lessons to your boat?
Next, begin by de-cluttering and de-personalizing the boat. Prospective purchasers want to imagine themselves on the boat and so removing family photos, the kids' drawings and so on will go a long ways. I know. It's hard.
Clean, clean and clean the boat some more. Make it sparkle! Pay particular attention to the galley and heads. Clean the oven, defrost the refrigerator, clean inside every locker and straighten the contents.
To take the pictures, use a camera with a ultra-wide-angle lens. Not a fisheye, but one specifically designed for small spaces without distortion. This is what separates great boat photos from the merely good — the ability to get much more of each "room" in the photo. This will make the boat look much more roomy. Using a typical point and shoot or cell phone camera just won't do justice to your boat. A good broker should have a good camera and know how to use it; if you're doing your own, ask friends who are into photography if they have the necessary equipment and might be willing to do the photos for you — or think of hiring someone.
Pick a nice sunny day for the photos — the sunlight coming through ports and hatches will make the boat look much better.
If you're living on the boat, or if it's being stored, there's probably a certain amount of clutter on the boat. But the photos don't have to reflect that. Clear each area of the boat as photos are being taken (never let the broker take the photos without you being there to do this!). Yes, it's a lot of work but the boat will show much better. A prospective buyer wants to see the v-berth, not five bags of sails, 3 PFDs and whatever else is laying on the v-berth.
Some people and broker like to "stage" the photos with linen and dishes on the table, pots on the stove and so on. I'm not a fan of this as I want to see exactly what's there, but I know it's a personal issue.
Take lots of photos — 50 or more is not unreasonable as some won't turn out well. Thirty or more in the actual listing is not unusual (if you're using something like SailboatListings.com or Craigslist where the number of photos is limited, remember that you can email more to interested parties). But those should not be of the same items, just from a different angle. Use close ups of all electronics. Avoid the temptation to use professional photos from the manufacturer — people want to see the actual boat being sold (I get furious over "sistership" photos when I'm looking).
Look at the photos as you take them to make sure they're sharp, totally in focus and that you don't have "stuff" in them — a power cord hanging down through the center of a picture, books and eyeglasses on the nav station, a dirty glass in the galley sink, makeup on the counter in the head, whatever. Also make sure that there is nothing in the pictures that's not included in the sale. Retake as necessary. NOTE though — don't try to hide any problem areas. In fact, take a photo specifically of the problem. As a buyer, I get very suspicious when I visit a boat and discover that a book "just happened" to hide a stain on the upholstery. I wonder what else the seller is trying to hide and tend to walk away.
Once you have all the photos, edit them as necessary. Delete the ones that are blurry or otherwise bad. For the good ones, I'm not saying to "Photoshop" them and alter what's there, but crop if helpful and also add arrows or circles to point something out if it's not immediately obvious. Give the photos names that clearly explain what something is (if the online listing lets you caption photos, do that too). Seeing "Photo 1" doesn't tell me a thing about what you're trying to show.
Video or not? If you are going to use video, my feeling is that it should be in addition to still photos, not in place of them. Frankly, Dave and I never saw a video that was particularly helpful — we preferred still photos where we could look at one for a while and discuss what we saw. If you opt for video, it's better to narrate what is being shown than have music in the background. I tend to prefer an edited video with narration added in post-production than someone trying to talk and film at the same time.
Now it's on to the description of the boat. Depending on where you list it, you'll have different limitations and formats. I recommend having a separate document that can be sent to interested parties that lists absolutely everything about the boat (read about creating this here). If you can, save your basic document as a PDF so that no one can alter the document on you.
Now, from the complete list, create your description or give it to the broker for them to do the same. If you're selling it yourself and have only limited space to describe the boat, try to hit the big ticket items that make your boat attractive (electronics, dinghy included, rebuilt engine, new sails . . .). If it's a production boat with many built, there's no need to rehash features common to all if you're short on space. If you're not confident of your writing skills — or if you're not a good speller — ask a friend who is for help. Spelling in particular is important as people enter search terms and if a word isn't spelled right in your description, it won't show as a match.
The listing itself. If you're working with a broker, ask them to tell you the minute it's online and immediately check it for accuracy as well as for how well it shows your boat. Insist that any inaccuracies be corrected immediately. Yachtworld, which most brokers use, lets people set up alerts for new listings — and these tend to be people (or their brokers) who are serious buyers. Don't let them see an inaccurate listing for your boat!
If you are listing it yourself, enlist a friend to look at the listing when it's at the "proof" or "confirm" stage. It's just too easy to miss mistakes when it's something you've been working on. A fresh set of eyes will pick up things you miss. If your friend is a boater or in marketing, so much the better.
Finally, pay attention to how similar boats are listed. For example, we just purchased a Gemini catamaran made by Performance Cruising, Inc. On Yachtworld, over 90% are listed as "Gemini" in the manufacturer/model field. On Sailboat Listings, they're listed as Performance Cruising. You want yours listed as the others are so that people using the search function will find your boat.
Showing the boat. Even if it's a broker who is actually showing the boat, it's up to you to ready it. It should be 100% clean, fresh smelling and clutter-free. Prospective buyers will be opening pretty much every locker, so make sure that they are neat and organized (if there is just too much stuff crammed in there, it pays to remove some of it, even if you have to rent a storage unit). If you want people to think that there is plenty of storage space, make sure that there is a bit of empty space in every locker (very important in clothing storage areas).
If you have any funky head smells, do everything in your power to rid the boat of them. I highly recommend Marine Digest-It (read my post about it). Baking soda and simply airing the boat out will help too.
And finally, make the boat look appealing. This is where I'd stage the boat — lay out the table as though dinner is about to be served, put fresh flowers on the table, plump up the throw pillows, open the hatches (assuming it's not raining), put fresh towels in the head, fresh sheets on the bed, and so on. Absolutely no tools or paint in sight!

---
Our FREE Provisioning Spreadsheet
Wondering how much of what foods to take on your next trip? Know just how much to buy of what — all arranged by grocery store aisle — with our handy Provisioning Spreadsheet. Includes detailed instructions to edit it for your favorite foods, how much your family eats, and how long you'll be gone. No spreadsheet skills needed!
It's FREE — get it here.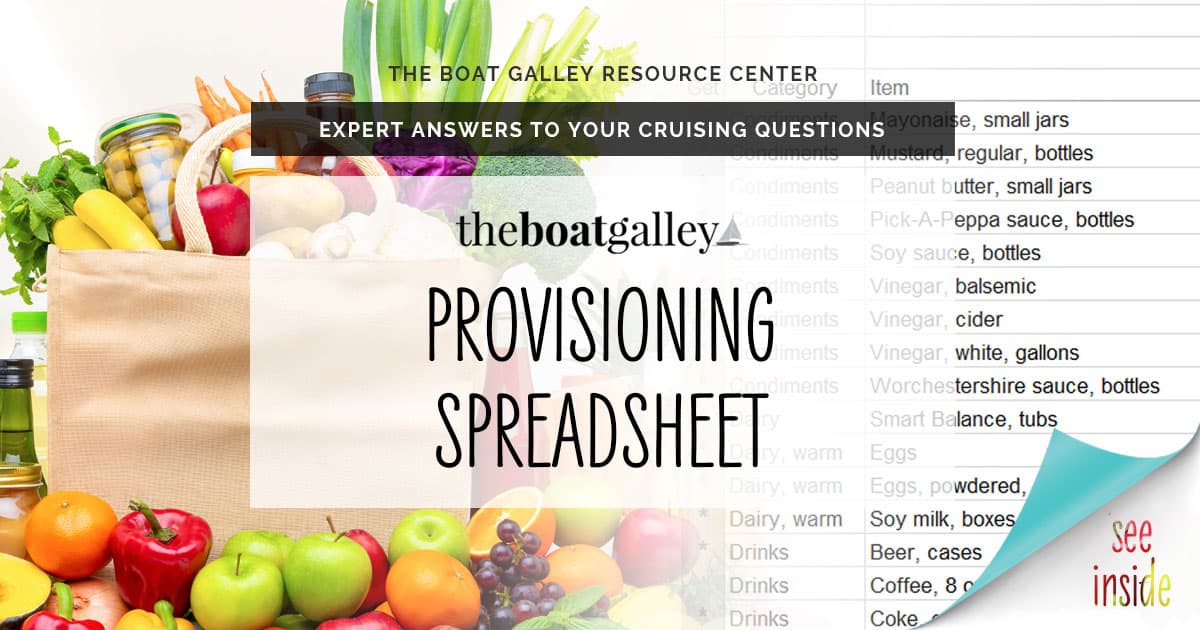 Some links above (including all Amazon links) are affiliate links, meaning that I earn from qualifying purchases. Learn more.