Even an accomplished sailor needs to learn the subtleties of sailing a new boat. Lin Pardey uses tricks learned in her years of sailing to safely learn how to effectively and efficiently sail her new-to-her boat, Felicity.
Links:
Map of Kawau Island, New Zealand
Pardey Offshore Sailing Video Series
Prefer to read? Transcript is below.
Be sure to subscribe to The Boat Galley podcast to get new episodes automatically in your podcast player.
Music: "Slow Down" by Yvette Craig
Transcript:
The wondrously full (and occasionally over-full) days of the southern hemisphere summer have faded gently into autumn. Yesterday the late afternoon light actually seemed to make the breeze-swept cove sparkle. I couldn't resist and decided to forget about a desk full of paperwork, a book project needing editing and to head out for a quiet sail on Felicity. With the help of Ross West, a fellow cove dweller, I have added a tiller extension (hiking stick) which lets me sail her singlehanded now Larry's advancing Parkinson's disease keeps him ashore. This was only the second time I had sailed Felicity without having Larry or a friend on board to hold the helm while I got her underway and hauled up the sails or sheeted in the headsail. Felicity was on her mooring where I'd moved her to give visitors easier access to our jetty. This definitely made it far easier to get underway than when she had been lying alongside the jetty – just double up the mooring rope and lead the two ends to the foredeck cleat, hoist the mainsail while she is head- to-wind, un-cleat both ends of the mooring rope and lead them aft until Felicity turns almost downwind, ease the mainsail, let go of one end of the mooring line and pull the line in while the boat gathers way. Then I wove my way past a dozen moored boats towards open water where I would have room to let her do as she wished while I hoisted the jib. The man on one of the boats I skimmed past called out, "sweet boat, looks like fun!" I noticed his boat's hailing port was almost 800 miles to the south. "Welcome to North Cove, wander by and say hello when you see Felicity back on its mooring," I called.
My pride got the better of me once I realized someone might be watching. I wasn't sure how sloppy I'd look as I tried to get the jib up and pulling. So I ran onward under mainsail alone until I had rounded the high headland which shelters the cove. Then I prepared to hoist the jib. Just as I'd expected, the minute I let go of the tiller, Felicity snapped up into the wind, her mainsail flogged, the hanks on the jib jammed on the turnbuckle. But once I got it up I grabbed the tiller extension and reached off across Kawau Bay, an island studded by five mile stretch of water that provides wonderful gunkholing. About half way across the bay I needed to take a pee. Glad this occurred when it did because that lead to another learning experience since I couldn't steer and solve my physical problem at the same time. "Okay, let's try heaving-to," I said out loud. I tightened in the mainsail, hauled the jib to windward and let go of the tiller. Felicity slowed right down, then tacked through the wind, tried to bear away, then slowly headed up, tacked again. Though this wasn't perfect, the motion was slow enough that I was able to solve my personal problem. That done, I was almost ready to ease the jib and begin reaching off again when I decided to take a page out my own book, The Capable Cruiser from the chapter called Sixteen ways to Keep Your Lover–
I looked around, no boats in sight, the nearest house at least two miles away. For the next hour I just messed about reefing the mainsail by rolling it around the boom then seeing if Felicity lay quietly hove to with the smaller mainsail and backed jib – not perfect but she lay quietly enough that I could consider this configuration if I wanted to stop for lunch. I tried changing the way I lead the main halyard to see if I could figure a way to steer and hoist at the same time (didn't get that one figured out yet.) I played around with ways to tie the tiller so the boat would hold a steady course on its own. I fumbled about quite a bit, learned several ways not to do things, a few ways that worked. To an outsider I probably would have looked out of control. But I did gain a bit of confidence as all I had to think about was the boat, not about who might be watching. Best of all, when I noticed the sun was beginning to get low and it was time to head back, I realized I had been having fun.
As I reached back into the cove I was slightly disappointed to see the folks on the visiting boat had taken their dinghy and rowed off. But within minutes of sailing up to the mooring and securing Felicity, John and Patricia rowed alongside to spend the next hour talking of places we'd each cruised to, their goal of spending the next month's exploring the waters surrounding their own country. Yes, an altogether good afternoon and a reminder of why I like the quiet pleasures to be found under sail.
May you too have pleasurable days on the water!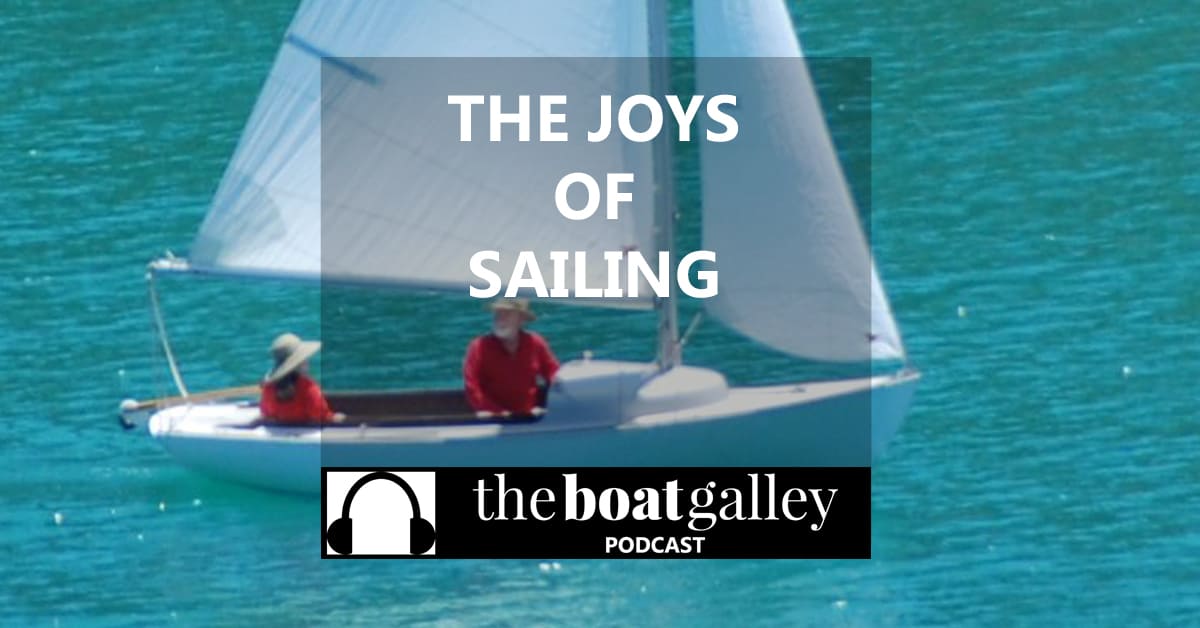 Some links above (including all Amazon links) are affiliate links, meaning that I earn from qualifying purchases. Learn more.