Far away from me, in a boatyard on Green Turtle Cay in The Bahamas, Ave Del Mar, my 1967 Rawson 30 cutter, lay on her side, dormant as if in an extended savasana after being blown off of her stands by Hurricane Dorian. I was in the States, sitting over a simple wooden desk in my sister's home office, preparing to be interviewed for a web project about people who reinvent themselves after age 50. The Skype call rang to life and the voice of my interviewer, Keith Jones, crackled through my headphones from his home in Mallorca.
"I looked at your website," he said, getting quickly to a point I wasn't expecting, "and on it you say that you are the happiest person you know. Can that really be true?"
Happiness, I explained in reply, is a decision, not a circumstance, one that doesn't have to manifest itself as giddy or elated. Happy is being at peace with yourself and with the universe around you. I shared the words of the wise Buddhist monk Thích Nhất Hạnh who wrote, "There is a power called kshanti, or capacity, and we all have it. The capacity to be happy is very precious. Someone who is able to be happy even when confronted with difficulties, has the capacity to offer light and a sense of joy to herself and to those around her."
An Unexpected Pause
The summer of 2016 found Ave Del Mar and me southbound from our home waters of Back Creek in Annapolis when a broken solar panel and an infected thumb forced me to pause en route to The Bahamas. Unexpectedly anchored for an extended time, I made the cozy basin of West Palm Beach my home through the end of hurricane season. I busied myself with those things that sailors do while at rest; I read a lot, worked on the boat, made friends with some locals, and whiled away the empty spaces between.
Just to my north, Flagler Memorial Drawbridge was in the midst of being rebuilt and a new favorite pastime soon came to be. Day after day I would sit in the teak paneled salon of Ave Del Mar and listen to bridge traffic on the VHF radio. The bridge construction would repeatedly change opening schedules from their normal twice an hour to long stretches of once an hour and several times, as new spans were being lowered into place by a crane, the bridge would close on a Friday evening not to reopen again until the Monday morning next.
It was one such Friday when the thick Dutch accent of a woman's voice came across the air requesting a bridge opening for a northbound sailing vessel named Queen Of Hearts.
"Captain, the bridge is closed until Monday," replied the bridge tender.
The woman paused hard, as if checking to see if the English was translating properly in her head. "Monday?" she asked.
"Yes ma'am."
"You mean the bridge simply will not open until Monday? That I have to stay here?"
"You can do what you want," came his reply, "but the bridge won't open again until Monday morning at 10."
Frustration radiated from the beautiful Swan 47 that, like me, had come to rest in a quite-unexpected place and in a quite-unexpected way. As this Dutch-flagged vessel anchored near me, I tugged on the painter that held my dinghy Margot to the stern cleat of Ave Del Mar and lowered myself in, dropping the bronze oarlocks into place. Slowly, I rowed out to the Swan, pulling softly alongside and calling out as I approached.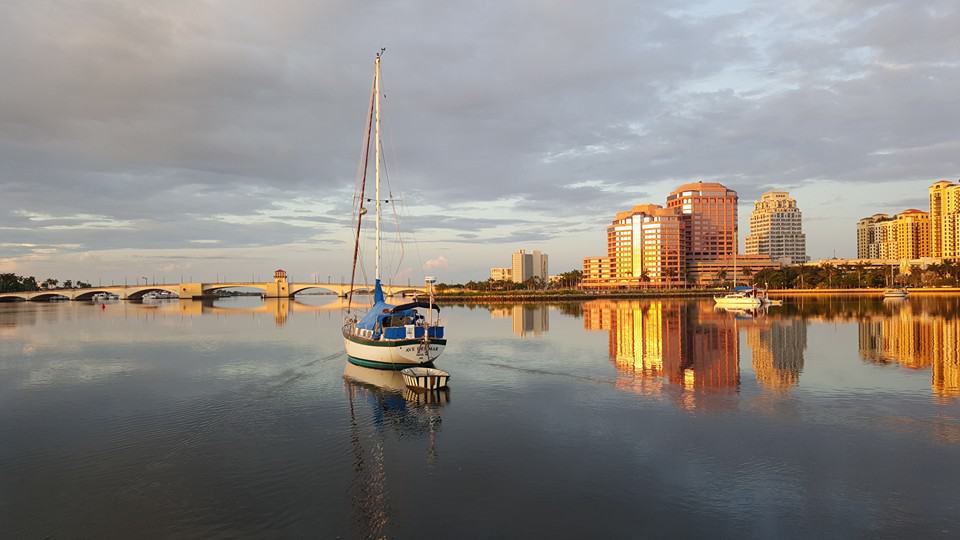 An older couple emerged, perhaps in their 70s, and as they stood in the cockpit I shared with them what I had learned about life at anchor in West Palm. "I honestly didn't expect to like it here," I confessed, "but there is simply no better place to be stuck." I told them about the dinghy dock, about the free shuttle bus, the grocery store, shops, restaurants, farmer's market, and entertainment in the town. I told them the secret to get free water and the way to the closest fuel dock. Then I smiled, left them a boat card, and rowed back home.
Sharing Stories
The next day found Ave tied off to the town dock when my new Dutch neighbors walked by hand in hand, smiling. "You weren't kidding," she said as she pointed to the plentiful farmer's market goods in her bag. She shared the tales of their day about town and, as they left, she invited me over for an evening beer.
Sundown found me sitting comfortably aboard Queen Of Hearts as the couple, Jan and Judith Van Donselaar, handed me an ice-cold Heineken. We shared stories—they more than I, as he was an accomplished Atlantic sailor. We talked boats and windvanes, Netherlands and Curacao, storms at sea and life aboard boats. And we talked about happiness.
As our evening faded Judith told me that she needed to thank me. "I was so frustrated about the bridge," she said. "I was not prepared for this. I needed someone to help me remember that maybe this isn't so bad." We shared a hug that night as new friends. The unusual circumstance only made it sweeter.
Queen Of Hearts is for sale now and it seems unlikely that our paths will cross again any time soon. We are left with a strange bonding that happened one hot summer day back in West Palm when the fates' story played out with a twist. A smile comes to me every time I think of that day. I think that smiling, too, may often be a choice.
---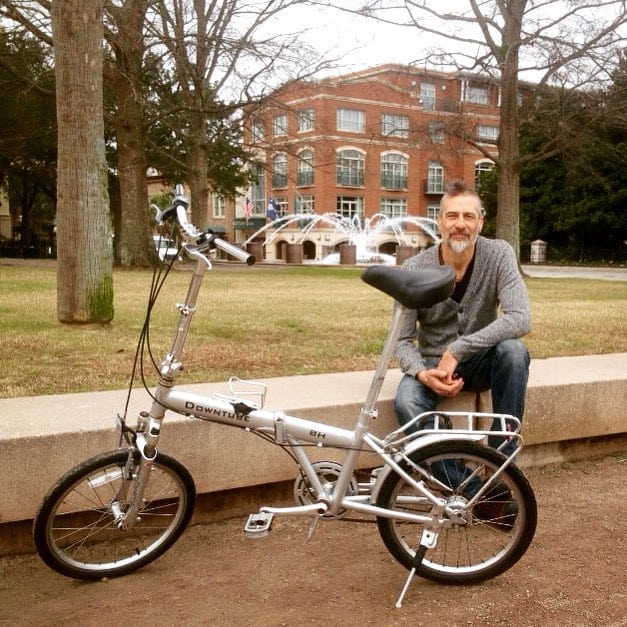 John Herlig is a SpinSheet columnist and a member of The Boat Galley team. He created our VHF Radio Course and also our Handy VHF Reference. John also teaches several courses at Cruiser's University at the Annapolis Boat Show. 
He mostly lives aboard and cruises his 1967 Rawson 30 cutter. He has traveled the East Coast of the US several times, extensively cruised the Bahamas, and sailed much of the Caribbean both on his boat and as delivery crew. Check his tracker to see where he is now. This post originally appeared in the January 2020 issue of SpinSheet.
Some links in this article (including all Amazon links) are affiliate links, meaning that we earn from qualifying purchases.