Quick-drying towels are everyone's favorite on a boat. Over the years, I've gotten quite a few inquiries asking if I had a source for boat-friendly towels that could be personalized with either the boat name or a person's name. And, regrettably, I never did. I knew where to get thick terry towels embroidered, but they're not very boat-friendly as they take up a lot of space, take forever to dry and get stinky way too fast.
Then in January, I got a note out of the blue from TaLii Towels . . . it turned out to be that a customer of theirs had mis-remembered where they'd heard of the towels, but it made for a great exchanging of "who are you?" info. In short, they sell really nice microfiber towels that they can personalize with traditional embroidery or a laser process. Here's pictures of the lasered towels:


Lisa, the owner, was so kind as to send me two of their HUGE bath sheets for review, one with our boat name and one with The Boat Galley's logo. I was astounded at how perfectly the laser could do TBG's logo! (In a follow-up conversation, she told me they've even done one from a photo of a woman's tattoo!)

And yes, having my towel "marked" has already been good. When I left it in the marina shower one day (my face is a little red to admit this), the person who found it got in touch with me immediately instead of just tossing it in a lost-and-found box.
To be perfectly clear, these are really nice microfiber towels, a little thicker (and hence nicer) than other ones we've had but still fast-drying, non-stinky and compact when folded. And at 71 inches by 35 inches, the bath sheet is really beach towel size (and sand just shakes off the microfiber as opposed to sticking in terry cloth). These are seriously great towels — the combination of folding up into a small size and being fast drying while being large enough to cover you (or lie on at the beach) and good for drying off makes them a great boat (or travel) towel even without the personalization options. The lasering is a bonus!
The towels come in seven sizes and 21 colors — including a pet towel!
If you want a custom logo or font on your towel, Lisa told me how to order it:
Select the towel(s) you want and put them in the cart.
Add the laser option.
Put the name of your boat of whatever else you want lasered on the form. Put a note in the comments section that you are going to email a logo or other art.
Send your design with a note explaining exactly what you want to Lisa. If they have any questions, they'll contact you.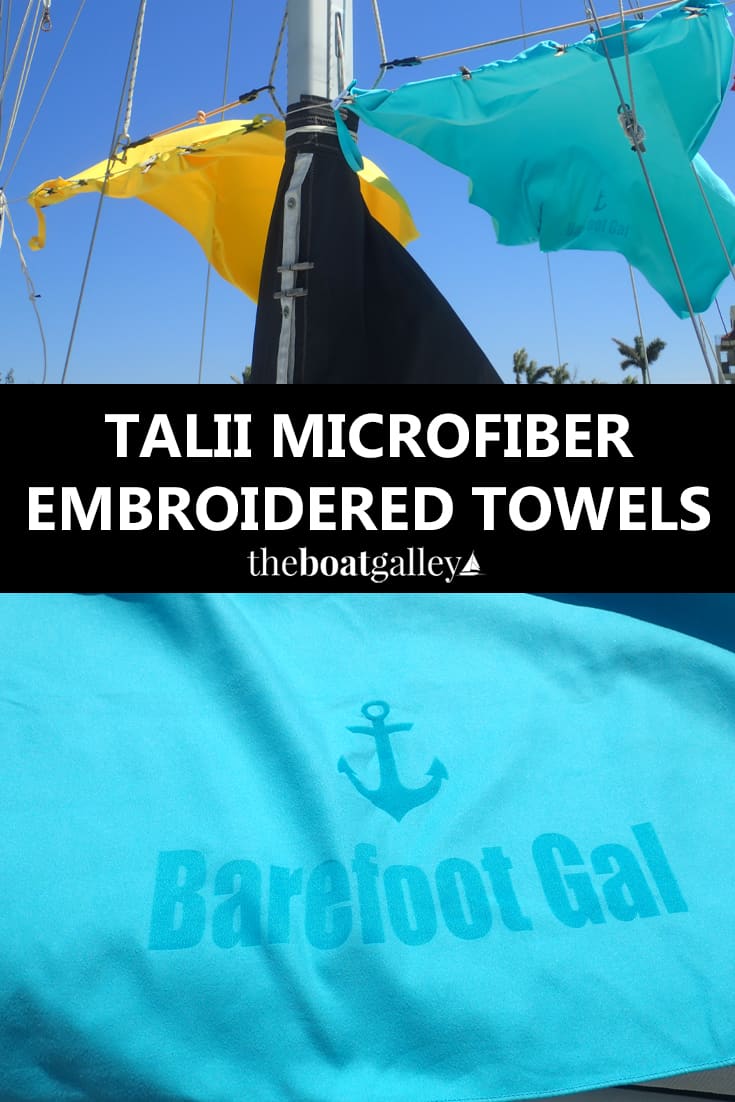 Making Boat Life Better
Some links in this article (including all Amazon links) are affiliate links, meaning that we earn from qualifying purchases.