Normal thick terry cloth towels seem to never dry on a boat — not even when we were cruising the Sea of Cortez, surrounded by desert. Instead, they pick up a sour smell in just a day or two.
Using thin terry cloth towels was somewhat better — they'd generally dry eventually and it'd take several days before they smelled bad.
Then I had the brilliant idea to try some "backpacking towels" I found in an outdoor store — unfortunately, they were smaller than a dish towel and still didn't dry all that fast.
Finally, about 8 years ago I finally found "travel towels" that do everything I want them to:
Dry fast — in about 10 minutes when it's sunny, breezy and moderate humidity; about an hour in anything short of rain (and even in rain, they'll dry inside in just a couple hours).
Go at least a week without laundering and not stink. What's the point of getting all nice and clean in the shower, just to stink from my towel?
Large enough to cover me — in communal shower rooms, I want to be able to wrap a towel completely around me. Actually, I want to be able to wrap a towel around myself even on the beach!
Get me dry — this is, after all, the purpose of a towel. My hair too.
Not take up too much space even hanging on a peg in the head. Space is precious.
The only "problem" with them is that they're not cheap. But I'm glad that I finally bit the bullet and bought them — they've been perfect for us not just on the boat but also on inland travel, camping and numerous other times.
These same towels have gone through several "brands" — first they were "Rick Steves Micronet by McNett" (when I got them), then just Micronet by McNett, and now I see them branded as both McNett and Outgo by McNett. As far as I can tell, they're virtually the same towel.
There are other brands of travel or camping towels that are similar, but I like the feel of these just a little better. I'm sure others prefer some of the other brands, but I find many to be "felt-y."
The material in the McNett towels is called a micro-terry or microfiber (mine are the microfiber).  It's not like a terrycloth towel, it's more like suede. It feels different but it does absorb water well. I find that it sticks to my skin just slightly and works best if I pat or blot the water rather than wipe. I admit, it's not the same as cuddling up with a big fluffy terrycloth towel . . . but it doesn't get stinky as terry cloth does. The trade off is worth it in my book!
I haven't tried their micro-terry towels to know how much of a difference there is. The company says that the microfiber dry slightly faster while the micro terry has a bit more of the feel of a terry cloth towel. Amazon reviewers also say that the terry version, while still compact, is a little "fluffier" than the microfiber.
They are now heavily marketing to the military, so you'll find lots of very neutral colors although you can still get the bright colors if you poke around a bit. See links at the bottom of this article.
When I bought ours, the "large" was the largest size available. It's 30″ x 50″ and about the size of most bath towels (that's what's wrapped around me in the top photo; no size 0 models here). But now they make an "extra large" that's 35″ x 62″ which is even better. If ours ever wear out — and they're not showing signs of doing so soon — I'll buy the XL, which is closer to a beach towel size.
These larger sizes are one of the real advantages of the McNett brand towels — many other brands only have smaller sizes. Drying off with something the size of a dish towel just doesn't thrill me.
The towels are fairly thin and the large size rolls up smaller than a t-shirt. They have a snap loop on one corner, making it easy to hang them to dry outside without worrying about them blowing away. Use a permanent marker and put your boat name on the towel just in case you leave it in the shower room!

A bonus is the carry bag that the towel comes in. There's a mesh compartment with zipper on each side of the bag. The theory is that you put the towel in one side and your shampoo and so forth on the other size. I've never put my towel back in it, but I do like it as a small toiletry bag for going to the shower room. I put the stuff that goes into the shower with me in one side and the after-shower stuff on the other side. It also has a snap loop — very handy if the only place to put it other than on the floor is to hang it from the shower curtain rod!
And yes, find a way to put your boat name on the bag, too — I ended up using a luggage tag that I could write on with a permanent marker (anything with paper does not work well in the steam of the shower room).
The best prices that I can find are on Amazon — but note that there are several listings for these towels on Amazon and some are much more expensive (don't ask me why but be careful!). I am comparing prices on the XL size and these are the lowest I find (different colors sometimes vary greatly in price, too):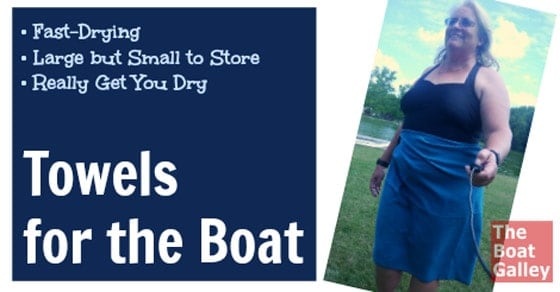 ---
Our FREE Provisioning Spreadsheet
Wondering how much of what foods to take on your next trip? Know just how much to buy of what — all arranged by grocery store aisle — with our handy Provisioning Spreadsheet. Includes detailed instructions to edit it for your favorite foods, how much your family eats, and how long you'll be gone. No spreadsheet skills needed!
It's FREE — get it here.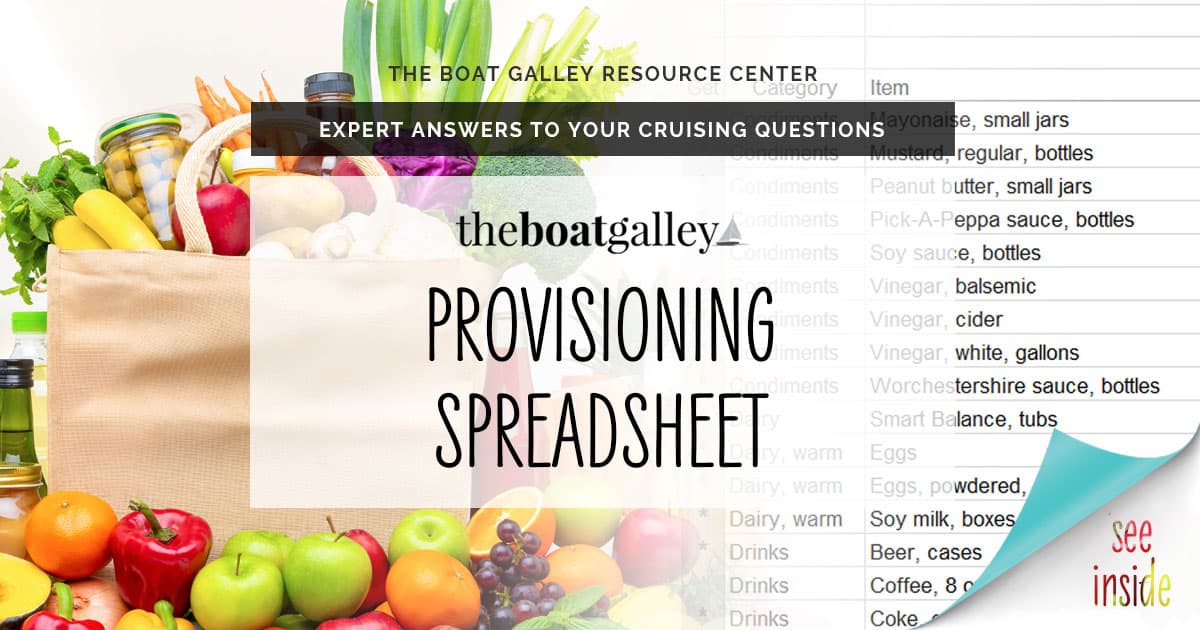 Some links above (including all Amazon links) are affiliate links, meaning that I earn from qualifying purchases. Learn more.