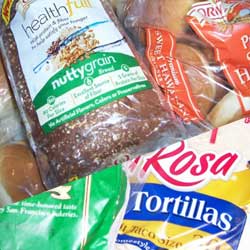 I recently got a question from a reader named Dawn asking:
How do you keep bread (store bought)? I know there is a new Lock and Lock container but what about when I also have hamburger buns and bagels?
If you only have a single loaf, a plastic bread protector such as the Lock & Lock container can work well and doesn't take up too much more space than the loaf. But as you have more loaves — or buns, bagels or anything else — trying to keep each in its own plastic container just takes up too much space.
I developed a couple of other strategies. Basically, you're trying to keep the bread from getting squished and also keep it fresh. Note that here we're talking about typical store-bought bread and the like, not homemade.
I usually kept mine in one of the gear hammocks in the salon — I hung four gear hammocks from the overhead handholds so that they wouldn't crash into anything with the motion of the boat. I put a large plastic bin in one and just piled the bread, buns and tortillas in — I left it all in its plastic wrappers and didn't worry about putting a lid on top (since I wasn't using the lid, I bought a cheapie instead of a good one). Unfortunately, I don't have a picture of it, but the bin was about 18″ square (two loaves of bread would fit in one layer, side by side) and 9″ high.
At this point, you might be asking two questions:
Why did you put a plastic bin in the gear hammock? Because otherwise the hammock itself would squish the bread.
Didn't the bread spoil faster, being near the ceiling where it was hot? We primarily cruised Mexico and used Bimbo brand bread. Bimbo is known to last forever without spoiling — it's great for cruisers, but I shudder to think what preservatives might be in it.
If that's not practical in your boat, you could get almost any type of a plastic bin that's large enough to hold all your bread supply and keep in in some out-of-the-way spot (you could set it on the v-berth or quarter berth during the day and move it when it was bedtime, for example). I wouldn't worry about getting a really good airtight container if you leave the bread in its wrapper and everyone aboard makes sure to always close loaves tightly. Be sure to use the lid if you put it somewhere that stuff could fall on it!
It may not apply on your boat, but lots of cruisers use an oven or microwave as their "bread storage" and just take it out when using the oven or microwave!
Anybody with other ways of safely storing loaves of bread??
Some links above (including all Amazon links) are affiliate links, meaning that I earn from qualifying purchases. Learn more.