Dave and I enjoy a glass of wine in the evenings. And recently, when I broke one of the glasses we'd been using (like the one on the far right), I dug out a couple of other ones that I'd been given a while back (far left). They were taller and hence a little tippier, but other than that I figured no big deal.
Then I noticed that a box of wine didn't last as long as it used to . . . and Dave noticed that he'd put on a few pounds.
And it hit me that with larger glasses, we were drinking more. At first, we said we'd just pour less . . . and that lasted for about a week. That little bit of wine in the bottom of the glass just looked so lonesome. Chintzy even. And soon we were back to filling the glasses fuller and drinking more . . . almost double what we'd been drinking with the small glasses.
Now don't get me wrong. Dave and I will never be confused with teetotalers. But for health and weight reasons, we try not to overindulge. At least, not too often.
I finally realized that, for us, the secret to drinking less was to have smaller wine glasses. Looking online, I was shocked to see that many of the less expensive wine glasses held 17 or 18 ounces — sometimes even more. Stemless glasses were often in the 20-ounce range! I checked the old glass and discovered that it held just over 8 ounces — so a 4-ounce "serving" filled it half full.
Unfortunately, I couldn't find any more 8-ounce wine glasses that were a fairly simple yet sturdy style at a price I was willing to pay unless I wanted to buy a case of 24. Not only do I like the smaller size of my old 8-ounce glasses, I also like the fact that they are shorter and the stems are heavier, making them less tippy and less likely to break.
Since I only needed 4, I ended up getting 10-ounce glasses (the middle one in the photo). And without even thinking about it, we're drinking less.
So if you're like us and trying to rein in the wine consumption, you might look at the size of your glasses. And if you want a smaller glass, here's what I finally went with:
I like them as they are nice looking but the stems are sturdy enough that they are not easily broken. And while I generally am not a big fan of glass on boats, we had hated the Lexan glasses that a previous owner left on the boat. They scratched easily, turned cloudy and were top-heavy and tippy. We decided that we'd risk glass. And now, there's the Yoebi wine glass holder so that you can put a footed wine glass into a drink holder.
Libbey makes another set called "Sociable" that looks identical to me . . . except that on Amazon, a set of four costs $10 more.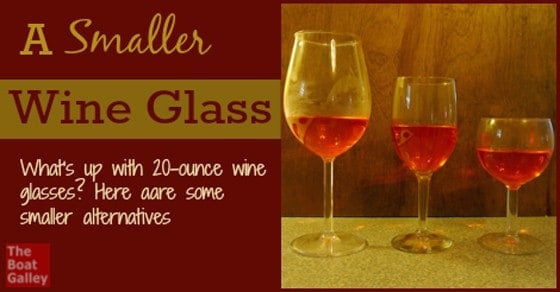 Some links above (including all Amazon links) are affiliate links, meaning that I earn from qualifying purchases. Learn more.