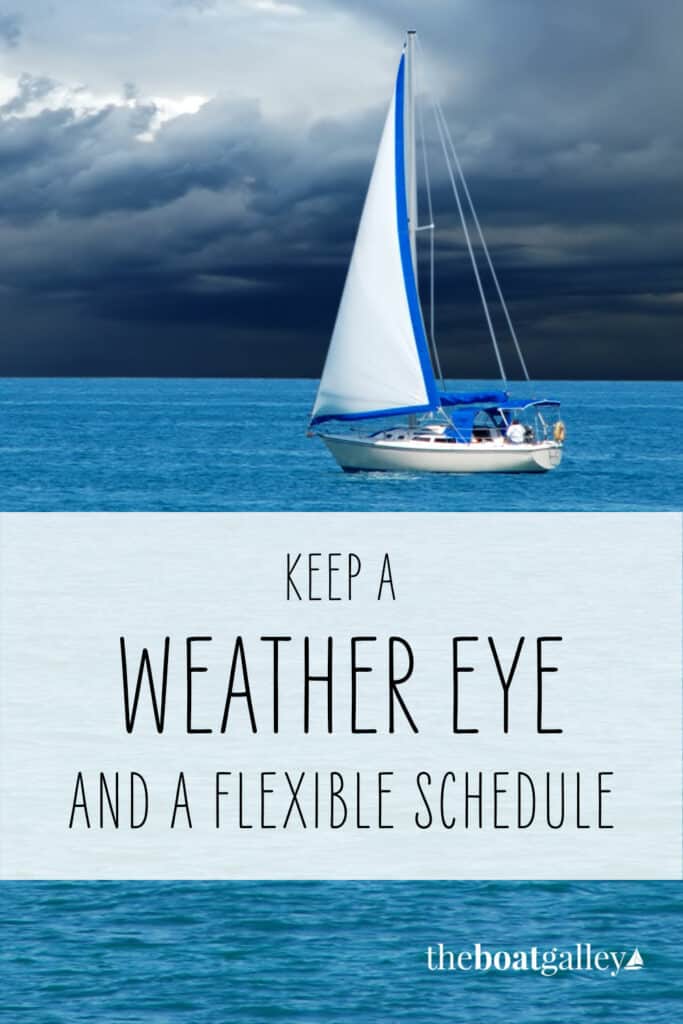 A while back, one of our neighbors set out for the US from the Bahamas. Circumnavigators, they were heading back to their home port of New York City for the first time in 14 years. 
About two hours after they left, we saw them drop anchor beside us again. A little later, we went over and asked them if there was a problem and if we could anything to help.
"No," they replied. "When we got out there, the wind hadn't switched to the east as much as forecast, the new forecast didn't look like it was likely to switch for a couple a days, and that meant we'd be close-hauled for 4 or 5 days and also have too much north wind in the Gulf Stream for it to be comfortable. We decided to hold off a few days, maybe even a week."
Deciding to turn back is often a smart move, but one that's hard to make. We've thought for a few days about the next leg of our journey, and made a decision to go. Maybe we've told others, or announced it on social media. We're invested in it. And then to say "no" somehow implies failure. Failure in our ability to read a weather forecast. Failure in our "toughness" as cruisers. Failure in our plans.
Instead, I'll argue that turning back when conditions aren't to your liking is a sign of maturity. As my friend Behan – another circumnavigator who now coaches new cruisers with her husband – says, "Misery is optional."
Keeping passages and even day sails enjoyable perpetuates the cruising dream. Gentle conditions result in fewer breakdowns and less of a hit to the pocketbook.
Now I'll admit that sometimes we have opted for a trip that we knew would be less than ideal. For example, about two weeks ago we went from one side of Great Harbour Cay to a favorite anchorage on the other. We knew that the last 10 miles were going to be a slow slog, motoring straight into 15+ knot winds and 4 to 5 foot seas. But we also knew that we'd be rewarded with a spectacular anchorage that would be dangerous in most other wind directions. And so we decided to go for it.
"Decided" is the important part. We knew there'd be 3 uncomfortable hours. We also had several bail-out anchorages planned in case it was rougher than expected. And we both agreed to the plan.
That's also important: our decisions are joint decisions, with the rule being that when we disagree we go with the more conservative option. In case of an uncomfortable passage, that's turning back or going to one of our bail-out anchorages. And we periodically turn to each other and ask, "Are you comfortable with what we're doing?" When one person says no, it's time to re-think things. This lifestyle has to be generally enjoyable to be sustainable. 
---
Be sure to subscribe to The Boat Galley newsletter to keep up with what we're up to and get helpful tips and encouragement from the water.
Some links in this article (including all Amazon links) are affiliate links, meaning that we earn from qualifying purchases.