We've done several stainless tubing projects on Barefoot Gal: added bimini supports, made a mounting bar for the solar panel and, most recently, added a bar in place of a lifeline and beefed up our dinghy davits.
When we were on our previous boat and cruising in Mexico, we had such things designed, created and installed by professionals. And that's what we originally assumed we'd do on Barefoot Gal.
Our first project was to add bimini supports. Newer Gemini catamarans have these from the factory, but ones of our vintage didn't. However, the corner of the bimini is the logical thing that everyone grabs as they step into the cockpit. Not a good idea without a support.
While in Marathon, we approached one of the stainless welding shops to make these for us. It turned out that they had quite a backlog of work and would require us to be at a dock in a marina for several days (at over $100 a day!) while the work was done. The cost for their time was precious, too. It would have been close to a thousand dollars by the time they were complete.
We felt that we needed the supports, but the price just seemed steep. We broke the project down into parts:
Design support with approximate measurements
Buy stainless tubing
Buy end fittings
Rough cut stainless tubing
Bend tubing
Dry mount and cut tubing to exact length
Weld ends on
Permanently mount
Okay, we could do most of it ourselves. We'd need help with bending the tubing and welding the ends. Dave found a young cruiser with a tubing bender, plenty of strong muscles, and experience. And there were plenty of welding shops.
Total cost for the project ended up being just over $200 and we did all while on a mooring ball instead of at a dock.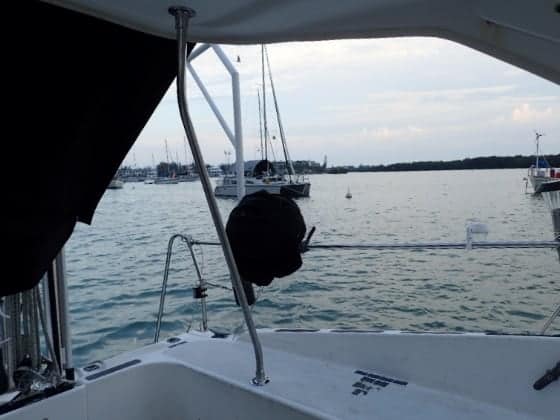 And with that, we began our "Semi-DIY" stainless tubing projects.
In talking to other cruisers, one thing that many don't like about trying to do their own stainless work is that most of the fittings are secured with just an Allen set screw. If an end fitting is under tension (that is, trying to be pulled apart) or can swing or otherwise move, those set screws will loosen over time . . . and the whole structure can suddenly come apart.
That's why they want it welded.
Dave had what I thought was a brilliant idea: we fit everything with the set screws, then disassemble it while leaving the end fittings in place with the set screws, and have the end fittings welded on. Since we've fitted it and put the set screws to hold it for the welder, he/she doesn't need to come to the boat but can just weld it in their shop.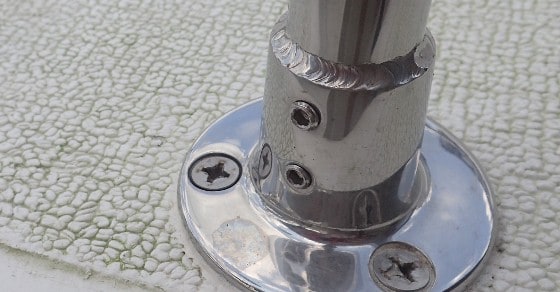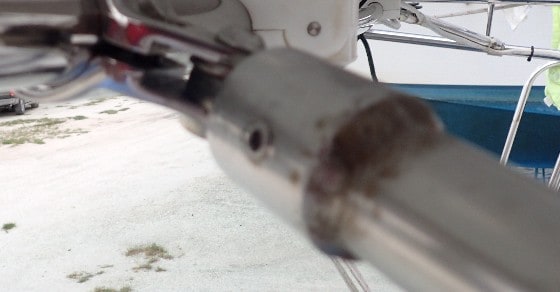 The clamps that go around another piece of tubing can sometimes be welded, sometimes not — it depends on whether you can take things apart. And occasionally you'll find a welder willing to come to the boat at a dock or in a boatyard and weld up what you've put together. Most times, if the end fittings are welded on, that's sufficient to keep things from falling apart. Hinged fittings should always be bolted with Loctite Red (the strongest permanent Loctite) or thru-bolted with locknut. They may slide a bit if the Allen set screw loosens (we use Red Loctite on those too), but that way they won't come off.
We also use Red Loctite or locknuts where one fitting is connected to another so that they won't come apart with the movement of the boat. See also how we stabilize these connections.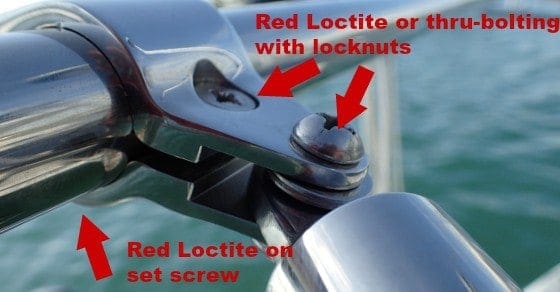 We've found the "Semi-DIY" route to work well for us. I particularly like being able to buy the tubing ourselves instead of just relying on what the welder has on hand; I've been able to get higher grade and thicker wall tubing than most carry. This was very important in the bars that are beefing up and stabilizing our dinghy davits.
NOTE: it may be hard to take exact measurements for some projects. We take the approach that it's best to make the initial piece too long and then cut it down as needed. With the curves for the bimini supports, we deliberately started with a piece that we thought was a good foot longer than we needed, and did the bends in the middle. Then we cut the ends off slightly longer than we thought was the "perfect" length . . . and then cut a little more. While it's a pain to cut stainless tubing, we'd rather make a few extra cuts than make a piece too short.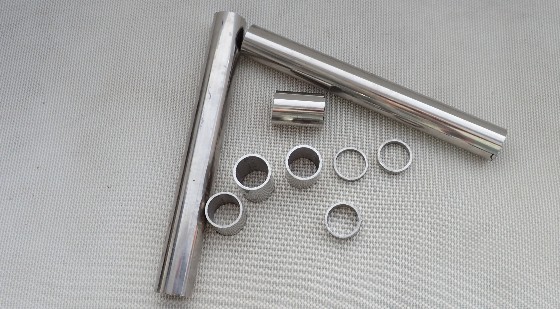 SECOND NOTE: If making two of the "same" item — such as our bimini supports, one for the port side and one for starboard — never assume that the measurements will be the same. Most boats are not perfectly symmetrical. Measure both sides and double-check angles.
Sources for materials:
Fittings (note: almost everyone calls these bimini fittings in their index even for items not used on biminis): my favorite is Sailrite — they have a huge selection and their parts just always are right; West Marine and Defender have a limited selection of parts; you can sometimes get good prices at MarinePartDepot but shipping can be slow and you can get some funky parts, such as these hinged jaw connectors with an offset hinge that would not go around the tube (I returned them; refunds are slow too):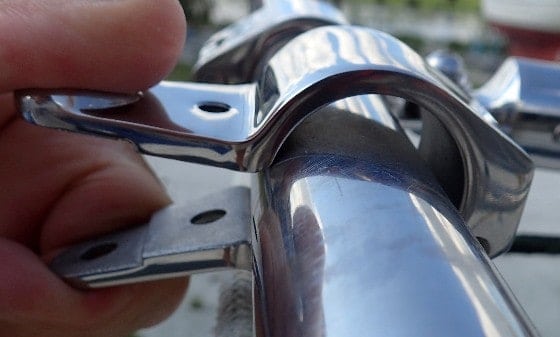 Tubing — your best bet is a local canvas or welding shop but they don't always carry what you want. You can find a lot online but sometimes shipping is outrageous. In southeast Florida, try Bob Dean Supply — they were extremely helpful and the only place that could get the extremely thick wall tubing we needed for the davit beefing up at a price that seemed reasonable. Finding tubing has been my biggest challenge. In the Florida Keys, expect to pay $10 to $12 a foot for 1″ stainless tubing, more for heavy wall or larger sizes.
Bending Tubing — most big shops won't bend tubing unless they're doing the design work. Small shops are more likely to be willing. Also look for young entrepreneurial cruisers (it takes strength and a concrete floor/sidewalk) who may have a conduit/tubing bender (if you are going to bend tubing yourself, don't get thick wall). We found we had to go back for a second round of "adjustment" after dry-fitting the pieces.
Welding — anywhere that cruisers congregate, you'll find someone who can weld stainless (not every welding/machine shop does stainless). We've usually been able to get work done within a day or two and have typically paid about $10 per weld (local prices can be drastically different).
Going the semi-DIY route has worked well for us to get the strength of welding but at a price we can afford.
Get info on gaining skills, buying and owning a boat, working on your boat, buying stuff for your boat and moving aboard in Prepare to Cruise (free mini-course).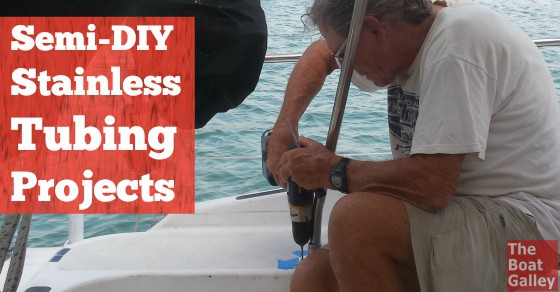 Some links above (including all Amazon links) are affiliate links, meaning that I earn from qualifying purchases. Learn more.