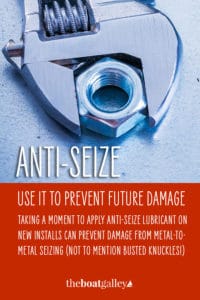 How often have you – or your boatmate – spent hours trying to get something metal apart?  Say, a hose clamp, unscrewing a water pump, trying to remove the deck fill plug, removing a shackle on the genoa . . . the list goes on and on. How many gallons of Liquid Wrench or PB Blaster have you used on seized parts?
Nope, I'm not going to tell you a secret way to get stuff apart. I'm going to tell you how to avoid the problem in the first place.
Over the years, Dave and I have learned that few cruisers know about one of our favorite products: Anti-Seize (actually, we've always called it "Never Seize"). Actually, I'd never heard of it (and my dad owned a hardware store) until I saw it in Dave's toolbox.
Anti-Seize is marketed as a lubricant for spark plugs and you most often will find it in an auto parts store, or sometimes in a hardware.   I've never seen it in a chandlery.  The good news is that it's cheap (under $5) and a small tube will last a long time.  Just coat the threads of one half of what you're screwing together before you put two metal pieces together, and wipe the excess off (it's one of those things where your hands WILL get dirty putting it on).  It's fine for engines, safe up to 1,600° F.
You can buy Anti-Seize at your local auto parts store and on Amazon.
UPDATE: Robert Patterson left a note in the comments that there is also a food grade version of Anti-Seize for use where it may come in contact with potable water, etc. This would be better to use on the deck fill for water than the standard Anti-Seize. Dave didn't even know it existed and I've never seen it in a store. It only comes in 8 ounce containers, which is enough to last forever on most boats, and it's "only" good to 900° F.
Once opened, keep the tube in a heavy-duty (freezer) plastic bag – we've discovered that if it sits in the tool box on a boat, other stuff hits it and will possibly puncture the tube or at least "squish" it. If it's in a bag, it's less likely to puncture and if it does, the mess is contained and you can still use the Anti-Seize.
We (okay, mostly Dave) used Anti-Seize on a ton of stuff all over the boat, including:
hose clamps
shackles – really important for being able to quickly get sails off in case of a hurricane warning (but be sure to mouse with seizing wire so they don't come unscrewed)
deck fills (see Jan's story of trying to get theirs open after years of cruising and not using it)
engine and outboard
pumps (keep it out of the pump itself, though)
mast/boom hardware (very important if stainless screws are going into an aluminum mast or boom)
anywhere that we used locknuts (without locknuts, sometimes you have to choose between using Anti-Seize and Loctite)
By the way, if you live ashore part time, it's also great for lots of land projects, too – anywhere that two metal pieces come together.
Some links in this article (including all Amazon links) are affiliate links, meaning that we earn from qualifying purchases.