When we bought our first cruising boat, we were a little surprised to open a locker and find a pair of basketball knee pads. Well, the previous owner was tall . . .
We soon learned that we kneeled to change the oil, Cetol (later Semco) the teak, work on the engine, put away the canned goods, work on the windlass and more.
We also learned that knee pads were a great idea, but we both were less than enthusiastic about the basketball-style ones that had been left aboard. They tended to slide down whenever we stood and dug in uncomfortably when we kneeled. Well, duh . . . they weren't designed for what we were doing.
We eventually got a different — and much better — pair in a Mexican hardware store. Of course, that pair stayed with Que Tal when we sold her.
On one of our very first trips to Home Depot to get things for Barefoot Gal (our current boat), Dave spotted a similar pair of knee pads and stuck them in the cart.
It was a great call. He used them a number of times while we were still in the yard and he was kneeling on deck to check things out. And I used them as I kneeled on deck to rejuvenate our windows. Kneeling even on a smooth surface gets hard on the knees, but kneeling on nonskid is downright painful from the start!
Trying to troubleshoot our engine woes and now helping to rebuild the diesel, those knee pads have seen even more use.
I asked Dave if he'd recommend the ones he got and his answer was a resounding YES. His reasons:
The two elastic straps make it easier to get a comfortable fit than ones with a single strap. The single strap ones tend to fall down or be so tight as to be uncomfortable.
The hard outside surface holds up well on the rough nonskid and doesn't leave marks.
One size fits all means that we can both use the same pair. They also can be worn over jeans or just on bare legs.
For what he (we) has been doing, the foam padding is sufficient and much less expensive than the ones with gel padding. It's also a lot lighter weight. (NOTE: Gel padding tends to be called "professional grade" or labeled as for flooring professionals, plumbers, carpenters, etc.)
His are made by McGuire Nicholas, model 1DM-354, and are available at Home Depot for about $10:
Or you can get almost the same ones on Amazon (top strap is a clip instead of Velcro — Dave says he thinks it'd be better as he has to clean dirt and lint out of the Velcro at times):
We both prefer the knee pads  to using a carpet scrap or old pillow, as they move around with you. But we do use a piece of carpet and an old pillow "rescued" from the dumpster to pad our back and ribs when working in open lockers and leaning on that hard edge.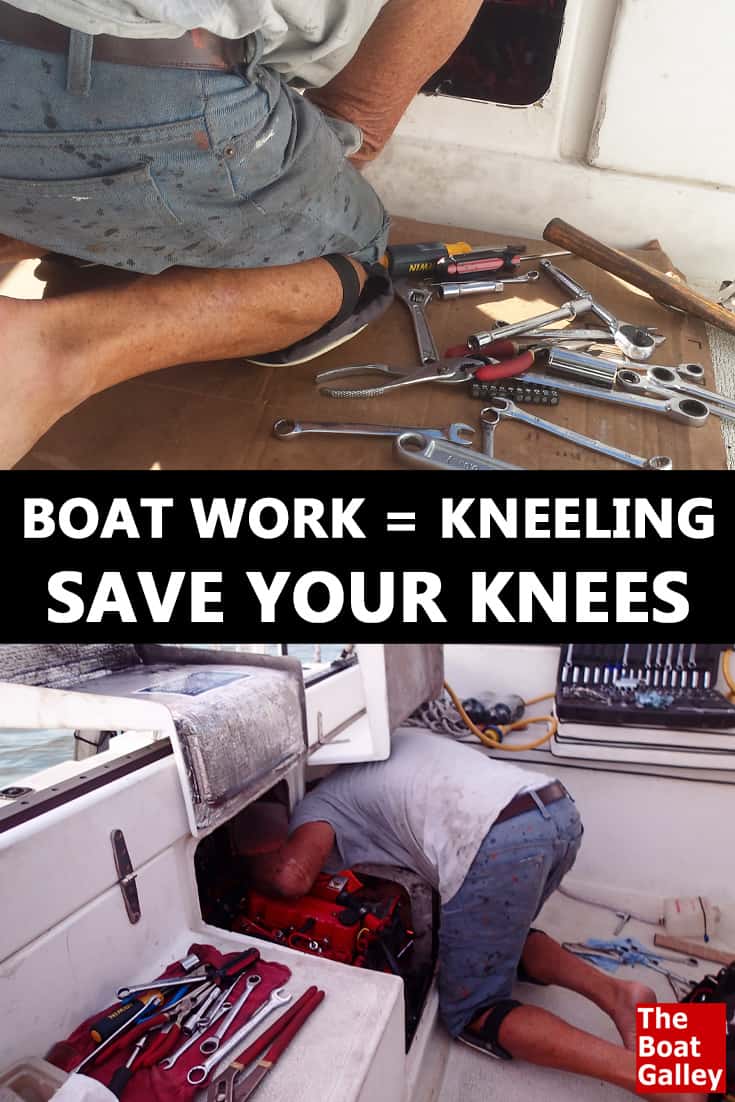 Making Boat Life Better
Some links in this article (including all Amazon links) are affiliate links, meaning that we earn from qualifying purchases.