My husband, Dave, does not cook.  Well, I should say that he doesn't cook anything other than microwave popcorn.  But he's a expert at that!
Dave is also the type of guy who is always hungry, snacks like crazy and never gains an ounce.  Yes, he drives me nuts.
Aboard Que Tal, Dave would make a bag of microwave popcorn 4 or 5 times a week.  We had a huge array of solar panels and with the desert conditions of the Sea of Cortez (very few clouds), we had plenty of power for him to run the microwave off the inverter (if you're not familiar with inverters — I sure wasn't before living aboard — be sure to read Inverters 101).
During the winter, however, we'd often spend some time at a marina with shore power — and he'd continue with his habit of popcorn in the afternoon.
With one exception.  He'd always burn the first bag he'd make when we were back on shore power, despite setting it for the same amount of time and using the same size and brand of popcorn bags.
And so, as he made some popcorn this afternoon, he said I should write an article about this.  Okay, honey — here's your article!
Basically, when you run anything off an inverter, it doesn't have as much power just due to inefficiencies in the system.  With our microwave, it took about 25% longer to cook anything than when it wasn't on the inverter (i.e., on shore power or generator).  And Dave would inevitably forget and set the microwave time the same for the first bag at the dock . . . and then we'd suddenly smell the burning popcorn.  And when we left the dock again, he'd do the opposite — set it for the "shore" amount of time — and it would only be partially popped.
So, if you have a microwave on board and use it both from the inverter and from shore/generator power (as opposed to just storing electronics in it during thunderstorms), remember to adjust the time!  Depending on your microwave and inverter, it may be more or less than the 25% difference that ours was, but in talking with other cruisers it seems that everyone did notice a difference.
---
Our FREE Provisioning Spreadsheet
Wondering how much of what foods to take on your next trip? Know just how much to buy of what — all arranged by grocery store aisle — with our handy Provisioning Spreadsheet. Includes detailed instructions to edit it for your favorite foods, how much your family eats, and how long you'll be gone. No spreadsheet skills needed!
It's FREE — get it here.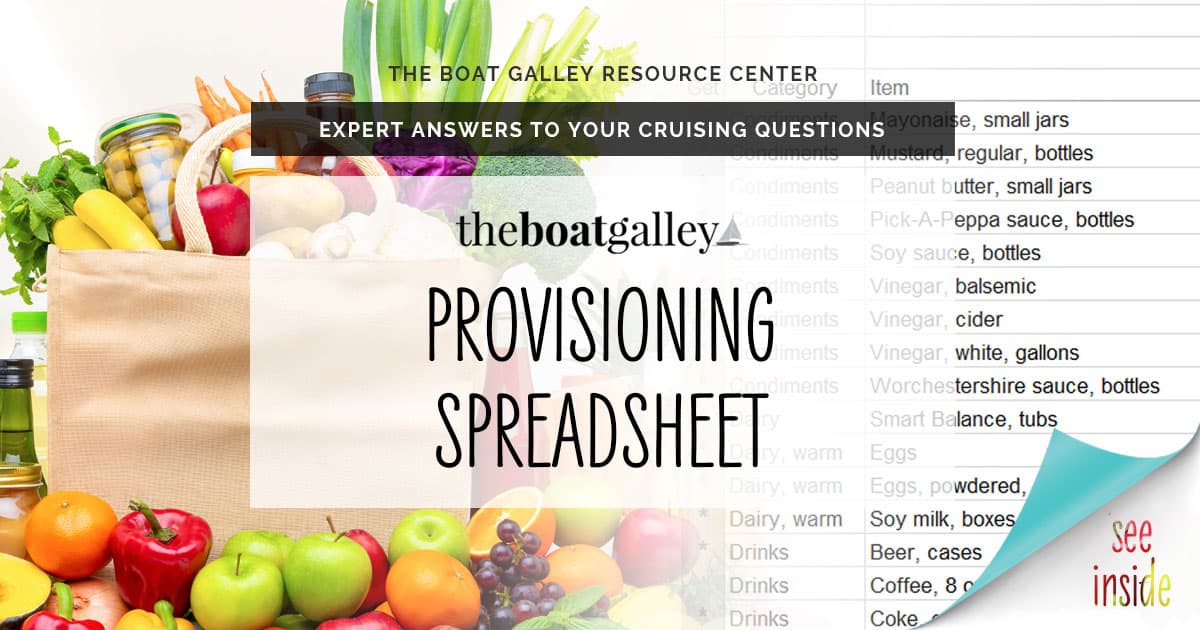 Some links above (including all Amazon links) are affiliate links, meaning that I earn from qualifying purchases. Learn more.