Need more light than what your flashlight offers?  But can't or don't want to run wires and install a permanent light?  Or do you just need a bright portable light that you can hang up?  Or want a simple-to-install light in an out-of-the-way spot, such as under a galley overhang?
In the past 6 months or so, several readers have recommended LED worklights to me.  And I finally got a chance to see one in action recently and love it!  There are both battery powered ones and rechargeable.
Battery powered.  These  run on AA or AAA batteries.  If you don't have an inverter on the boat and are away longer than a single charge might last, these are a good choice.
You can do one of two things with these:  use rechargeable batteries and charge them at home or when you have shore power, and have more than one set; or use lithium batteries which last up to 5 times longer than alkaline according to battery manufacturers.  Since they don't have a charger, these are considerably cheaper but you have to factor in the battery cost.
The highest rated non-rechargeable LED work light on Amazon, shown in the picture at the top of this post, is:
These can be held in your hand (since they're LED, they don't give off heat), hung from a hook, or stuck to any magnetic surface.  You could also use industrial strength Velcro to mount them semi-permanently in a location (you'll have to remove them periodically to change batteries, so you don't want to mount them permanently).

Rechargeable.  Of the rechargeable ones, some can only be recharged with AC power, while others have both AC and DC (cigarette lighter) chargers.  If you are looking at any of them with only an AC charger and intend to be able to recharge it when you're away from the dock, you'll need an inverter.  In general for battery chargers, pure sine wave inverters work best — if you're not that familiar with inverters, read Inverters 101.
The Bayco rechargeable lights have been recommended by a couple of different people and get high reviews on Amazon as well.  Reader Vala Richmond reports that they liked theirs so much that they bought a second one to keep in a different area of the boat. She uses one "all the time" to look in the back corners of galley lockers as well as into the refrigerator (since the LEDs don't put off heat, they're great for peering into the refrigerator or ice box).
There are a couple different models with different numbers of LEDs, but both look like the picture at right and both have a "flashlight" (they refer to it as a spotlight) in the base of the handle as seen in the photo at right.  Both are chemical, moisture and impact resistant, have a hook for hanging the light as well as a magnet for just sticking it to a metal surface and both an AC and DC charger.

The Bayco 2134 (link is to Amazon) has 30 LEDs in the large work light and 4 in the flashlight.  A full charge will run the work light 2 hours or the flashlight 16 hours; a full charge will take about 8 hours.  The rechargeable batteries are NiMH.
The Bayco 2166 (link is to Amazon) has 60 LEDs in the large work light and 6 in the flashlight.  A full charge will run the work light 4 hours or the flashlight 18 hours; a full charge will take about 8 hours.  Again, the rechargeable batteries are NiMH.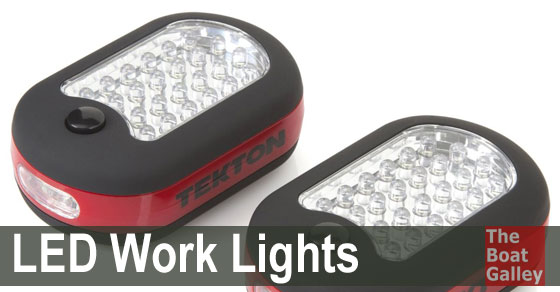 Making Boat Life Better
Some links in this article (including all Amazon links) are affiliate links, meaning that we earn from qualifying purchases.