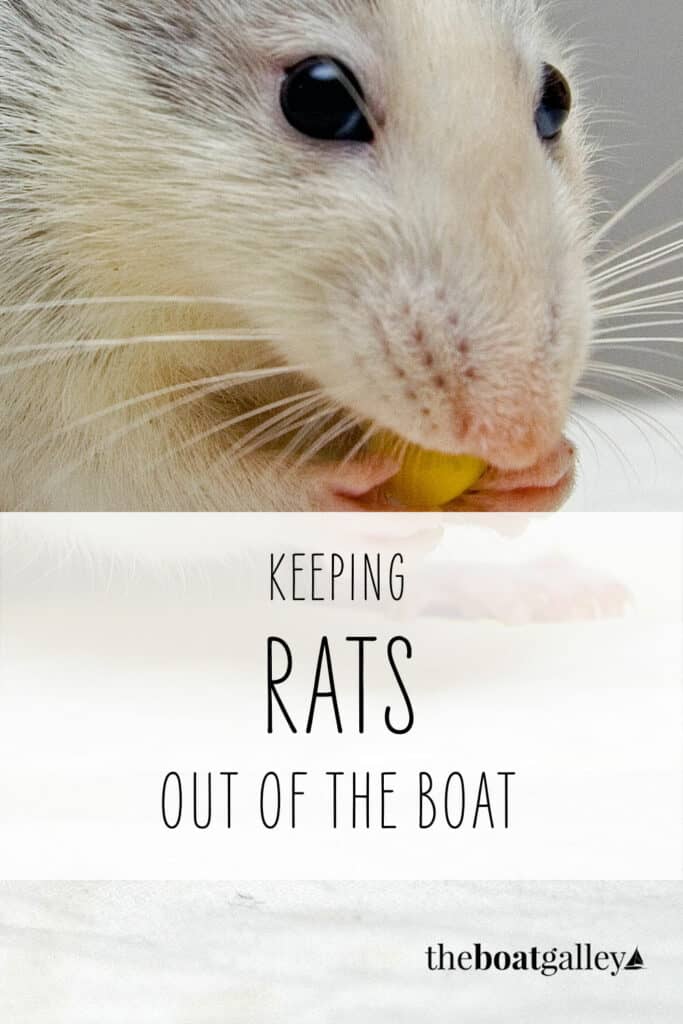 Well, rats! Or at least one rat. About a week ago, as I finished up working on the teak inside Barefoot Gal while she is in the boatyard, I found that a rat had gotten inside the boat the night before.
The good news? Well, it (they?) seemed to be coming onboard in the middle of the night and hadn't taken up residence. No wiring was chewed. There wasn't any food or clothing on board. And I found it immediately.
We set out several traps with zero luck. We went over the boat with a fine-toothed comb and think we finally found where it got in: where lines pass through the hull to the rudders. We closed that off, cut back some mangrove branches that were close to the boat and began pulling up the ladder every night. Once we did all that, no more fresh signs of the rat aboard.
Now, we're in clean-up mode. To be blunt, there was rat poo and urine throughout the boat even though the rat(s) had apparently gotten inside only 3 nights. I had already planned to deep clean the boat before we moved back aboard after Dave's hip replacement, but this is taking it to a whole new level:
I bought a carpet spot-cleaner/upholstery cleaner and a steam cleaner and am going over every inch of the boat.
Where there is gelcoat or teak, I'm scrubbing it down with a borax solution. I'm washing every item as I empty lockers. Even wires and hoses are getting washed.
After scrubbing, I'm painting the bed platforms and galley lockers, first with Kilz and then with semi-gloss for future cleaning ease.
We threw out our old mattress, which had been one of the rat's favorite places. I also threw out several throw pillows. Everything that can go in the laundry is.
Frankly, the fact that we're not trying to live on the boat as I do the cleaning and painting is a lifesaver. I'm about half done with it now. We're still on track to be moving back aboard and splashing in two to three weeks, weather dependent.
I thought we had done a good job of prepping the boat when we put it in storage. We stuffed all our thru-hulls and took all the food, clothing and bedding off. But we looked at the boat with new eyes once we knew we had a problem and found a few more openings to close off and other things to do.
If you're leaving your boat, I suggest going around your boat with the idea that you know a critter has gotten inside and try to figure out how. You'll probably find another couple of things to do. And while it's a pain, I can guarantee you it's easier than cleaning up after one has gotten inside.
The upside? We're finally replacing our 21-year-old mattress and the boat is going to be sparkly-clean!
---
Be sure to subscribe to The Boat Galley newsletter to keep up with what we're up to and get helpful tips and encouragement from the water.
Making Boat Life Better
Some links in this article (including all Amazon links) are affiliate links, meaning that we earn from qualifying purchases.