When we mounted that fire extinguisher there, we had no idea that it would quickly become the most annoying thing on the boat. Well, at least when we motored.
The minute we turned on the engine, the bottom corner would vibrate against the wall. It was going to wear a hole in the wall in no time (it's gelcoat) but more than that, it was driving us nuts. Vibration noise is very wearing and we make every effort to stop every bit of it that we can.
I walked down to take the fire extinguisher off the wall for the duration of the trip, and my eye caught a scrap of Velcro from a project I'd done earlier.
Hmm, a little piece of adhesive Velcro? The fuzzy side?
I trimmed up the edges to make it a nice small rectangle — maybe 1/2″ by 1″ — and stuck it on the wall where the fire extinguisher was hitting it. Instant silence.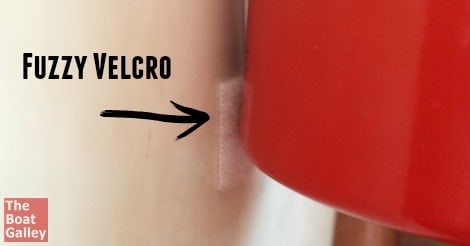 Unless you look for it, it's unnoticeable as the white is very close in color to the wall. I even had a hard time getting a photo where it was obvious.
Got something on your boat that's vibrating and making a racket? Would a little piece of fuzzy Velcro silence it? Got another innovative solution?
Some links above (including all Amazon links) are affiliate links, meaning that I earn from qualifying purchases. Learn more.