Running new electrical wires on a boat generally is no fun. More often than not, where they need to go is hidden in the bowels of the boat, twisting and turning.
Last summer, we installed a new refrigerator. It runs on 12 volt electricity instead of propane as the previous one did. Overall, that would make it much more efficient.
There was just one problem: we had to run new wiring for it. There wasn't any old wiring to even use as a guide – we were going from scratch.
It didn't seem like it would be a big deal: straight line, it would be about an 8 foot run. The way it had to run, though? About 18. And all hidden behind panels that could not be removed. There were a couple of access points in the middle but they had very tight cut outs. No way would we be able to just snake a wire from one end and expect it to come out where it should.
NOTE: Read the comments for some more great tips from readers!
Tip 1: Electrician's Fish Tape
Electrician's fish tape is designed for just such things. It's a springy, semi-flexible wire tape that comes on a reel in various lengths.
Feed it from the end with the more restricted opening (hopefully you can reach to it and wiggle the end of the tape through, then push it towards the other opening. The tape is rigid enough (unlike the wiring) that it will go straight and not just ball up when it hits an obstruction. Feeding the tape is easiest with two people, one to push it and then sweep it from side to side and the other to yell "stop" when they see it in the other opening and grab it. It's possible to do by yourself, though – it just takes a lot of going back and forth, moving the fish tape just a little at a time.
In the past, we've always been able to pull the new wire through by simply taping it to the fish wire and gently pulling. Not this time! The opening was tight enough that joint would be pulled apart and we'd have to feed the fish tape all over again. It only took me two failed attempts to decide there had to be a better way.
Tip 2: Crimp on a Screw Connector
I needed a connection that wouldn't come apart even when I tugged on it to get it through the tight spots. The fish tape had a nice eye on the end; I just needed a way to attach the wire to it. First I tried stripping a section of wire and then passing it through the eye and twisting it back together and taping it. Nope, it pulled apart again.
I finally decided to sacrifice a screw connector. I crimped it onto the wire, then used a cable tie to attach it to fish tape. I put a little wrap of electrical tape over the joint so that it was nice and smooth and wouldn't snag. It held perfectly, even with me having to tug a fair amount to get it though one blind spot. I couldn't believe how easily it worked. After the wire was run the whole way, I just cut it off
You can see both the end of the fish tape and the screw connector I crimped to the wire in the photo above. The big thing in buying fish tape is to get one that is stiff enough to push through a narrow opening. Because they're made of stiff metal, it can be a bit of a chore both to unwind and wind the tape. Look at it as part of the onboard fitness program!
You can get fish tape at any hardware or home improvement store . . . or on Amazon if you just want it delivered to you:
Klein Tools Fish Tape – 4 different lengths; the end is slightly different than on ours (and I think this one is better)
On our boat, 25' is sufficient and we've even used it to pull new reefing lines through the boom. If you're running wires inside your mast, sometimes a longer fish tape is handy (sometimes you can do it with gravity; sometimes wires need some help if they have to pass through particular channels). NOTE: Fish tapes are made of mild steel (the ones made of nylon aren't stiff enough to do the job) so it's best to store it in a Ziploc with a dessicant pack to remove moisture from the air. If you have a microwave, Dry & Dry work well as you can recharge them over and over.
---
Planning a 12V project? Know that you are using the correct size wire for your 12-volt projects with our 6-page quick reference, designed to be kept with your wiring tools so it's fast to check. See it in our store.


---
Our FREE Provisioning Spreadsheet
Wondering how much of what foods to take on your next trip? Know just how much to buy of what — all arranged by grocery store aisle — with our handy Provisioning Spreadsheet. Includes detailed instructions to edit it for your favorite foods, how much your family eats, and how long you'll be gone. No spreadsheet skills needed!
It's FREE — get it here.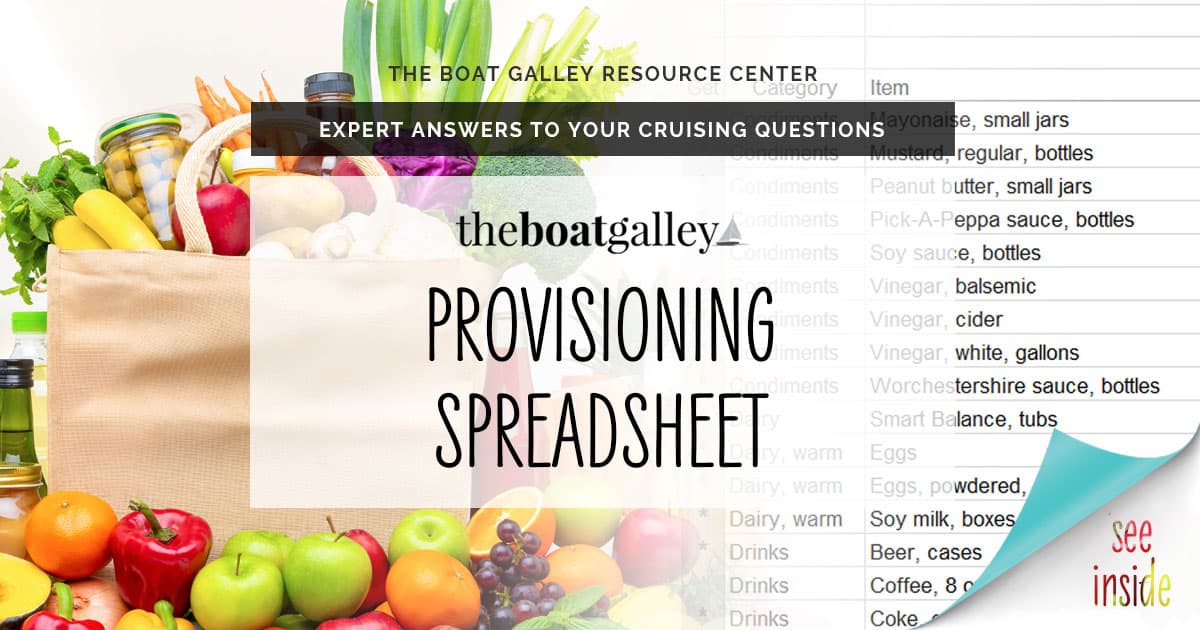 Some links above (including all Amazon links) are affiliate links, meaning that I earn from qualifying purchases. Learn more.