Planning your first overnight passage? Wondering what it'll really be like . . . and how you'll sleep?
There are no universal answers, but I can pass on some tips from ours. And interestingly, we find that the keys to sleep don't begin when we lay our head on the pillow, but well before.
Know that the Boat is Ready. Don't just assume that the boat is ready, but check all the major systems. Every boat will have its own list, but common items include the following.
Make sure bilge pumps work and the strainers are free of debris (and hair — the big culprit on boats).
Test the EPIRB.
Check the contents of the ditch bag. Make sure the life raft and ditch bag are accessible.
Check the oil in the engine and the transmission fluid.
Start the motor up and make sure that cooling water is circulating and the engine not overheating (the raw water intake can get blocked by bottom growth or debris sucked in).
Clean the bottom of the boat.
Have the jacklines in place.
Create routes for the chartplotter and backup systems. Create alternate routes for bailout places. Research emergency stops.
Water the batteries if using lead acid batteries.
Turn on the radar and make sure it's working — you don't want to discover there's a problem just as you need it.
Having confidence in the boat relieves a lot of stress — often stress that you don't even realize is there. And stress takes away from the enjoyment of the passage as well as interferes with sleep.
Confidence in Other Watch Standers. Not everyone will be equally skilled or knowledgeable and that's okay — we all had to start somewhere. But everyone has to have basic skills and the ability to do basic boat operations, as well as know when to call the others on board for assistance.
The basic skills can't just be learned in an hour the day before a trip. And they can't be learned just by reading. Day trips leading up to the overnight passage have to be used as training and practice sessions until everyone who will be taking a watch is comfortable with basic boat operations and also knowing when to ask for help.
We also have a set of "standard operating procedures" that we both agree to: we put in an extra reef before dark, we always wear our tethers, we never go on deck without the other person in the cockpit, and we never hesitate to wake the other one if there is the slightest question about anything. One other rule that Dave abides by (at the risk of too much information): no peeing overboard while alone on deck (seriously, this is one of the biggest causes of men going overboard when the boat hits a wave wrong).
Assuming that there is more than one of you, being comfortable with what the other person is doing is huge for being able to sleep. It's funny, but knowing that Dave won't hesitate to wake me (and vice versa) lets me sleep much better as I don't feel like I have to keep "one ear open" for signs of a problem.
Start Well-Rested. It's easy to get caught up in last-minute preparations or worry about whether you're really ready and not sleep well the night before a passage. But starting out sleep deprived puts you in the hole to start with.
We learned to try to have all the big jobs done before the last day so that it's just things like taking trash ashore, stowing the dinghy for passage and topping up water on the last day. I'll also usually do some food prep, but we try to have everything done by late afternoon, then a nice dinner and just relaxing in the evening.
Keep Food Simple. My first couple of overnight passages, I seriously over-complicated our meals. I planned three large meals, including a "special dinner" to commemorate our first night out. With no real idea of what even "benign" offshore conditions would be like, I had no idea what would be appropriate. Planning to spend three hours cooking a single meal was just plain stupid. And exhausting.
Now, we've discovered that we eat more snacks — healthy snacks, not junk food — than real meals. Trail mix, single servings of fruit, yogurt, that kind of stuff. Once a day, if conditions aren't bad, we have a meal together but keep it simple: if it's hot out, a cold salad; if it's cool, a pre-cooked dish that I warm up.
As you get more experience with passages, you may decide to carry ingredients for more elaborate meals and use them if conditions allow. But for the first few trips, while you're figuring things out, keep it simple so that meal prep does not interfere with sleep time.
Quiet the Boat. As you are on watch, be aware of any "little noises" such as clanking glasses or rattling pans that could bother the person sleeping and — quietly — do what you can to stop them. Generally, stuffing rags into lockers is a quick fix. Change the settings (if necessary) on electronics so they don't beep when buttons are pressed.
Sometimes, too, just a 5° course change can have a profound effect on the motion of the boat so that it's easier for the off watch to sleep.
The Watch Schedule. You know your own body, how much sleep you need and how long you can be alert on watch. Many couples opt for either 3 or 4 hour watches in typical conditions.
Dave and I have discovered that we do far better with roughly 6-hour watches as we prefer more sleep in one stretch. That said, we are somewhat flexible in the watches — if the off watch is sleeping soundly and the person on watch is still feeling good, we may go a little long. If the off watch wakes early and there aren't any jobs that have to be done, we'll swap early. And if conditions are challenging — not just weather, but the amount of traffic or anything else — we may shorten the watches.
If we have an "all hands on deck" situation (generally a squall), we'll rearrange the watch schedule when it's over. We find that with just two of us, flexibility is key. Our time on watch equals out but generally doesn't go exactly by the clock.
While we think of the person on watch as the one with responsibilities, the off watch has one important duty: to get sufficient rest that they are alert and ready to go when it is time for their watch. Even if you don't think you can fall asleep, lie down and rest.
Plan for Drowsiness. Rather than assuming that the person on watch won't get drowsy at 3 AM, plan for it. We each have a timer on our watch (but you can use any timer, although it's best if it automatically repeats) and set it to 10 minutes. That way, if we do doze off, the alarm will wake us and prompt us to look around. Every time it goes off — day or night — it's the signal to stand up and do a full 360° scan of the horizon. You don't want to set it for much longer than 10 minutes, due to the speed with which cargo ships move! It's also a good idea to use radar and AIS alarms if so equipped, but neither one is a substitute for slowly scanning the horizon every 10 minutes.
Sleep Deprivation is a Serious Problem. Exhaustion leads to bad decisions and bad decisions lead to injuries and boat damage. What should be minor problems become cascading disasters. Charts are impossible to decipher. After a few days, hallucinations can start (read about the space chimp that visited my friend and fellow Boat Radio podcaster John Herlig). Others have written about hearing voices or seeing people.
One of our hard and fast rules is that we don't enter unfamiliar harbors after dark, no matter how tired we are. We know that at the end of a trip, we're tired and probably not thinking and reacting as well as we should. It's easy to run aground, get confused as to where we need to go, or just "not see" traffic in a busy harbor.
So we slow down to arrive after sunrise, heave-to, or just circle outside a channel. Not fun and it adds more hours to the trip. But we think it's safer to approach during daylight when we're tired.
I certainly don't have all the answers and while I've done numerous two- to four-day passages, I haven't done any longer than that. And only two of mine have included sustained winds over 30 knots. We've been tired when we hit land, but never totally exhausted. Please add your own tips for getting sufficient sleep on overnight passages.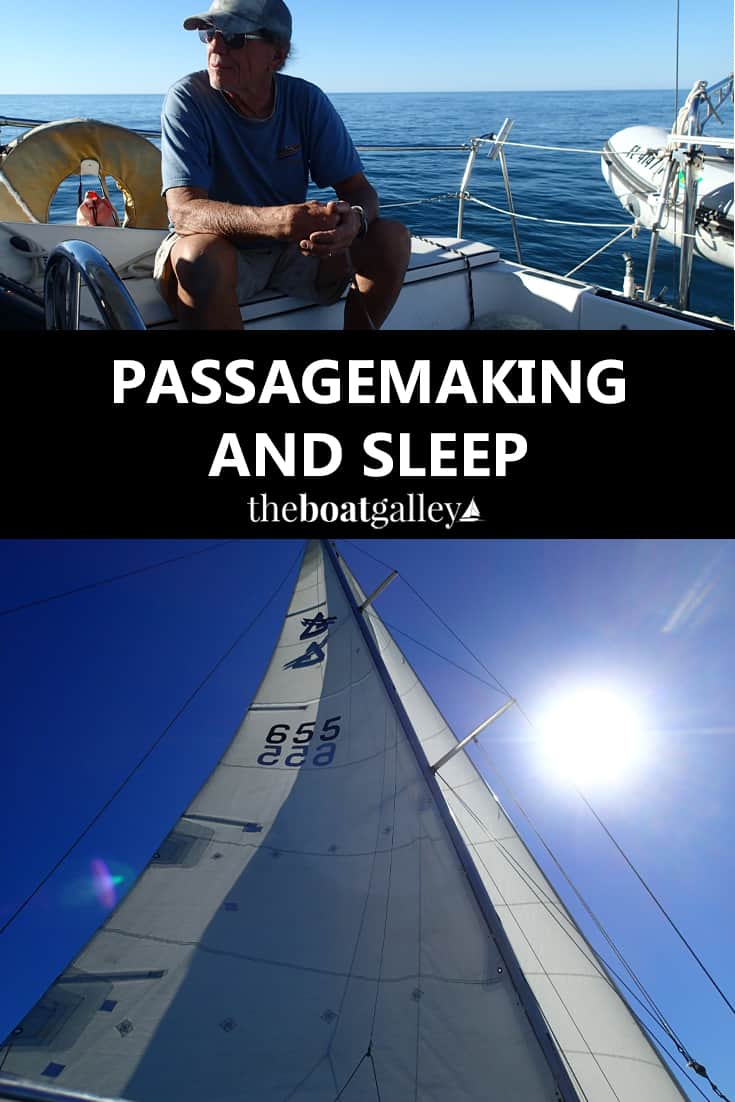 Some links above (including all Amazon links) are affiliate links, meaning that I earn from qualifying purchases. Learn more.