Wow!  Making great bread without having to knead it or really do much to tend to it at all?  Yes, it actually is that simple: if you can make "Bisquick" biscuits, you have the skills to make phenomenal artisan-type bread.
What's artisan bread?  It's those really crusty, generally round loaves you get in places like Panera Bread . . .and shown in the photo.
My husband, Dave, absolutely loves this type of bread.  And I've made several loaves in the past few days to get the photos for this article.  This evening, he turned to me and asked, "What kind of bread is this?"  It sort of surprised me, as he's most definitely not a bread maker.  I said "No-Knead" and then asked why.  He replied that he wanted to know what to ask me to make whenever I say "What would you like for dinner?"  You may not know Dave, but that's the highest accolade I know of for this recipe!
What's No-Knead Bread?
The recipe for No-Knead Bread was published in The New York Times in 2006, and since then many variations have been developed.  A couple of good cookbooks devoted to No-Knead Bread are listed at the end of this article if you're interested.
Basically, No-Knead bread is a very wet dough that has little yeast and rises for a very long time.  The combination of more water, less yeast and more time develops gluten in the dough just as kneading does (gluten is what makes dough stretchy).  Baking the wet dough at a high temperature produces the wonderful crust.
One more note:  the salt is essential so that the bread doesn't fall.  You can use lite salt, but don't use 100% salt substitute (potassium chloride) as it doesn't have the right chemistry.
The original recipe for No-Knead Bread takes about 20 hours — starting one day and finishing the next.  Most of that time, you're not doing anything, but it still requires planning ahead.  I've discovered ways to cut that down to 6 hours with almost as good results — see below the main recipe.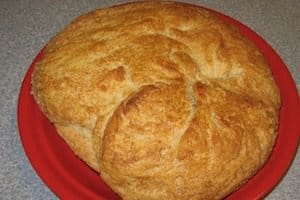 No-Knead Bread
No-Knead Bread is simple to make and a treat to eat. Basic recipe, along with some tips for making it on a boat and ways to hurry it up.
Print Recipe
Pin Recipe
Ingredients
3

cups

flour

1/4

teaspoon

yeast

1-1/4

teaspoons

salt

1-1/2

cups

water
Instructions
In a large bowl combine flour, yeast and salt. Add water, and stir until blended; dough will be shaggy and sticky Don't be alarmed that it doesn't look like "typical" bread dough. Cover bowl with a plastic bag. Let dough rest at least 12 hours, preferably about 18, at warm room temperature, about 70° F.

Dough is ready when its surface is dotted with bubbles. Lightly flour a work surface and place dough on it; sprinkle it with a little more flour and fold it over on itself once or twice. Many recipes say to "Cover loosely with plastic wrap and

let rest about 15 minutes

" but I just let it sit, uncovered, while I rinse out the bowl.

Using just enough flour to keep dough from sticking to you work surface (I use a nonstick jelly roll pan) or to your fingers, use your fingertips and sort of roll the dough around until it becomes a ball (maybe 30 seconds?).

Coat the loaf with flour, corn meal, oatmeal or wheat bran, then put it back into the bowl, cover it with the plastic bag again, and let it rise until doubled--

typically, about 2 hours

. (Many recipes have you line the bowl with a towel or plastic bag and then put the dough in it and wrap the towel or bag over the top. I've done it both ways with no difference in the final product, so I opt for just putting it in the bowl and putting the whole bowl in a bag as it's simpler.)

Half an hour before the end of the rising period, begin preheating the oven to 450° F. AND put the pan you intend to bake the bread in into the oven so that it preheats also (no need to have the lid on it).

When the oven is up to temperature, carefully remove the pan from the oven. Unless it's a very well-seasoned Dutch oven, pour a little oil into it so that the bread won't stick. Dump the dough in-- it won't look like a pretty loaf, and that's just fine.  Shake the pan a bit if it's really lopsided, but quickly put the lid on the pan and put it back in the oven.

Bake at 450° F. for 30 minutes

, then take the cover off and

bake for 20 to 30 minutes more

, until the top is very crusty and a dark golden brown. If you have an instant-read thermometer, stick it into the center of the loaf--when done, it will read at least 210°F.

Remove bread from pan to cool. While it's tempting to cut into it immediately, wait at least 15 minutes and it will be much easier.
Notes
Essential Equipment
The two things that you need -- and may not have on board -- to make No-Knead Bread are:
A heavy pan with lid that can withstand a 450° F. oven.  A cast iron Dutch oven is what most recipes call for, but there are other possibilities -- Magma and Galleyware nesting pans work really well and are designed to be put in the oven as well as used on the stove top.  And if your pan doesn't have a lid (or if the lid can't withstand that much heat), a piece of aluminum foil works fine.  Use a casserole, a Pyrex bowl, a stainless pan or regular bread pan.  The one thing to avoid is any "Teflon" (Silverstone or similar) nonstick pans, as they can give off potentially carcinogenic fumes at such high temperatures.
And an oven that will get up to 450° F. without a hot spot right over the burner.  A baking stone really helps with this as it can easily add 25° F. to the temperature your oven can otherwise achieve, and it will eliminate any hot spots.
That high heat will put quite a bit of heat into the boat -- making it great for cool days, but nasty on a truly hot day.
Timing
Suggestion of timing if you want hot bread with dinner at 7:30 PM:
Start dough at 9:00 PM the night before.
At 4:00 PM form the dough into a ball and place in a lined bowl.
At 5:45 PM start preheating the oven.
Bake at 6:15 PM (total of 45 minutes to 1 hour), then allow to cool slightly before serving.
Timing may have to be adjusted if you are in a particularly warm or cool climate.
Faster No-Knead Bread
By increasing the yeast, you can make No-Knead Bread in less time, but it's still not something you can do at the last minute.  It will still have a very crunchy crust, but the "inside" of the loaf will have larger holes and not be quite as "smooth." 
Please note that the rising times can vary considerably depending on how warm it is where the dough is sitting and also on the exact strain of yeast and how fresh it is.
1/2 teaspoon yeast will cut the time for the first rise to 8 to 10 hours, and the final rise to about 1-1/2 hours
1 teaspoon yeast will drop the first rise time to about 4 hours and the second rise to 1 hour -- meaning that you can have a wonderful loaf of bread with almost no work in just 6 hours.  Start it at lunch and have it for dinner!
Nutrition Facts
No-Knead Bread
Amount Per Serving
Calories 171
% Daily Value*
Fat 0g0%
Cholesterol 0mg0%
Sodium 74mg3%
Potassium 50mg1%
Carbohydrates 35g12%
Protein 4g8%
Calcium 7mg1%
Iron 2.2mg12%
* Percent Daily Values are based on a 2000 calorie diet.
No-Knead Bread Cookbooks

Both of these cookbooks have been recommended to me time and time again by trusted friends and family, but I have to admit that I don't own either one — and since I'm now diabetic I don't make bread except for an occasional potluck. Links are to Amazon and both are available on Kindle as well.
Artisan Bread in 5 Minutes a Day
Want over 800 boat-friendly recipes, over 100 substitutions, and tons of tips for cooking on a boat?


Some links in this article (including all Amazon links) are affiliate links, meaning that we earn from qualifying purchases.