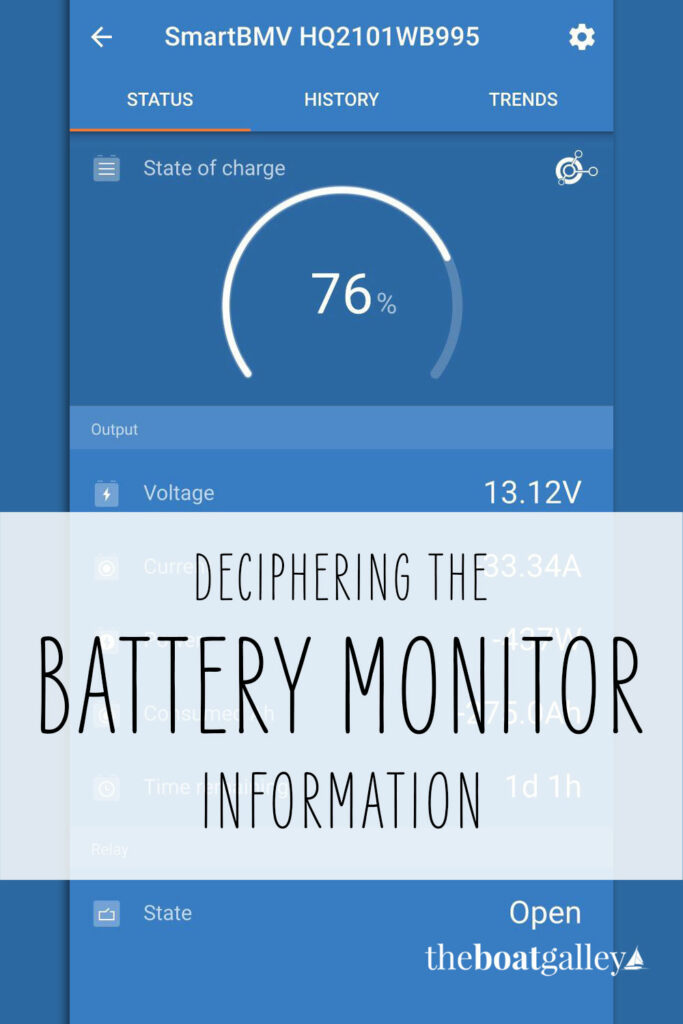 First at the Annapolis Boat Show, and then in a couple of Facebook groups, people have been asking for a bit of "Battery Basics" info. The question of "what should I look at on a battery monitor" has come up several times. The comment was made that it's hard to find a very basic, introductory level article.
So here goes. The two well-known battery monitors are the Victron and Link. The information they provide is pretty similar. Since we have a Victron, that's what I'll show here. IMPORTANT: this is a basic article and does not discuss setting up the battery monitor; I assume it is set up correctly for the type and number of batteries that you have. The numbers I give below are general guidelines, a marine electrician may tell you more specific information for your own set-up and if so, follow that.
First, you need to know what type of batteries you have: lead acid, AGM, lithium or something else. Since LA, AGM and lithium are most popular, I'll discuss them here. If you have something else, the information will be similar, but you need to ask what the appropriate numbers are for your type of batteries.
I assume that you have a 12 volt battery system; most boats do. That doesn't mean that the voltage will always be 12 volts, it's just how we distinguish it from a 6-volt, 8-volt, 24-volt or 32-volt system.
So, here is the readout on my batteries as I'm writing this. I'm looking at it on an app on my phone, but the same information is available on the battery monitor display, although it would only show one item at a time.
STATE OF CHARGE: That big percentage at the top. For longest battery life, you never want to discharge lead acid or AGM batteries below 50%, while lithium batteries can safely be discharged down to 20%.
VOLTAGE: Voltage will change as the batteries are charged (whether from solar, wind, generator or shore power) and discharged by using various electrical devices on your boat. For lead acid and AGM, you may see the voltage as high as 14.4 when the batteries are charging. With lithiums, it may be as high as 14.8 or 15.0. If you are equalizing lead acid batteries (an advanced procedure not discussed here), you may see a voltage as high as 16.0.
You NEVER want to see a voltage less than 12.0 for any type of battery. Going below 12.0 damages the battery.
When you are using the batteries, the voltage will drop some, then pop up when you are done. The more power that the item was using, the bigger the drop and pop.
CURRENT: This is called amps and is how much power is going into or out of the batteries. If it's a negative number, you're currently using more power than you are putting in and are discharging the battery. If it's a positive number, you're putting in more than you're using and overall charging. Over the course of a day, the current will be positive at times and negative at others. This number is important for seeing the effect of the devices you are currently using. Try turning various things on or off to see how much power they draw and watch how the number changes as the day goes from sunny to cloudy if you have solar power.
POWER: This is the overall watts that are going into or out of the battery bank. It's simply the volts times the current. I don't use this number.
CONSUMED Ah: How much power has been used since the batteries were last fully charged. This is a net number, so as you go through the day(s) and have times when you're using more power than you're charging and other times when you're charging more than using, it accounts for it all. For lead acid and AGM batteries, you never want this number to be below half of the total amp-hours of your boat's battery bank; for lithiums, it can go as low as 20% of your total amp-hours. Don't worry though – you don't have to do the math! That big State of Charge number at the top shows what percentage down the batteries are.
TIME REMAINING: If you continue to use power and charge at exactly the same rate, how long can you do so before the batteries hit 50% (for lead acid or AGM) or 20% (lithium)? I find this number to be useless because things are always being switched on or off, etc.
BOTTOM LINE: The two big numbers to watch are the State of Charge and the Current. These will tell how if the batteries are close to being dangerously discharged and whether they are currently being charged or discharged and how rapidly.
With this info, you can see when you need – or don't need – to run the generator, and when you have plenty of power to run high-draw devices such as a microwave, tools, or induction burner.
Don't have a battery monitor? It's hard to really know what's happening with your batteries if you are only watching the voltage. A monitor is pretty easy to install. Get more details in this article.
---
Be sure to subscribe to The Boat Galley newsletter to keep up with what we're up to and get helpful tips and encouragement from the water.
Here's your "Quick Start" to everything you need to know when living on a boat:


Making Boat Life Better
Some links in this article (including all Amazon links) are affiliate links, meaning that we earn from qualifying purchases.