Even after 45 years of boating and 10+ years cruising, you can make mistakes.
Those who follow The Boat Galley's Facebook page saw my oops on Friday. And, as screw-ups go, it wasn't horrible. But it was humbling.
What happened? Well, we needed to do our annual haul out — get the bottom of the boat painted and some maintenance chores on the engine drive leg that are far easier to do out of the water than in.
We'd been to the yard by land, and I knew it was a narrow little channel with some underwater hazards (rocks) on one side and a row of boat lifts on the other. This photo is looking back out the channel from the dock at the yard. You can see the arms of the boat lifts sticking out.

It's not like I'm not used to driving a boat. I do 98% of the close-quarters helming. I drove boats as a kid and started pulling water-skiers without Dad or Mom in the boat the same day I got my license to do so as a 12-year-old.
But somehow I messed up. In looking to see what dock we were supposed to pull into, watching the guy on the dock pointing to where we needed to tie up and watching out for the unseen hazard, I lost track of how close we were to the line of boat lifts with their arms extending into the channel. And I misunderstood what Dave said when he saw we were getting too close.
Luckily, the arms were above our deck level and I was going very slowly as I hit one of the lifts. The only damage was to our lifeline netting and one of the lifeline turnbuckles. Neither one of us was injured and we didn't panic.

I'm not excusing my mistake, I certainly did screw up. But I know a lot of new boaters — or those thinking about becoming boaters — read The Boat Galley. And one of the big questions is always, "What if I screw something up?"
What I can say is that probably somewhere along the line, you will make a mistake. And life will go on.
To me, the big thing is to figure out why the accident happened and what you can do in the future to avoid the problem. No, selling the boat or refusing to take the helm aren't the answers. You may want more training or more practice in whatever led to the problem. Maybe a checklist would help. Maybe better sunglasses. Perhaps it's something else. Or maybe it's just a wake-up call not to be distracted, as mine was!
But don't stop with just thinking about why an accident occurred — and beating yourself up over it. Give equal time to what you did right that kept the situation from being worse. In my case, going slow ("never approach anything faster than you're willing to hit it") and quickly going into reverse to further slow down just before hitting was key, along with not panicking and making things worse by hitting any of the other hazards in the area.
And above all, remember that boats can be repaired or replaced. Injuries to people are tougher. So when there's a mistake, the number one thing is to keep the people safe. And that means not panicking, not freezing, not going into a complete collapse or screaming at other crew members, but calmly doing what has to be done.
Side note: if you are not the person that screwed up, don't berate the person who did. Especially not immediately. Screaming "What the *(#$ were you doing?" does absolutely nothing to improve the situation at hand; it only makes it worse. And really, saying something like that any time — even hours or days after — doesn't help. The person who made the mistake already feels badly enough; a calm discussion after the boat is secure of what happened and why will do far more to avoid a repeat.
Side note two: If you see you are about to hit something, never use your hands or feet to try to stop the boat. There is too much weight and momentum; you are very likely to be injured. Instead, grab a fender if possible and put it between the boat and the object. Once the boat stops moving, then you can push off and move the boat to a safe position.
Bottom line: Mistakes will happen, whether on land or on water. Certain "standard operating procedures" can lessen the damage, as can how you — and everyone else on board — reacts. Keeping people and pets safe has to be the number one priority. And life will go on.
---
Our FREE Provisioning Spreadsheet
Wondering how much of what foods to take on your next trip? Know just how much to buy of what — all arranged by grocery store aisle — with our handy Provisioning Spreadsheet. Includes detailed instructions to edit it for your favorite foods, how much your family eats, and how long you'll be gone. No spreadsheet skills needed!
It's FREE — get it here.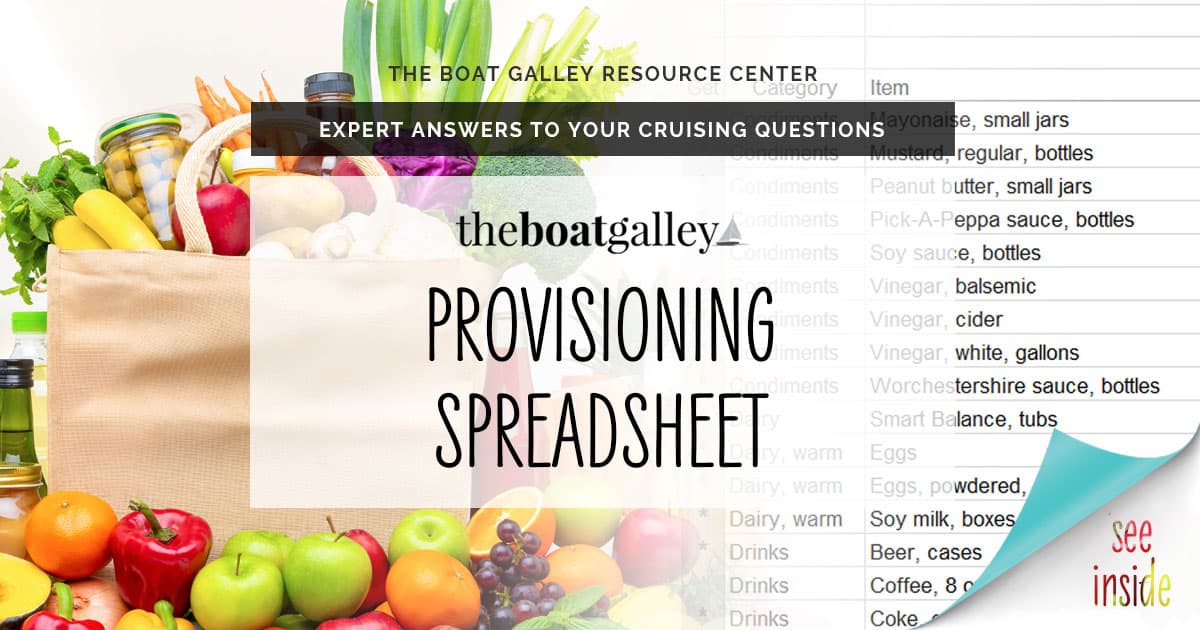 Some links above (including all Amazon links) are affiliate links, meaning that I earn from qualifying purchases. Learn more.