Do you remember how everything ran last year? What was the "normal" output for the watermaker? How much did the solar panels typically put out? How long do you need to plug in the rechargeable vacuum cleaner? Where do you turn the oven knob for 350 degrees?
Even living on the boat full time, we didn't always see little changes in how things ran . . . or remember the settings for things we used less frequently. At first, we tried keeping notebooks and spreadsheets with the info. To be honest, we often forgot to write things down so we sometimes didn't catch a problem in the early stages. It's even worse if you're not living on the boat full time.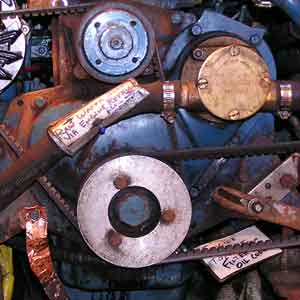 Then Dave called on his background in industry — he worked in a steel mill for 37 years, working his way up from laborer to middle management. Instead of having to look things up in a notebook, why not mark the item in question?
And so, armed with Sharpie waterproof felt markers, several colors of nail polish (white nail polish is great on dark surfaces), a bunch of cheap plastic tags and cable ties, we began marking everything in sight.
In additional to operational marks such as the watermaker control panel at the top of this article, we also marked direction of flow on hoses, charging times on items that didn't have an automatic shutoff, filter change dates, EPIRB test dates, which gas jug was for the dinghy and which for the genernator . . . well, you get the picture.
Some markings enabled us to see that things were running correctly, some were there to make troubleshooting easier, some reminded us of scheduled "maintenance" and some simply made it easy to replicate settings (for example, my oven temperature knob didn't have temps marked).
Result: we caught a lot of problems quickly, stayed on top of maintenance, and didn't wonder where we should set things at.
Best of all, it doesn't take long to do and the supplies are cheap!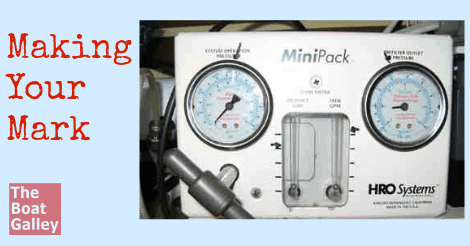 Some links above (including all Amazon links) are affiliate links, meaning that I earn from qualifying purchases. Learn more.