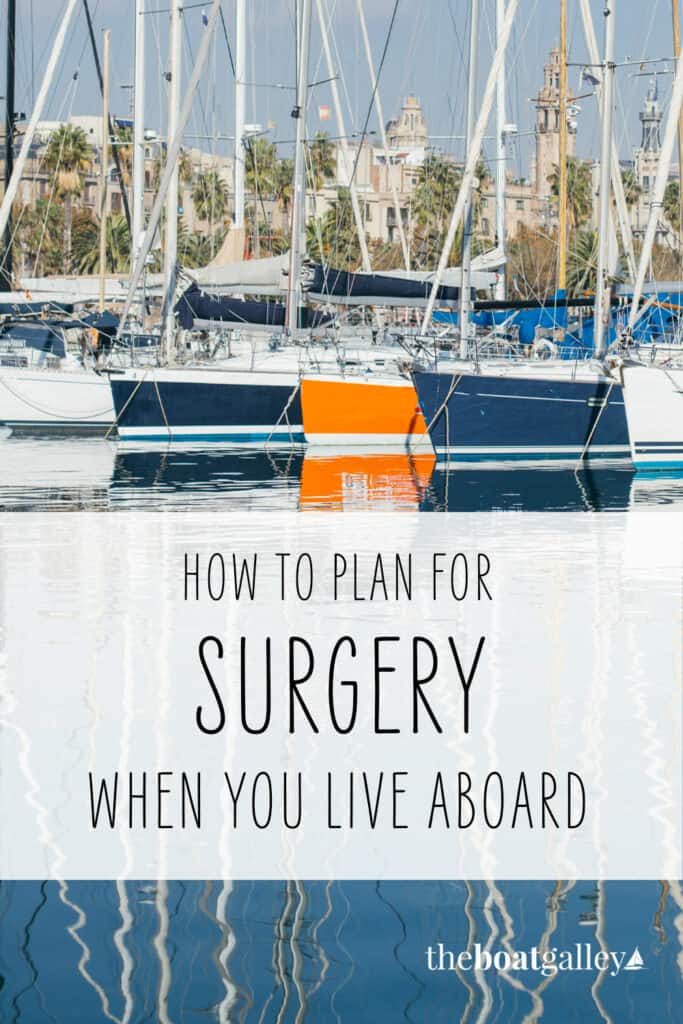 This past week we got confirmation that Dave is going to have to have his hip replaced. He's been having trouble with it for a while and we've put the surgery off as long as we could.
So this week, I wanted to talk a bit about how you arrange something like this when you live on a boat full-time. Simply put, Dave can't have the surgery and go straight from the hospital to the boat, even at a dock.
I asked Dave's doctor how long we'd need to live ashore and explained that we'd have to rent a place, so I needed a realistic assessment, not an optimistic one. Oftentimes, doctors will give "best case" estimates – but if you have to move ashore and make plans for the boat, it's important to ask detailed questions.
The doctor, a boater, said that while it's possible that Dave could return to the boat in a month, two months was a far safer bet given Dave's age and condition.
The next factor we had to consider is that Dave's surgery is scheduled for August 11 – right as the heart of hurricane season (August 15 to October 15) hits for this area. We don't want to have to hurricane prep the boat while Dave is recovering!
Putting the boat on the hard is the safest from a hurricane standpoint and won't inconvenience us since we won't be aboard. And she's due for a bottom job. So Barefoot Gal will be hauled out and put in storage a week before his surgery. This year is forecast to be extremely active for hurricanes (and has been with three storms already!) so we'll err on the side of caution and leave the boat on the hard until the end of October.
Next, it's tough to find affordable furnished rental housing here in the Florida Keys. I turned to Facebook and asked for help finding a place. We ended up with several good options.
Finally, while we had planned for the haul out expense to do a bottom job this fall, the boat storage and rental housing weren't in the budget. It's imperative to have an emergency fund for major unexpected expenses, whether they are medical, boat repairs or a family emergency. We'll be tapping into ours.
We're lucky, as we get to plan for the surgery. But the same considerations would come into play for a sudden illness or injury. Build an emergency fund so that if something happens, money isn't an immediate issue. Then, if something happens, get a realistic assessment of when you can return to the boat, figure out the best place for it while you're gone, and find a place to live. Then you can concentrate on recuperating.
While we're not exactly happy that Dave has to have this surgery, we'll be glad to get him back to walking!
Follow up: Dave's surgery got moved up to mid-July, and we ended up staying in the apartment until mid-December, due to unexpected boat work. Five months, not two. Dave probably could have moved back aboard at four months, but I think it would have been difficult before then. The big problems were getting in/out of the dinghy and getting around on deck.
---
Be sure to subscribe to The Boat Galley newsletter to keep up with what we're up to and get helpful tips and encouragement from the water.
Here's your "Quick Start" to everything you need to know when living on a boat:


Making Boat Life Better
Some links in this article (including all Amazon links) are affiliate links, meaning that we earn from qualifying purchases.