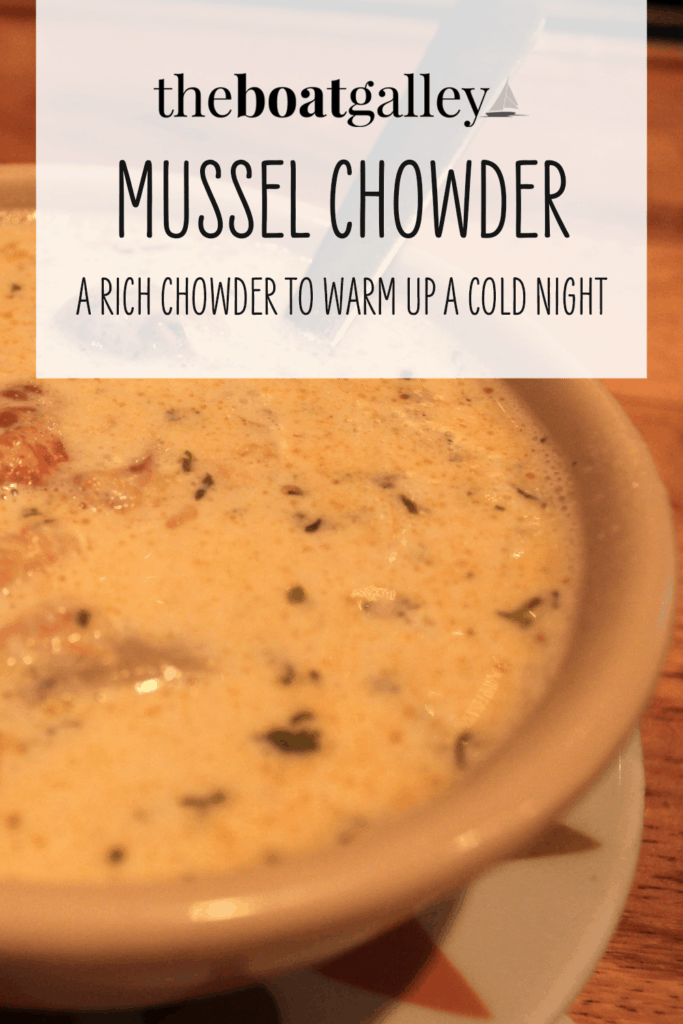 This is a guest post from Lin Pardey, author of many cruising books and DVDs including The Care and Feeding of Sailing Crew, now in its fourth edition.  She and her husband Larry have sailed over 185,000 miles in two boats they've built themselves.  Unfortunately, Larry died in July 2020, after a 5-year battle with Parkinson's and a massive stroke in 2019. Their website contains lots of cruising tips — and you can sign up for their free e-newsletter. Lin continues to cruise and we share a booth at the Annapolis Sailboat Show.
Mussel and Kumara (Sweet Potato) Chowder from Lin Pardey
From the first time I found that cockles, mussels and clams don't bite, I grew to love scavenging for these tasty morsels as we explored out of the way anchorages. I grew to love the chowders I could make with them using very simple ingredients I always had on board, even if we'd been far away from provisioning ports for a month or more. But until I found the following recipe, mussels were my least favorite choice.
About a month ago, Larry and I found ourselves in Dargaville, a small port town on the west side of New Zealand's north coast. I asked two folks which cafe in town was the best. Both, without a moments hesitation said, "Blah Blah Blah" without hesitating. They pointed across the street and I realized that was the name of the cafe. Kumara and mussel soup (Kumara is a local sweet potato) sounded too interesting to pass up. If you try the following recipe you'll probably agree.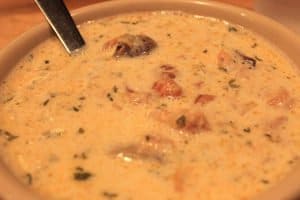 Lin Pardey's Mussel Chowder
Lin Pardey shares a great mussel chowder recipe with TBG readers.
Print Recipe
Pin Recipe
Ingredients
12

green lip mussels

(can substitute other mussels)

2

sweet potatoes

(or large kumara)

1

small regular potato

(optional)

4

cloves

garlic

(chopped)

1

medium brown onion

(halved and thinly sliced)

2

rashers (that's Kiwi for "slices") bacon

3

tablespoons

butter

1-1/2

teaspoons

mild curry powder

1

tablespoon

flour

1

cup

milk

(OR ½ cup milk and ½ cup coconut milk)

1

cup

chicken broth

1

teaspoon

lime juice

cream

fresh coriander (cilantro)
Instructions
Steam mussels just until opened. Remove from shells. Cut each one into five pieces.

Bake kumara or sweet potatoes until soft.

Boil potato until mashable.

In large heavy sauce pan melt butter, add garlic, onions and bacon cut into small pieces. Saute until bacon is well cooked. Add curry powder and stir while it heats.

Add flour to make roux – then milk. When this comes to a boil, add chicken broth and simmer for ten minutes or until onions are very tender.

Mash kumara then add to the pot and stir until it comes to a boil. Taste and if it is too sweet, add mashed regular potato. (I liked it with or without.)

Turn heat very low and add mussels, then lime juice. If the mixture is too thick, add more milk, or coconut milk. Do not boil anymore or mussels will be less tender.

Put in bowls, drizzle with fresh cream, top with good portion of chopped fresh coriander.
Notes
Note from Carolyn — I made this using US-style sweet potatoes and clams for Dave (I'm allergic to clams and mussels; no mussels around here).  Even with the substitutions, Dave thought it was fantastic and I loved my new "potato chowder"  (I removed half as my portion before adding the clams).  So even if you don't have all the local ingredients, try it anyway!
Dairy-Free Alternative – Substitute coconut milk for milk.
Nutrition Facts
Lin Pardey's Mussel Chowder
Amount Per Serving
Calories 593
Calories from Fat 297
% Daily Value*
Fat 33g51%
Cholesterol 85mg28%
Sodium 1002mg42%
Potassium 1413mg40%
Carbohydrates 56g19%
Protein 18g36%
Vitamin A 19245IU385%
Vitamin C 32.3mg39%
Calcium 246mg25%
Iron 6.9mg38%
* Percent Daily Values are based on a 2000 calorie diet.
Want over 800 boat-friendly recipes, over 100 substitutions, and tons of tips for cooking on a boat?


Some links in this article (including all Amazon links) are affiliate links, meaning that we earn from qualifying purchases.