Dave and I know that if you're doing an overnight passage, power consumption can really be an issue if you're not motoring.
There's the chartplotter, autopilot (Barefoot Gal, like most cats, does not have wind vane steering), radar, VHF and the navigation lights.
While not the biggest load, the nav lights are the easiest and cheapest to make into much less of a load. And they can make a significant difference as to whether you need to run the engine or generator in the middle of the night.
We have a single red/green bow light and a stern light. Each had a 10 watt incandescent bulb that, frankly, wasn't overly bright. (These little Aqua Signal lights are certified as being visible for 2 miles but I wonder if ours really was.)
Dave and I contacted Bradd and Maeve at Cruising Solutions, where we've gotten other LED lights, to see what they recommended (Cruising Solutions is also a TBG sponsor).
They had perfect drop-in replacement bulbs for us . . . and I learned a thing or two about choosing LED replacement bulbs.
In general, LED bulbs use around one-tenth the power of an incandescent bulb for the same amount of light.
Typically, when you replace an incandescent with an LED, you get a brighter light, so you don't save a full 90% of the power — but 65% to 75% is pretty typical.
Our old bulbs were each 10 watts and the brighter LEDs would be 3.2 watts. If we used the nav lights for 12 hours overnight, our old power consumption was 10 amp-hours per light or 20 total.* With the LEDs, it'd be 3.2 amp-hours each, or 6.4 total — a savings of almost 14 amp-hours. With a 250 amp-hour battery bank, that's significant!
The "cool white" bulbs — the ones that look to almost have a bluish tinge to them — are the brightest for a given amount of power.
The cool white bulbs are a great choice for the "white lights" on the boat, giving the most light per watt. BUT . . .
The cool white are a poor choice for any colored lights on the boat, such as our red/green bow light. There, we needed a "warm white" LED. Bradd explained it to me:
[If you use a cool white LED behind a red/green lens,] the red side is a very dim pink color and the green is a teal blue. The reason for this is that the colored lens doesn't actually CHANGE the color of the light, it filters out every color except the RED or GREEN which it allows to pass through.
With a cool white LED, there is very little red light produced so the filtered light is very dim and quite pink in color. Similarly, there is a lot of blue produced by the "cool white" LED but not so much green.
When you place a "warm white" LED behind those filters, however, they are closer to what we consider to be normal daylight and there is more red and green available to pass through.
On boats with separate port and starboard lights or larger "series 40" lights, you should actually use a red LED behind the red lens and green LED behind the green lens. This way ALL or the light passes through the filters producing navigation lights that are much brighter than even the originals.

Since we were getting one warm white and one cool white bulb — and they were otherwise identical — I wanted to see this for myself. Yep, Bradd was totally right. I took probably 100 photos to show how bad the cool white bulb was in the red/green light. And in every one of them, the light just looks white. The photo at right shows the pink/teal the best but doesn't really capture the dimness that is readily apparent to the naked eye.
Putting the new LED bulbs in the two lights — correctly, the cool white in the white stern light and the warm white one in the colored bow light — is absolutely amazing how much brighter both are than with the incandescents. And how much less of a power hog they are. One more piece of the whole power consumption equation done!
Many thanks to Cruising Solutions for their support of The Boat Galley and for taking the time to answer all my "why" questions about cool vs. warm white lights. See all their energy-saving LED lights for boats here:
 *These calculations are somewhat simplified from the real world where there are inefficiencies and power drops, but are close enough to show the tremendous power savings of LEDs.
NOTE: Two readers have pointed to this article by Hella as to the risks of changing to LED bulbs for nav lights in fixtures that were not certified with them. Read Hella article here. I wouldn't agree with their conclusion that it's "illegal" to do so, only that it nullifies the certification (but changing the bulb period does that). If you are concerned about having certified LED nav lights, many places — including Cruising Solutions — carry them.

---
Our FREE Provisioning Spreadsheet
Wondering how much of what foods to take on your next trip? Know just how much to buy of what — all arranged by grocery store aisle — with our handy Provisioning Spreadsheet. Includes detailed instructions to edit it for your favorite foods, how much your family eats, and how long you'll be gone. No spreadsheet skills needed!
It's FREE — get it here.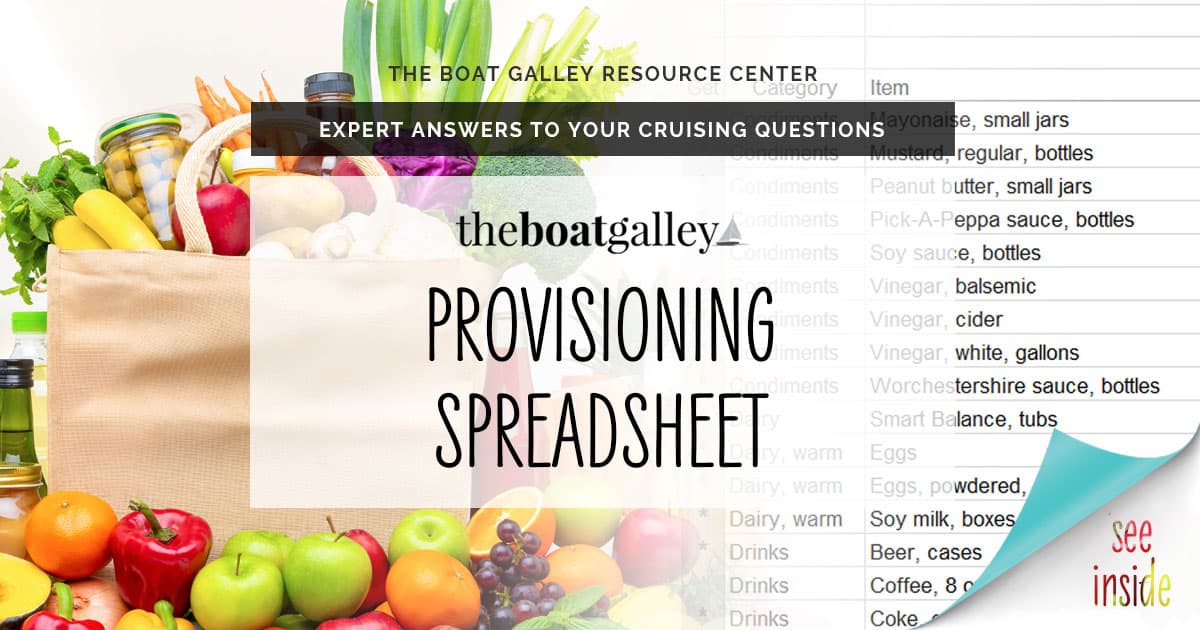 Some links above (including all Amazon links) are affiliate links, meaning that I earn from qualifying purchases. Learn more.