One of the questions that I always get asked is how do you know where stuff is on the boat?
And it was one of our big problems when we began cruising on our first boat, particularly with provisions.
I had some milk boxes under the floor boards near the galley, some behind the settee and still others behind my baking supplies under the nav station. Juice boxes were under the settee, behind the settee and in the shower sump (we always showered on deck with a Sunshower). Canned goods were in a locker in the galley, under two settees and under the bed.
I may not have known where it all was, but we sure weren't going to starve!
When we first moved aboard, I assigned each locker/storage space a number and used a spreadsheet to list what was where. That was a total failure as I didn't update the spreadsheet as I moved things to make it more convenient.
And then I wouldn't remember what I had and I'd buy more and put it in still another place . . . or sometimes, put it where I'd stashed the same thing before and then forgotten about it.
There had to be a better way!
It finally hit me. For coastal cruising, there was no reason to carry so many provisions. A three week supply of food was sufficient. I didn't need three months worth.
And with that, suddenly there was plenty of room in logical places for our food. No more juice boxes in the bathroom or spaghetti rolled in charts. My whole supply of something could be together.
Okay, I'll admit, when we went into areas where I knew certain items were hard to find, I might take extra – but only of the things that I knew I wouldn't be able to get.
The bottom line is that people everywhere eat. Unless you're going to an area without people, or to a place where they get limited supplies such as some remote islands, you'll be able to get more food. Most places have toilet paper, too.
If you're going offshore, sure, you'll need more provisions. And if you're heading to a new country or a remote area, you want to consult cruising guides and/or people who have recently been there (Facebook groups for various cruising grounds are good for this) to see what things may be hard to get and lay in a bit of an extra stock of those items.
In general, though, I've found that carrying less makes boat life a lot easier. And while food provisions are the biggest thing we've cut back on, we also realized that for most places we go, we don't need a dozen watermaker prefilters (a couple will suffice) or three gallons of oil for the diesel (one, sometimes two, will do).
The boat is lighter (all that stuff adds up), handles better, moves faster . . . and we just know where stuff is since we don't have it stuffed in weird or multiple places any longer!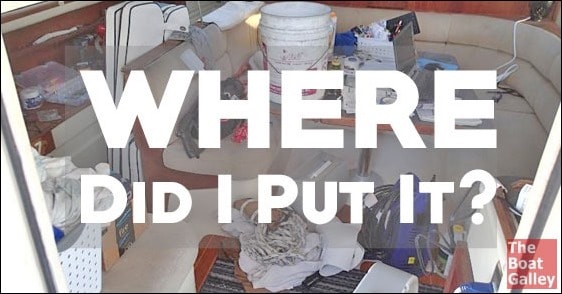 Making Boat Life Better
Some links in this article (including all Amazon links) are affiliate links, meaning that we earn from qualifying purchases.