I've gotten some questions about a Keurig brewer as well as hearing from a couple of people who are using them and loving them.
We were given a slightly larger one than what I'd use on a boat a couple of weeks ago as an early Christmas present, so I have some experience with them and will — of course — give my thoughts.
For those who aren't familiar with Keurig brewers, they are single serve electric coffee makers. A small pod of ground coffee (or the makings for another drink) is placed in the machine and it works like a mini drip coffee maker. On some models, you can select one of three cup sizes — 6, 8 or 10 ounces; others have just one or two cup sizes.
Both for size and power reasons, the Keurig Mini Plus or Desk Pro are what most boaters are looking at and what I'll talk about here (mine is a different model but most of the pros and cons are the same). Neither of these has a large water reservoir; you put water in each time you use it.
I'll admit to being torn about whether I like the Keurigs or not. One thing that I will say is that I don't think that it automatically makes a better cup of coffee than any other method. If you've been using a mass market brand of coffee — say Maxwell House or Folger's — and switch to a premium coffee pod, you'll notice a big difference. But you'd also notice a difference if you used the same method of making coffee and switched to a premium coffee. And if you use the same mass market brand in a refillable pod, it'll taste about like it did with your old coffee maker.
Probably the best thing to say is that I don't dislike them — they have a number of good points — and they can work well on a boat, particularly if you are mostly in marinas with shore power and cruise in generally protected waters. I'm just not sure if it's worth the cost.
Pros:
Start it and it makes coffee on its own — no standing watch to add more water to a drip cone or turn down a percolator.
Fast — takes about 2 minutes to make a cup of coffee.
Great when different people like different drinks — one strong and one weak, or one regular and one decaf. Or when they want coffee at different times (one's an early riser, one isn't).
Takes about 1 amp-hour of power per cup — not bad for an electric coffee maker.
Both of these small units turn themselves off automatically 90 seconds after making a cup of coffee, so no wasted electricity. (Note: the larger units usually stay on for 2 hours, so you have to remember to turn them off after making a cup of coffee.)
No need to keep coffee in a Thermos — just make another cup when you want it.
Can make coffee, tea, hot chocolate, hot apple cider and anything else that comes in a powder or liquid concentrate to mix with hot water (you can't put anything other than water through the machine, though).
No breakable pot and smaller than a Mr. Coffee-style coffee maker.
Cons:
Machine is expensive — about $85 to $100, depending on model (some are even higher) and where you buy it.
Pods are expensive — typically about 65 cents each. The good part about using pods is that each pod is an airtight container and the coffee stays fresher. The bad part about pods is the space they take up and the trash they generate, not to mention the fact that they aren't recyclable.

You can use a refillable pod — it's kind of messy and hard to clean unless you use a mini filter in it. Using a filter results in a weaker brew, both due to the filter taking some space in the small holder and absorbing some of the coffee. But you can use any coffee you want and it'll be considerably cheaper than the pods. I find it a bit of a PITA to fill the pods without spilling some of the grounds; I've learned to do it over a small bowl. That picture is clearly staged for advertising!
If you like strong coffee, you can't use the "large cup" setting. Since the pods (and the refillable pods) are a standard size, putting more water through it results in a weaker brew. Using a refillable pod with a filter, I can only make a small cup and get the brew strength I want.
Would be tough to use if conditions were boisterous — you'd have to hold the cup in place or perhaps loop a bungee around the machine and cup to hold it.
For things like powdered hot chocolate and tea (hot or iced), it's just as easy to heat water in a tea kettle.
Mini Plus, Desk Pro or some other model? The Mini Plus takes 1425 watts, so you'll need to run it off at least a 1500 watt inverter and a 2000 watt one would be better (read Inverters 101 if you have questions). A small cigarette lighter inverter won't do it. Equally, you can't run it off a 1000 watt generator, it will have to be 2000 watts minimum.
The Desk Pro model is actually made for hotel rooms. The major differences are that it is supposedly a little more ruggedly built, only has one cup size (8 ounces) and only draws 700 watts, making it suitable for a 1000 watt inverter or generator. It is about the same size and is about $10 cheaper. While I like the option of three cup sizes on the Mini Plus, the more rugged construction, lower power draw and slightly lower price of the Desk Pro make it the one I'd choose. I have only found the Desk Pro online at a limited number of places as it is generally sold through distributors for the hotel industry and have not seen it at any local stores.
Neither of these machines is top heavy and or prone to tipping over in normal conditions. Both weigh just under 9 pounds and are about 11″ high, 7″ wide and 11″ deep. Both completely use the water in the reservoir with each cup made, so there is no water left in the machine and hence none to spill when stored.
If you're thinking about getting a unit with a water reservoir, note that they are about 3″ larger in all directions, use 1500 watts (making it very iffy to run off a 1500 watt inverter) and weigh 12 pounds (approximations as each model is slightly different). With these, you'll have to dump the water before storing and there is always some water left in the unit which could leak out in rough conditions or if the unit fell on its side.
Refillable Pods. If you are going to get a refillable pod, the ones that are one piece (instead of three as the official Keurig one is) are much easier to use and much less likely to have a part go missing. I got a two pack (see my choice below) so that I could fill them for both of us at once and make two cups consecutively instead of making one, letting it cool so I can handle it, emptying it, refilling it and then making the second cup.
Using a filter inside the pod makes it much, much easier to empty the pod. The pod that I got — and recommend below — does not require a filter, so you don't have to worry about running out and not being able to make coffee.
Buying. Typically, Keurig has the best prices on the machines of any online or local store, but they don't sell the Desk Pro to consumers. As I'm writing this, Keurig has free shipping on all brewers and usually has the best prices on coffee pods (K Cups) if you buy enough to meet the free shipping minimum. Amazon has the Desk Pro available for single unit sales at the best price I've found and has the best prices on refillable pods and filters.
From Amazon (US):
From Keurig:
Keurig Mini Plus K10 (lots of color choices!)
The DeskPro is not available to consumers on the Keurig site (it's a commercial model and they refer you to a distributor)
The Keurig Refillable K-Cup gets poor reviews and I don't recommend it
---
Our FREE Provisioning Spreadsheet
Wondering how much of what foods to take on your next trip? Know just how much to buy of what — all arranged by grocery store aisle — with our handy Provisioning Spreadsheet. Includes detailed instructions to edit it for your favorite foods, how much your family eats, and how long you'll be gone. No spreadsheet skills needed!
It's FREE — get it here.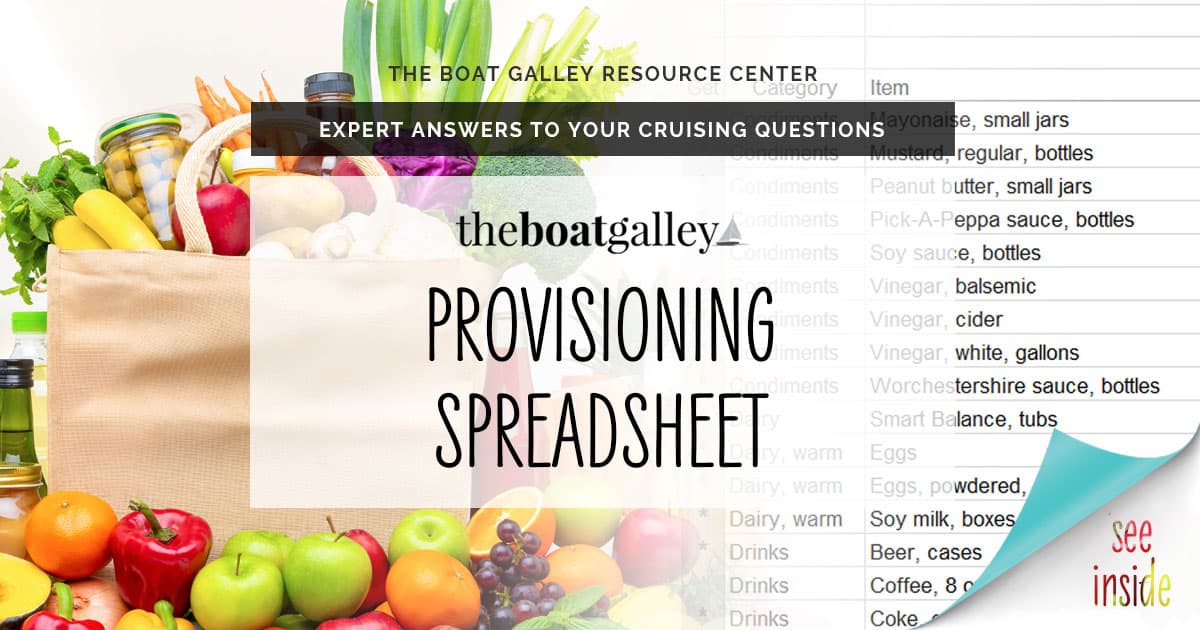 Some links above (including all Amazon links) are affiliate links, meaning that I earn from qualifying purchases. Learn more.