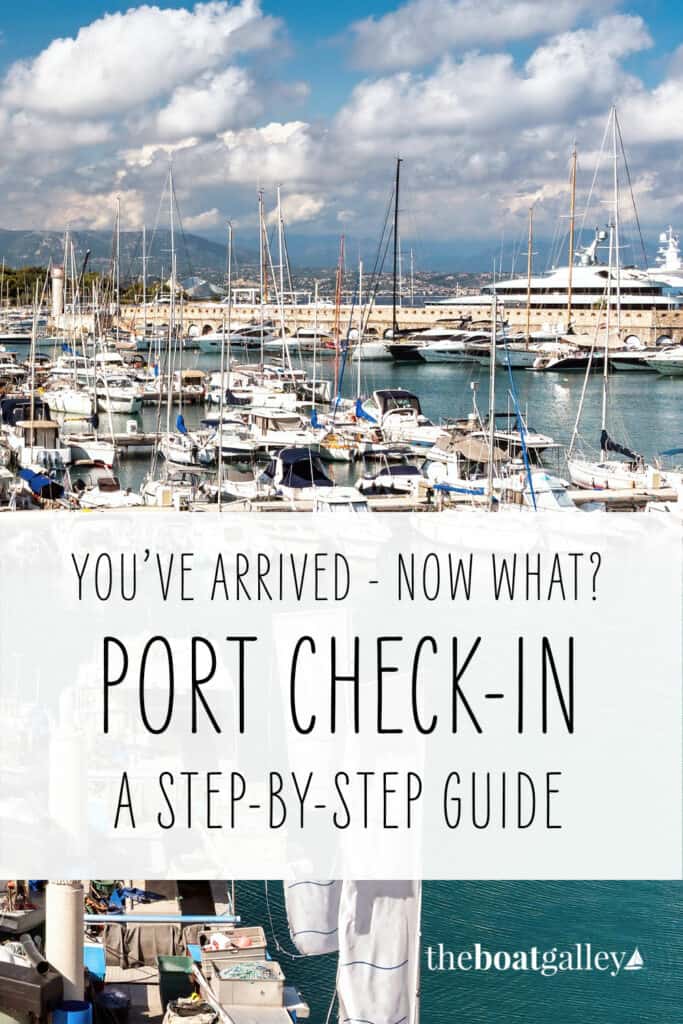 How do you check in to a marina or mooring field? Good question and one I had no clue about when we began cruising!
When going to a new marina or mooring field, start by checking any available map of the area. They're generally available on the property's website but if that doesn't work, Google Maps can also work (zoom way in so that you get the satellite view). Having a feel for the layout will help when the office staff is telling you where to go! 
You may have a reservation, but always call by VHF or cell phone when you're 10 minutes or so away to get your final slip/ball assignment. If a slip, be sure to ask which side your fenders need to be on! I also ask for any "landmarks" for finding our slip/mooring and whether there will be a dockhand there if we are going to a slip. On this call, I DON'T ask about the check-in – the goal at this point is just the information we need to get securely tied up.
If a dockhand helps you into a slip, a tip is customary. The amount will vary by how much help he/she gives both with the boat and with generally helping acquaint you with the facility. For our boat – a 34-foot sailboat — $10 to $20 in cash is typical.
Once we are tied up, THEN I call the office back to inquire about the check in. I ask where the office is, what time it closes, and what documents we need. If it's a mooring field, I also ask where to tie the dinghy while checking in. While most marinas no longer require a mask in the office area, I always ask so that I can take mine if needed.
Next, I clean up a bit – not a full shower, but typically I'll change into a clean shirt and run a comb through my hair. While an arrival beer sounds nice, we wait until after we're checked in – things tend to go more smoothly if you don't have alcohol on your breath.
I grab the necessary documents (easy if you keep everything in one folder, such as our Boat Documents Organizer, sold in our store and on Amazon). Most often these will include: 
Title or Certificate of Documentation for primary boat and often the dinghy
Registration for primary boat and often the dinghy
Proof of Insurance
Identification for either the captain or all persons aboard
If you have pets aboard, you may have to show vaccination records
Sometimes additional documents will be required, such as a cruising permit for foreign boats. I just take our whole boat document folder and then I know I'll have everything. Be sure to have your payment ready too!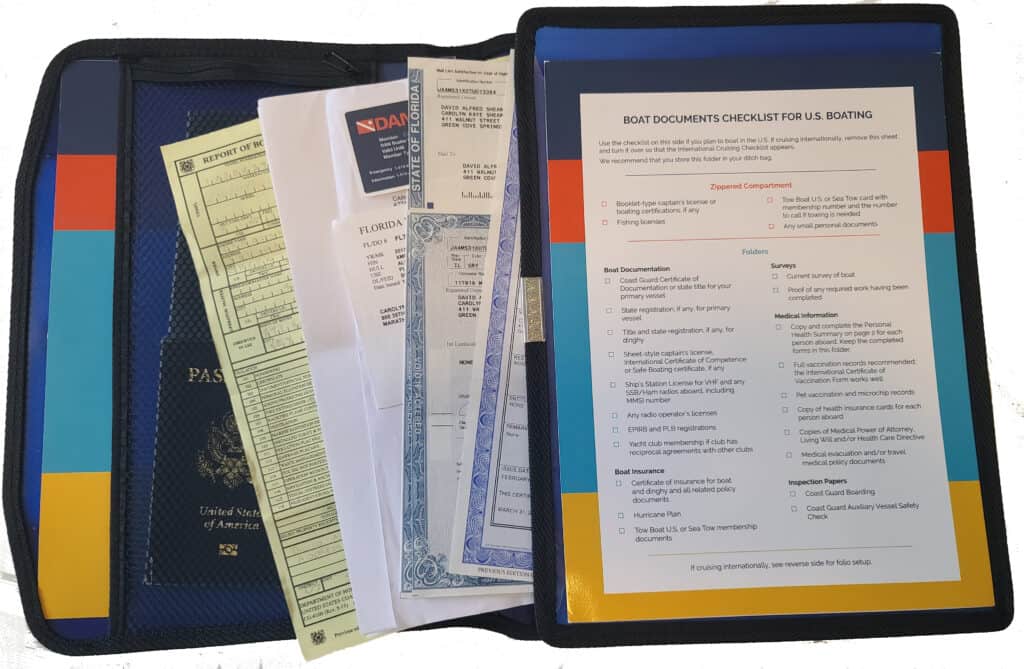 How long will the check in take? Good question! I've had it take anywhere from 2 minutes (paying $20 cash for a mooring ball where they just wrote down the boat name) to over an hour where there were several boats ahead of me in line and a very inefficient system. I generally allow a half hour and am usually finished in less.
Be sure to find out:
Where the showers are, and get any access codes or key cards needed
Where to get water, pumpouts, or fuel if needed
Where trash and recycling go and any restrictions
Where the laundry is, cost, and hours
Wifi password if you don't have your own hotspot
Details of any other amenities, such as lounge areas, grills, swimming pools, courtesy shuttles or cars, restaurants and bars
Any social events going on while you're there
Is there a VHF cruisers' net? When and what channel?
Anything you need to know when you depart, such as where to leave a key card or how far in advance to call for a dockhand. I also ask whether tide/current can make it difficult to leave at some times.
The office will often have information about the area, such as restaurants, places to visit, marine stores, bottom cleaners, and repair services. If information is only on a sign, use your phone to take a quick picture. 
---
Be sure to subscribe to The Boat Galley newsletter to keep up with what we're up to and get helpful tips and encouragement from the water.
Some links in this article (including all Amazon links) are affiliate links, meaning that we earn from qualifying purchases.