Get any group of women cruisers "of a certain age" together in a warm climate, and talk eventually comes around to "what do you do about hot flashes?" They're bad anywhere but in the un-airconditioned high humidity of the tropics (or near tropics), they're especially nasty.
But to add insult to injury, what I've found — and it seems to be true with other women I've talked to — is that I don't just have hot flashes, I have noticeably less heat tolerance in general.
Since I've always had good heat tolerance in the past, I actually find this more bothersome than the hot flashes . . . but the same things help both aspects for me:
Having a refrigerator with lots of cold drinks.
Rotating bottles of water into the freezer to get them extra-cold.
Making a gel ice pack and keep it in the freezer. Putting it on the back of my neck helps considerably.
Damp bandannas tied or draped loosely around my neck when the gel ice pack isn't convenient.
Fans and wind scoops.
Swimming multiple times a day.
Gold Bond Powder helps with heat rash and chafing.
I bought a pack of oversized men's v-neck t-shirts (white, thin undershirt type) and wear one with nothing else when we're by ourselves (they're long enough to be a short "dress" on me).
Hose down a couple of times a day either with my Aquabot sprayer or our cockpit shower (cool water, not the solar shower). Wet hair really helps me.
If we're hiking in a more remote spot (not in a town), I'll dunk my t-shirt in water before slipping it on.
It's a fine line between staying active so that I don't lose what heat tolerance I do have and having a total meltdown. I plan for more breaks and go slower. I take more water and wrap water bottles in a heavy towel so they stay cool inside my daypack. And we sometimes quit sooner than planned or get a taxi.
I prefer all-cotton clothing over quick-dry nylon or wicking fabrics, but everyone is different. I'd say to try a few different types before stocking up on one.
We alternate between cotton and bamboo sheets, having one set of each. I don't notice a difference in my comfort level. Wetting my hair before going to bed does help.
Overindulging in alcoholic drinks makes my hot flashes much worse. I don't have to completely cut them out, but I've learned exactly where the limit is.
Sometimes, we just find somewhere with air conditioning. We may either wander around a store for a bit or get a meal in an air-conditioned restaurant. Maybe visit the library or a museum. As Barefoot Gal has been in the boatyard this past week with us living aboard, we've opted for "lunch in air conditioning" most days to give ourselves a break.
Three things make all this possible:
Plenty of power (345 watts of solar plus a Honda 2000 generator)
A good refrigerator/freezer
A watermaker
Power is important for the fans, the refrigerator (even an efficient one will suck power in hot weather, particularly as you're putting warm drinks in to replace the ones you're drinking) and the watermaker. The fridge makes cold drinks and cold packs possible. And the watermaker provides both unlimited cold drinks and a reasonable number of cool showers (still have to watch the water usage on those, though).
And as I complain about feeling hot, it hits me that my great-grandmother endured all this without electricity, ice or running water and while wearing multiple layers of clothing down to her ankles. In comparison, I've got it good!
---
Our FREE Provisioning Spreadsheet
Wondering how much of what foods to take on your next trip? Know just how much to buy of what — all arranged by grocery store aisle — with our handy Provisioning Spreadsheet. Includes detailed instructions to edit it for your favorite foods, how much your family eats, and how long you'll be gone. No spreadsheet skills needed!
It's FREE — get it here.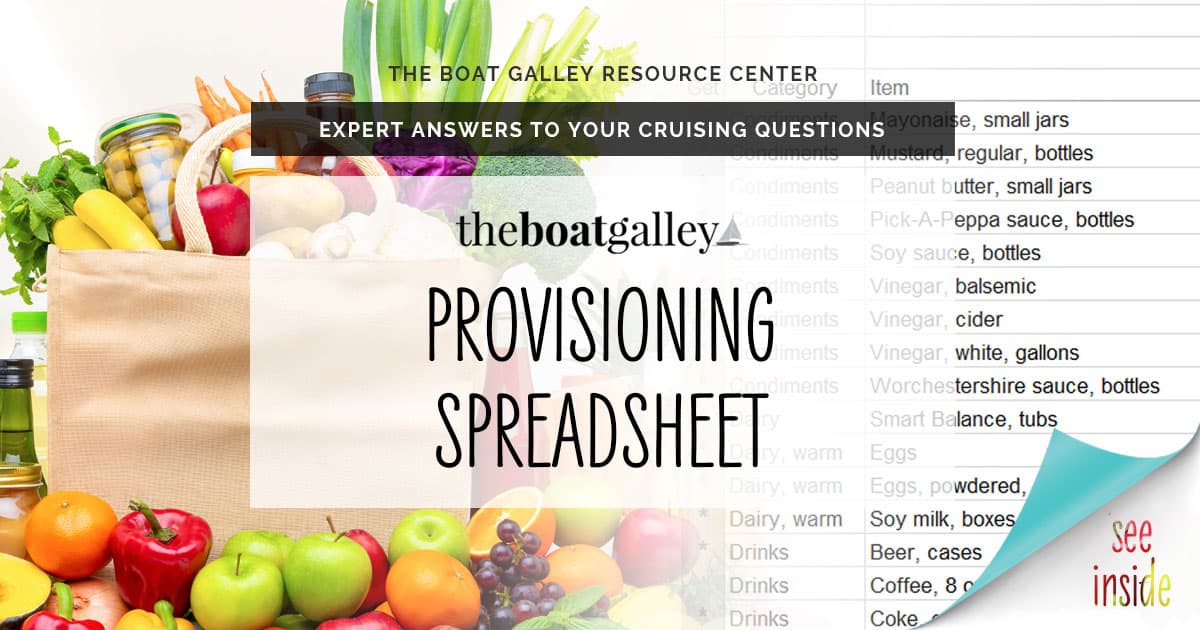 Some links above (including all Amazon links) are affiliate links, meaning that I earn from qualifying purchases. Learn more.